By Evan Brunell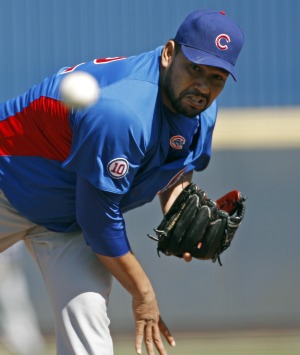 Coming your way: the three stars and scrubs of March 2 spring training games ...
STARS
1. Matt Wieters, BAL: 3 for 4, 2 RBI: Could Wieters be ready to break out? After a very disappointing 2010 season, the 24-year-old is looking to tap into the potential that caused the birth of MattWietersFacts.com. Stay tuned, but this is a nice start.
2. Casey McGehee, MIL: 3 for 3, 2 R, 3 RBI, 2 HR: A nice day for the Brew Crew's third baseman. As the projected No. 6 hitter, he will be the last line of defense before the motley crew of Yuniesky Betancourt, Carlos Gomez and the pitcher in the lineup. McGehee, who cracked the 100-RBI barrier last season, will be counted upon to have a repeat season.
3. Jose Tabata, PIT: 3 for 3, 1 RBI. With Andrew McCutchen moving to the No. 3 spot, Tabata will be looked at to be the new leadoff batter for the Pirates. So far, so good, although what bears monitoring is Tabata's stated focus to improve his power. All Pittsburgh cares about is Tabata getting on base.
SCRUBS
1. Carlos Silva, CHC: 1 IP, 3 H, 6 R, 3 ER, 1 BB, 0 K, 2 HR. Do you really have to ask why? Silva got into a fight with Aramis Ramirez after a disastrous first inning in which there were six runs coughed up by Silva's hand on two three-run home runs, and three errors committed by fielders. Really, it's just a day the Cubs would like to forget.
2. Nick Bierbrodt, BAL: 1/3 IP, 3 H, 3 R, 3 ER, 0 BB, 0 K, 2 HR: Um, how much of a blast from the past is Bierbrodt? I recall the 32-year-old from High Heat 2001, and he was just as bad in the game as he was in the majors. He has a career 6.66 ERA (devilish!) in 144 2/3 innings and hasn't appeared in the majors since 2004. Just a guess, but that streak will extend another season.
3. Josh Johnson, FLA: 1 2/3 IP, 5 H, 5 R, 4 ER, 1 BB, 1 K: Not exactly a great debut for JJ, who will be looked upon to anchor the rotation once more and one of very few Marlins with long-term financial security and a home address in Miami. Ask Dan Uggla how rare that is.
For more baseball news, rumors and analysis, follow @cbssportsmlb on Twitter or subscribe to the RSS feed.