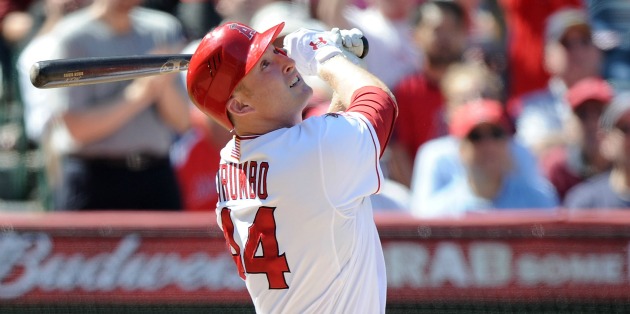 By Evan Brunell
One of the bigger surprises that the Rookie of the Year balloting revealed on Monday was just how much support
Mark Trumbo
had.
The
Angels
first baseman received five first-place votes, most among nominees who did not win the award. The victor,
Jeremy Hellickson
, snagged
17 first-place votes to run away with the award
, but Trumbo was comfortably in second place as he was named on 11 ballots as the second-place finisher. All this despite posting a .291 OBP in 2011. And
Michael Pineda
wasn't more deserving?
The most basic rule of offense in the game e can be summed up in one statistic: on-base percentage. The last thing a player wants to do is make an out, because there are only 27 of them to give away. OBP is the best way to figure out who did and didn't give an out away, as it's simply the sum of batting average, walks and hit by pitches, divided by the same categories plus sacrifice flies. That means Trumbo got on base just 29.1 percent of the time. The entire league posted a .321 OBP, which is a pretty wide gap. There's no question that Trumbo failed colossally at not creating outs. He was so bad that 40 other players bested Trumbo's OBP... simply by hitting for a higher average.
So why the Trumbo love?
Simple -- while the name of the game is to not create outs, another pretty important part is scoring runs. Trumbo's 29 homers led all rookies and tied for 25th most in baseball. Given only two players (
Jose Bautista
,
Curtis Granderson
) cracked the 40-homer barrier, Trumbo is in some elite company.
In the new era of the pitcher, the ability to crush a ball deep may appear to have heightened value. While that may be the case, the fact still remains that Trumbo simply didn't get on base enough to justify his deal. And while writers may have been drooling over his power, new Angels GM Jerry Dipoto is trying to improve Trumbo's appeal to put him in the lineup with such a low OBP. Trumbo is going to
attempt to learn third base
to improve his versatility and give manager Mike Scioscia a way to feed the 25-year-old in the lineup, especially given third base has been an organizational issue for years.
Trumbo's playing time next year looks to be completely blocked unless he takes to first base.
Kendrys Morales
is expected to be fully healthy after breaking his leg in a home-plate celebration in May of 2009. Meanwhile,
Bobby Abreu
has a lock on the DH job, although he could eventually lose playing time to Trumbo as the season progresses. But the mere fact that the No. 2 finisher in the Rookie of the Year voting might not even get 200 at-bats with the club next season shows that while power is nice, getting on base is nicer.
For more baseball news, rumors and analysis, follow @EyeonBaseball on Twitter or subscribe to the RSS feed.