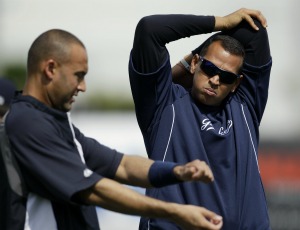 By C. Trent Rosecrans
On Tuesday new
Red Sox
manager Bobby Valentine took two little barbs at the
Yankees
'
Derek Jeter
and
Alex Rodriguez
. Wednesday, the two Yankees took the high road when asked about Valentine's comments.
"I'm not going to win many battles here when it comes to words, especially against Bobby," Rodriguez told reporters, including the Associated Press.
Jeter said he was "indifferent" about Valentine's comments about his famous flip in the 2001 ALDS against the A's.
"Why are we talking about this, really?" Jeter told the AP. "He must be bored over there, huh? I don't understand."
He added what was a really good question -- "What do you want me to say? I mean, really. What am I supposed to say?"
Valentine did back off of his statement that he dind't believe the Yankees practiced that play after talking to Red Sox bullpen coach Gary Tuck, who used to be a Yankees catching instructor.
"He said they do practice it. Total mistake on my part because they do practice it, that's for sure," Valentine told the AP. "It's hard to practice that because why are we going to practice a bad throw? That's not what we're doing here. But I get it. I get it. ... I want it on record that I love Derek Jeter as a player. It was not a slight towards him. I love him as a guy, too."
The Yankees actually practiced the play on Wednesday, which may or may not have been a coincidence.
"Ever since I've been here -- in 1996 -- we've asked our shortstops to kind of float in the infield," New York manager Joe Girardi said to the AP and other reporters. "We worked on it today. It happened to be cuts-and-relays day today."
And then there's
Eric Chavez
, the current Yankees and former Athletic, who had his own opinion about Jeter's famoous play to get Jeremy Giambi at the plate.
"I thought he was safe anyway," Chavez said, according to the AP.
As for Valentine, Jeter said he was "indifferent" and that he didn't know Valentine well enough to know what he was doing.
It should be noted that since Valentine started talking about the Yankees, he's not had to talk about the chicken and beer collapse of 2011, so maybe that had something to do with it.
For more baseball news, rumors and analysis, follow @EyeOnBaseball on Twitter, subscribe to the RSS feed and "like" us on Facebook.