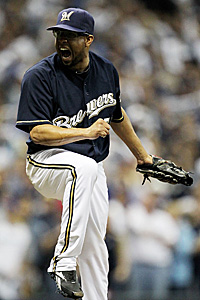 By Matt Snyder
Brewers
relief pitcher
Francisco Rodriguez
may
file a lawsuit against his former agents
, Paul Kinzer and Arn Tellem of Wasserman Media Group, reports Bob Nightengale of
USA Today
.
K-Rod and his attorneys allege that he was led to believe he had a no-trade clause that included 10 teams -- the Brewers being one of them -- by his agents when he initially signed a three-year contract with the
Mets
before the 2009 season. Instead, the former closer found out there was no such clause in July of last season. After realizing the omission, Rodriguez fired the agents and hired Scott Boras.
"They did something atrocious,'' Rodriguez's attorney Richard Johnson said (
USAToday.com
). "Their utter arrogance makes this so evil. It's like rear-ending somebody, but instead of stopping your car and trading insurance information, these guys blew up the car, took off, and ran away. They committed negligence, and turned it into a fraud case.''
Boras negotiated a $500,000 buyout out of K-Rod's vesting option for 2012, which was worth $17.5 million. He would have pretty easily finished enough games to make the option vest had he stayed with the Mets or been traded to a team that would use him as the closer. Instead, he accepted the buyout and was traded, eyeing a big free agent this deal in the offseason.
As the closer market dried up this past offseason, however -- not to mention the fact that Rodriguez had zero saves with the Brewers -- Rodriguez decided to accept arbitration from the Brewers instead of hitting the open market and ended up with a one-year, $8 million contract.
"He's going to lose a lot of money, the question is whether it's seven figures or eight figures,'' said Johnson(
USAToday.com
). "There's long-term damage to his career. He wasn't even in position to be marketed as a closer last winter. They really [messed] with his career in a monumental way.''
Had Rodriguez's contract contained the no-trade clause, he could have made sure he was in a closing situation -- perhaps having a great second half and setting himself up for a free agency offer from a team seeking a closer. Instead he'll remain in the setup role at least one more season.
For more baseball news, rumors and analysis, follow @EyeOnBaseball on Twitter, subscribe to the RSS feed and "like" us on Facebook.