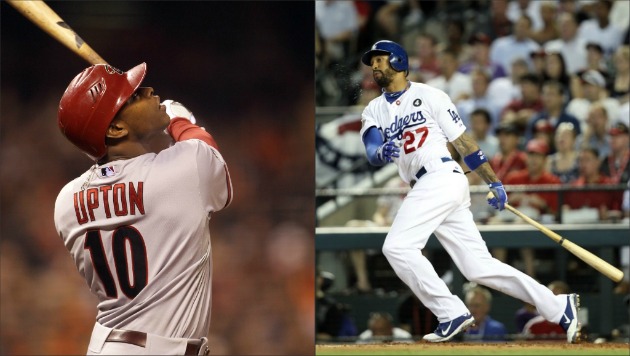 By C. Trent Rosecrans
We love interaction here at Eye On Baseball, comments can make us think and we like reading what you think. Sometimes you bring up a point we hadn't thought about and make us re-think our positions or reinforce our views. Often, you help copy edit and fact check, those contributions are equally appreciated. We love good, intelligent comments. Really, one of the reasons for the
Would You Rather Have series
was to get more involved with our readers and encourage disussion. So far, it's succeeded and we hope it continues.
That said, the one criticism of
yesterday's comparison
of
Troy Tulowitzki
and
Evan Longoria
made no sense to me -- some commenters said we couldn't compare a third baseman and a shortstop. Really? Just hours after posting that, the
Yankees
and
Mariners
played their own game of Would You Rather Have, comparing a catcher/DH and a pitcher -- and nobody told them they couldn't do it.
Sometimes the pairings we come up with will be players of the same position, other days they may have other things in common. Yesterday we had college teammates and today we're looking at two of the best talents in the game, and two of the top four finishers in last year's National League MVP vote --
Justin Upton
and
Matt Kemp
. The pairjust happen to play in the same division, but different outfield positions.
The case for Upton
Sometimes it's hard to believe Upton is just turned 24 at the end of August, it seems like he's been around for a long time now. And really, he has been talked about in baseball circles for quite a while. The younger brother of the
Rays
'
B.J. Upton
, the younger Upton has been on the radar since high school because of his own play, but also because his older brother went second overall in the 2002 draft. In 2005, Upton topped his brother by going first overall.
It didn't take long for Upton to show up on the big stage, arriving in the big leagues before his 20th birthday. In the four subsequent seasons, he's improved and blossomed into one of the game's best players, As a 23-year-old in 2011, Upton hit .289/.369/.529 while setting career-highs in hits (171), doubles (39), homers (31), RBI (88) and stolen bases (21), in addition to the best on-base percentage of his career. He's also turned out to be one of the best defensive right fielders in the game, winning the Fielding Bible Award for 2011.
What the numbers don't show is just how much room there is for Upton to improve. Putting up those kinds of results could be a career-year for many fine players, but Upton can be even better, which is scary.
The case for Kemp
Kemp, like Upton, appears to have all the talent in the world. And 2011 was when he put it all together, showing that he can not just be a very good player, but an MVP-level player. As much as anything, his teammates kept him from winning an MVP in 2011, as he put up a 10 WAR according to Baseball-Reference.com on the strength of his .324/.399/.586 season. In addition to leading the National League in homers (39), runs (115) total bases (353) and OPS+ (171), he led the majors with 126 RBI. Kemp missed out on the MVP, but did win the Silver Slugger and a Gold Glove (although advanced numbers don't like his defense as much as the voting bloc of managers and coaches do, apparently).
The
Dodgers
signed Kemp to an eight-year, $160 million extension after the 2011 season -- but if he continues to put up the numbers he did in 2011, the 27-year-old will be well worth the cost. Upton signed an extension before the 2010 season that will keep him in Arizona for the next four years at a total of $45.25 million, with a $2 million bump in 2012 over 2011, a $3 million raise in 2013 and a $4.5 million increase in 2014, before maxing out at $14.5 million in 2015. That's the thing with supreme talent, if you want to keep it, you must pay, and neither of these players will be living paycheck to paycheck anytime soon.
Our call
It's pretty much a coinflip. On one hand, you have the production and cost certainty of Kemp, knowing you'll have him through the 2019 season. On the other hand, there's the dream of just how good Upton can be, but then risk losing him right after his 28th birthday following the 2015 season and seeing him star elsewhere. If I were in a gambling mood, I'd take Upton. But as it is, I'm feeling conservative (or as conservative as you can feel when doling out $160 million) and take Kemp, hoping that 2011 was the start of a trend. Ask me again in 15 minutes and I could change my tune.
Fan Vote:
Would you rather have Upton or Kemp on your favorite team?
For more baseball news, rumors and analysis, follow @EyeOnBaseball on Twitter, subscribe to the RSS feed and "like" us on Facebook.