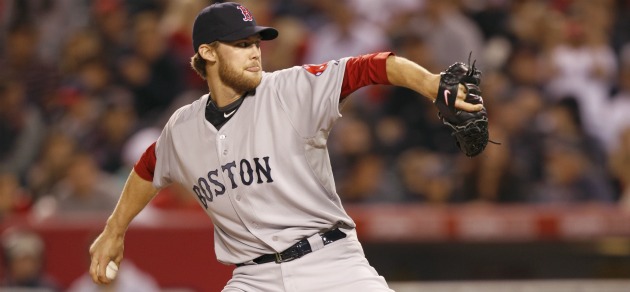 By C. Trent Rosecrans
By most accounts -- or guesses, really at this point -- Daniel Bard appears to be the closer for the Red Sox in 2012. However, going into spring training, Bard will work as a starter, new manager Bobby Valentine said on Saturday.
Speaking to a live audience of fans at Christmas at Fenway, Valentine said he's already spoken to the 26-year-old Bard about working as a starter at the beginning of spring training.
"He's going to be penciled in to be one of those guys who works going from his bullpen to pitching two innings to pitching four innings to pitching six innings," Valentine said (via the Boston Globe). "Whenever we get to that plateau, with the pitching coach I'll hopefully have by my side soon, and all the members of the staff and front office. We'll have to make a determination after that 18-20 inning mark as to where he will be during the season. I told him to prepare to be a starter and if that, in fact, does not happen to be ready and willing to be our closer."
Bard went 2-9 with a 3.33 ERA with a save in 2011, with 74 strikeouts in 73 innings. In his three years in the majors, Bard is 5-13 with a 2.88 ERA and five saves, striking out 213 in 197 innings. He hasn't started a game in the big leagues.
A starter in college at North carolina, Bard started 22 games in 2007, his first year of professional baseball, but hasn't started since. He was 3-7 with a 7.08 ERA at Low-A and High-A in 2007, striking out 47 and walking 78 in 75 innings. He was switched to the bullpen the next season and shot through the minor leagues to the big leagues in 2009.
The move would be similar to what the Rangers have recently done with Alexi Ogando and Neftali Feliz. Ogando stuck in the rotation last season, while Feliz was moved back to the bullpen and used as the team's closer. He's expected to move to the rotation in 2012. Former Ranger and now-Angel, C.J. Wilson was also moved from the bullpen to the rotation in Texas to great success.
The Red Sox could still sign a closer, Ryan Madson and Francisco Cordero are still all the free-agent market. Boston could also turn to former White Sox closer Bobby Jenks, already under contract with the Red Sox. The team could also put another reliever, Alfredo Aceves, into a starter's role in the spring.
Alternately, the team could sign a free-agent starter, such as Roy Oswalt or Hiroki Kuroda, and move Bard back into the closer's role.
For more baseball news, rumors and analysis, follow @eyeonbaseball on Twitter or subscribe to the RSS feed.