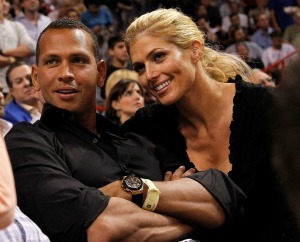 By C. Trent Rosecrans
So, in today's story that wouldn't be a big deal if it were anyone but the
most hated player in baseball
,
the New York Post reports
Alex Rodriguez
had a special diet this offseason and was dedicated to keeping it.
If it were any other player, it'd be an anecdote in a "best shape of their life" story. Instead, the Post ran it on its infamous Page Six. Rodriguez's crime? Bringing his own food to restaurants.
According to one of the
Post
's sources, he's on a special high-protein diet and takes his own cooler full of food to restaurants when he goes out with his girlfriend, Torrie Wilson. He did apparently ask a waitress to heat it up in the kitchen -- I'm not going to pass judgement on that without knowledge of the size of the tip he left.
Yeah, I see where if you automatically dislike the guy, there's a point-and-snicker kind of aspect to this story, but otherwise, is it really a big deal? It's a lot like last
offseason's laugh-at-A-Rod story of his then-girlfriend, movie star Cameron Diaz, feeding him popcorn at the Super Bowl
-- how many people would dream of being fed popcorn by Diaz at the Super Bowl? Yet, many of those people were the ones laughing.
There's plenty of reasons to dislike Rodriguez as a player, but I'm not sure this is one of them.
For more baseball news, rumors and analysis, follow @EyeOnBaseball on Twitter, subscribe to the RSS feed and "like" us on Facebook.