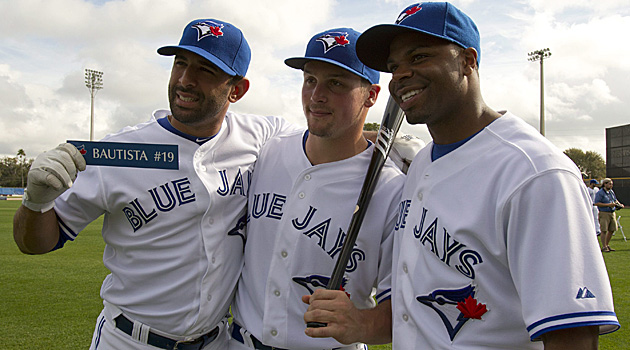 By Matt Snyder
The 2011
Blue Jays
were 81-81, despite blowing an AL-worst 25 saves. So the task heading into the offseason for general manager Alex Anthopolous was pretty clear: Improve the bullpen. And he did, in trading for
Sergio Santos
and signing
Francisco Cordero
, among other upgrades. If the Blue Jays can knock off 10-15 of those blown saves and basically play similarly in every other aspect, they'll have a great shot at one of the two wild card spots. And the good news for the Jays is that they appear a bit better in other aspects than last season, like getting a full season from
Brett Lawrie
, to name one example.
Major additions:
RHP Sergio Santos, RHP Francisco Cordero, LHP
Darren Oliver
, RHP
Jason Frasor
, OF
Ben Francisco
, IF
Omar Vizquel
Major departures:
C
Jose Molina
, RHP
Frank Francisco
, RHP
Jon Rauch
Probable lineup
1.
Yunel Escobar
, SS
2.
Kelly Johnson
, 2B
3.
Jose Bautista
, RF
4.
Adam Lind
, 1B
5.
Edwin Encarnacion
, DH
6. Brett Lawrie, 3B
7.
Colby Rasmus
, CF
8.
Eric Thames
, LF
9.
J.P. Arencibia
, C
Probable rotation
1.
Ricky Romero
2.
Brandon Morrow
3.
Henderson Alvarez
4.
Brett Cecil
5.
Dustin McGowan
Kyle Drabek
is also in the mix.
Back-end bullpen
Closer: Sergio Santos
Set-up: Francisco Cordero,
Casey Janssen
Important bench players
OF
Rajai Davis
, OF Ben Francisco, OF
Travis Snider
, C
Jeff Mathis
, IF Omar Vizquel
Prospect to watch
Catcher
Travis d'Arnaud
, one of the players who came over in the
Roy Halladay
trade, just turned 23 years old and is
considered a top 20 prospect in all of baseball
. He hit .311/.371/.542 with 21 homers in 114 Double-A games last season. And while Arencibia hit 23 bombs last season, he also had a paltry .219 batting average and .282 on-base percentage. He struck out 133 times while only walking 36. So it's entirely possible he struggles mightily and is replaced by d'Arnaud at some point this season. Or maybe the Jays trade one of them? We'll see, but keep your eye on d'Arnaud's progress. Many believe he's special.
Fantasy sleeper:
Henderson Alvarez
"Alvarez wasn't considered a high-profile prospect at this time last year, so understandably, his 10 starts during a late-season trial weren't enough to put him on most Fantasy owners' radars. But consider just how impressive those 10 starts were. Better yet, consider how impressive his final eight were. He pitched at least six innings in each, posting a 3.06 ERA and 1.06 WHIP. He also issued only six walks during that stretch. Six. In 53 innings. And this isn't some soft-tosser who took the league by surprise simply by throwing strikes, a la Zach Duke in 2005. Alvarez throws in the mid-90s. He has top-of-the-rotation stuff to go along with a good feel for the strike zone and has already tasted success in the heavy-hitting AL East." - Scott White [
Full Blue Jays fantasy team preview
]
Fantasy bust:
J.P. Arencibia
"Arencibia was one of five catchers to hit 20-plus homers last year, and he did it as a rookie. But before visions of Mike Piazza start dancing in your heads, keep in mind he was especially old for a rookie, turning 25 before the start of the season. He's 26 now, which means he's already in the thick of his prime, which means what you see with him might be exactly what you get. And it's even worse than it looks. Arencibia hit only .219 in 2011, which is discouraging enough, but when you consider he got worse over the course of the season, hitting .199 over the final four months, you have to wonder if his excessive strikeout rate makes him a sitting duck against major-league pitching." - Scott White [
Full Blue Jays fantasy team preview
]
Optimistic outlook
Morrow has a huge breakout campaign, giving the Jays a potent 1-2 punch in the rotation. Alvarez blossoms into a good No. 3 while Drabek realizes his potential and has a huge second half. Lawrie enters stardom early and Rasmus reaches his potential, making the offense even more potent than before. Plus, the new back-end of the bullpen is dominant. That gets the Blue Jays into the 90s in victories and they win a wild card.
Pessimistic outlook
The Jays just didn't do enough to close the gap, as they still aren't good enough to finish ahead of any of the following, at the very least:
Yankees
,
Rays
,
Red Sox
,
Rangers
or
Angels
. Instead, they're more on the same footing as the
Royals
and
Indians
. Thus, it's another fourth-place finish for the Blue Jays, who haven't made the playoffs since 1993.
For more baseball news, rumors and analysis, follow @EyeOnBaseball on Twitter, subscribe to the RSS feed and "like" us on Facebook.