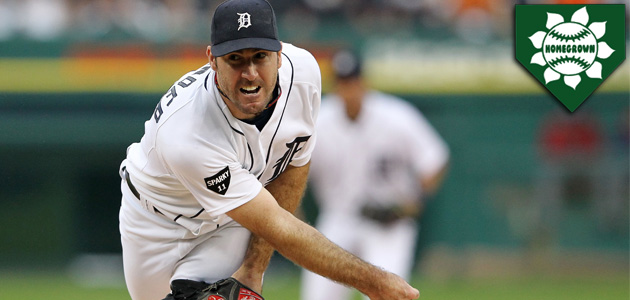 By Matt Snyder
What if players were only permitted to stay with the team that originally made them a professional? No trades, no Rule-5 Draft, no minor or major league free agency ... once you are a professional baseball player, you stay in that organization. This series shows how all 30 teams would look. We give you: Homegrown teams.
To view the schedule/past entries of this feature, click here.
For today's installment of the Homegrown series, I can't stop thinking about a certain trade. Earlier this week, I was reminded of the deal anyway. In a pretty minor move, the
Rays
traded for relief pitcher
Burke Badenhop
. That's worth discussing here because he was the last standing of six players
Tigers
general manager Dave Dombrowski sent to the
Marlins
for
Miguel Cabrera
(and
Dontrelle Willis
, for that matter). To acquire one of the biggest superstars in baseball -- and a now-washed up pitcher -- Dombrowski dealt Badenhop,
Cameron Maybin
,
Andrew Miller
, Eulogio De La Cruz, Dallas Trahern and
Mike Rabelo
. Upon Badenhop being dealt, the Marlins now have nothing left to show for the 28-year-old Cabrera. Trahern is stuck in Double-A and appears unlikely to help the big-league club, either.
So, yeah, this homegrown club is missing a huge bat in the middle of the order. But this is also an opportunity to praise Dombrowski for one hell of a trade.
Lineup
1.
Omar Infante
, SS
2.
Matt Joyce
, RF
3.
Curtis Granderson
, CF
4.
Brennan Boesch
, 1B
5.
Alex Avila
, C
6.
Cody Ross
, DH
7.
Jack Hannahan
, 3B
8. Cameron Maybin, LF
9.
Ramon Santiago
, 2B
Starting Rotation
1.
Justin Verlander
2.
Jair Jurrjens
3.
Rick Porcello
4.
Guillermo Moscoso
5.
Charlie Furbush
Bullpen
Closer -
Francisco Cordero
Set up -
Fernando Rodney
,
Joel Zumaya
,
Jason Frasor
, Burke Badenhop,
Ryan Perry
Long - Andrew Miller
Notable Bench Players
Will Rhymes
,
Ryan Raburn
,
Scott Sizemore
,
Danny Worth
,
Brandon Inge
,
Andy Dirks
,
Don Kelly
,
Casper Wells
,
Andres Torres
What's Good?
That guy sitting atop the starting rotation is pretty decent, no? Getting 34 or so starts out of Justin Verlander gives this ballclub a great chance to win plenty of low-scoring games. Jurrjens is a fine number two as well. I love Avila behind the plate and Maybin in left field would be a defensive force -- most metrics showed Maybin as a far superior defender in center to Granderson this past season, but I went with the logic that Granderson would stay in center as the star of the team. If he wanted to pull a Cal Ripken and move, OK, the defense gets even better. Finally, the bench depth is pretty good, as there are several guys capable of providing good spot starts.
What's Not?
While it's definitely not awful, that batting order leaves a lot to be desired. Joyce is really good and Granderson is great. Otherwise? I'll channel my inner Larry David and just say "eh." There would be an awful lot of pressure on Boesch and Avila in those run producing spots, that's for sure. Also, while it's not horrible, that bullpen bridge to Cordero isn't exactly one that eases the mind. Can you imagine how many cigarettes Jim Leyland would have to choke down to stomach a night with Badenhop, Frasor and Rodney tasked with putting up zeroes? They can do it, but they'll just about give you a heart attack in the process.
Comparison to real 2011
I'll go out on a limb here (please note sarcasm) and say winning 95 games and cruising to the AL Central title is about as realistic with this group as this exercise. A winning record might be possible, as this team feels just mediocre. The likes of Verlander, Granderson, Avila, Joyce and Jurrjens keep them away from "suck" territory. I'd go high-70s in wins with a ceiling of 83 victories.
Next:
Houston
Astros
For more baseball news, rumors and analysis, follow @EyeOnBaseball on Twitter, subscribe to the RSS feed and "like" us on Facebook.