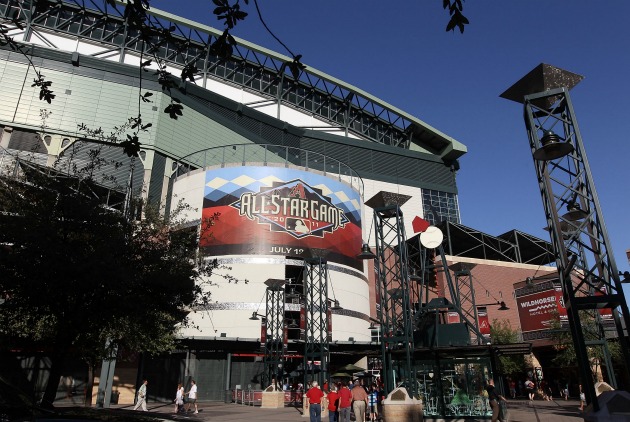 By C. Trent Rosecrans
It's not that I'm not looking forward to heading to Phoenix on Saturday; it's just that, well, it's going to be really, really hot and that doesn't sound like fun.

The average temperature in Phoenix on July 12? 107. I don't care how dry that heat is, it's still hot.
Phoenix has wanted to host an All-Star Game for years, but with the All-Star Game comes more than just nine innings of baseball. There's the Futures Game, a celebrity softball game, the Home Run Derby, FanFest and an influx of people, all walking around the area around the ballpark. Anyone outside is going to be hot.
The Diamondbacks are planning as many things indoors as they can, according to this Arizona Republic article. The team may open the roof for a possible flyover during the national anthem, but that would take place during the hottest part of the day.
Also, the usual parade will be about two blocks and players have been told not to wear suits and ties.
Team president Derrick Hall tells the newspaper, "I think everyone is going to be shocked how comfortable it's going to be."
I hope so. Then I can get ready for Kansas City next July -- and that could be even worse, just ask Ichiro (language NSFW).
CLOSER QUESTION: Twins manager Ron Gardenhire stood behind closer Matt Capps after pulling him Sunday, but Capps may not be the closer for long. He has blown six saves in 19 chances, and Joe Nathan is back and healthy. [Minneapolis Star-Tribune]
FREAK OR FISH?: Marlins manager Jack McKeon questioned Bruce Bochy's selection of Tim Lincecum for the All-Star team. "He's a good pitcher, don't get me wrong," McKeon told reporters, including Joe Capozzi of the Palm Beach Post. "But do we reward for what you're doing now or do we reward for what you've done in the past."
DERBY LOBBYING: Not only are two captains picking the sides for this year's Home Run Derby, they can pick players who aren't in the All-Star Game to participate. Here's two non-All-Stars I'd love to see. Bob Young of the Arizona Republic suggests Ichiro Suzuki, which may sound odd, but Suzuki's batting practice displays are the stuff of legend, and what is the Derby but glorified batting practice? I'd give Suzuki a better shot than most at winning the deal. While Suzuki doesn't look like a guy who would be a Home Run Derby favorite, the Marlins' Mike Stanton does. Marlins first baseman Gaby Sanchez wants to see his teammate in the derby, and so do I. [Palm Beach Post]
NO REHAB FOR PUJOLS: Albert Pujols "doesn't need" a rehab assignment before he returns to the Cardinals, St. Louis manager Tony La Russa told the St. Louis Post-Dispatch on Sunday.
RECORD DEAL: The Rangers signed Dominican outfielder Nomar Mazara with what is believed to be a record $5 million signing bonus. The 6-foot-3, 16-year-old left-handed outfielder is said to have the most raw power in Latin America. [Baseball America]
SELLOUT RECORD: Saturday the Dayton Dragons, the Reds' Class A team in the Midwest League, recorded their 814th sellout in a row, tying the all-time professional sports record set by the Portland Trail Blazers. The team expects to break the record July 9.
While the Dayton Daily News has the news, the New York Times takes a look at just why the Dragons have been so successful.
HISTORICALLY BAD: As bad as the Padres' offense has been this season, it's not as bad as the Mariners' last season -- so there's that. Otherwise, the outlook is bleak for San DIego bats. [North County Times]
STEREOTYPES DISPUTED: Former Cubs and current White Sox TV analyst Steve Stone says the stereotypes of Cubs fans and White Sox aren't exactly true. Cubs fans are usually believed to be more interested in being at Wrigley Field than what's going on at Wrigley Field. The stereotype of White Sox fans is best displayed by the buffoons who get liquored up and run on the field to attack either the umpire or the opposing team's first base coach. [Chicago Tribune]
VLAD'S BATS HEATING UP: Vladimir Guerrero isn't producing at the plate, but his bats are. Orioles right fielder Nick Markakis is crushing with Guerrero's bats, hitting .436 in his last 21 games since switching to Guerrero's heavier bats. [Baltimore Sun]
PADRES DRAFT COULD BE GREAT: Well, the Padres' draft could be a great one if the team spends the money to sign the players it drafted. The Royals stopped worrying about "signability," and David Glass started paying the going rate for drafted players. That's how the Royals built the best farm system in the majors. If the Padres follow suit, it could certainly pay off in the end. [InsideThePadres]
HOSMER USED TO OVERCOMING: Check out this fantastic feature by my friend Kent Babb of the Kansas City Star on Royals first baseman Eric Hosmer and his family. Hosmer's dad was a firefighter and his mother a nurse who immigrated from Cuba.
RACIAL BIAS BY UMPS: A study recently published in the American Economic Review shows a small difference in called strikes when the umpire and the pitcher are the same race. But the bias disappeared in games with computer monitoring, which is now standard across MLB. (H/T to BaseballMusings.com)
For more baseball news, rumors and analysis, follow @cbssportsmlb on Twitter or subscribe to the RSS feed.