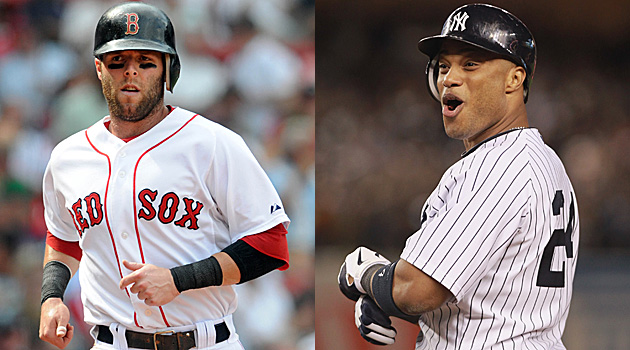 By Matt Snyder
As we continue the final trek toward spring training, we also continue the series that's gonna get us there.
Our first installment of Who Would You Rather Have
got some pretty good discussion going, as it pitted
Roy Halladay
against
Justin Verlander
. I believe we have an equally tough decision in front of us this time around, too.
For this installment, we look to baseball's most intense rivalry ... specifically the second basemen:
Robinson Cano
and
Dustin Pedroia
. I feel compelled to point out that we seemed to get a lot of non-answers on Twitter and in the comments (like "Tim Lincecum" to the Verlander vs. Halladay question), and I'm thinking those people didn't understand that this is an ongoing series. I can assure you that many big names from across America -- like Lincecum -- will be included at some point. You'll also have a decision between two young NL West sluggers Saturday, for example. Patience ...
Anyhow, it's Cano vs. Pedroia now.
Red Sox
vs.
Yankees
. Beantown vs. the Bronx. Let's get it on.
The case for Cano
While he was already a very good hitter, Cano has developed into one of the most feared hitters in baseball over the past two seasons, finishing in the top six of MVP voting both times. His triple slash line of .311/.365/.533 from 2010-11 is a beauty for a second baseman, not to mention the 28 homers, 46 doubles, 118 RBI and 104 runs he posted last season. It was good enough for Cano to bring home the Silver Slugger for the second consecutive season.
A model of durability as well, Cano hasn't played in less than 159 games in any of the past five seasons. Pedroia only managed 75 games in an injury-plagued 2010 season, so that's a point for Cano.
The case for Pedroia
On the other hand, Pedroia played in 157, 154 and 159 games, respectively, in three of the past four seasons, so it's not like he's injury prone. Pedroia, the 2007 Rookie of the Year, also won the 2008 MVP. And Pedroia can do it all. He hit 21 home runs last season while stealing 26 bases and also winning a Gold Glove (his second). His .307/.387/.474 line is competitive with Cano's, too. Where Pedroia has a bit less home-run power, he makes up for it by getting on base. He holds a .373 to .347 advantage in career OBP.
Pedroia has one World Series ring, but so does Cano.
Cano will make $14 million in 2012 while Pedroia will make $8 million, but Pedroia's salary increases in the next several years while Cano is a free agent after a 2013 club option. Age is a veritable wash, as Cano is roughly 10 months older.
Really, any which way you can divide this up, it's a very close call. Many advanced defensive metrics show Pedroia with a significant edge in range, hence the 2011 Fielding Bible award -- meaning the stat crowd views him as the best defensive second baseman in all of baseball. Cano is viewed as no better than average defensively from that perspective. Cano did win the 2010 AL Gold Glove, but Gold Glove voting has produced dubious results at times -- like Rafael Palmeiro taking the honors in 1999 while playing only 28 games in the field. Unlike many younger bloggers and writers, I don't totally discount the Gold Glove, but I do trust the Fielding Bible awards more. Of course, using either one gives the defensive edge to Pedroia -- and you could argue Cano only won the 2010 Gold Glove because Pedroia was hurt anyway, which I would.
Our call
I'm going to go with Pedroia here in a photo finish, the closest of calls, based upon the defensive separation. The two are very close across the board. Just as with yesterday's pick, I could go either way and there definitely isn't a wrong answer. In fact, we have over 20 of these posts lined up, and this may well be the hardest choice among them.
But now it's your turn. Vote and comment away.
Fan Vote:
For more baseball news, rumors and analysis, follow @EyeOnBaseball on Twitter, subscribe to the RSS feed and "like" us on Facebook.