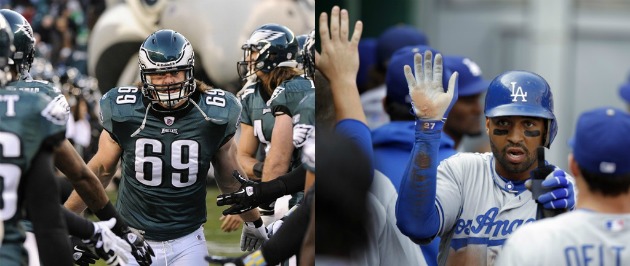 By C. Trent Rosecrans
With pitchers and catchers reporting this weekend, there will be a slew of reports about players coming into camp in great shape -- either having lost weight or put on muscle. The only thing we'll see more of than these reports people on Twitter and on blogs mocking those reports thinking they're making an original point about these kind of stories by making tired jokes.
One of these stories came over the Associated Press wire on Thursday
, as the AP talked to
Dodgers
outfielder
Matt Kemp
about his offseason training. Kemp attributed much of his success last season to his offseason workouts at
Zone Athletic Performance in Scottsdale, Ariz
. Kemp dropped 15 pounds before going to camp last year and went on to an MVP-type season. What caused an editor to send me a link to the article was the hook that Zone is owned by an NFL player, who worked out alongside Kemp. What caught my eye was that NFL player was Eagles guard Evan Mathis.
Mathis isn't exactly a household name, despite the fact that ProFootballFocus.com ranked him the No. 1 guard in the NFL last season. But I covered Mathis both in college at Alabama and in the NFL with the Cincinnati Bengals and got to know him a little bit. So, with that as a starting point, I emailed Mathis about working with Kemp and he agreed to answer a couple of questions about his work with Kemp, as well as with the Dodgers'
Dee Gordon
and
Darnell McDonald
of the
Red Sox
.
Any doubt Mathis knows what he's talking about? Check out this photo of what he did during the NFL lockout: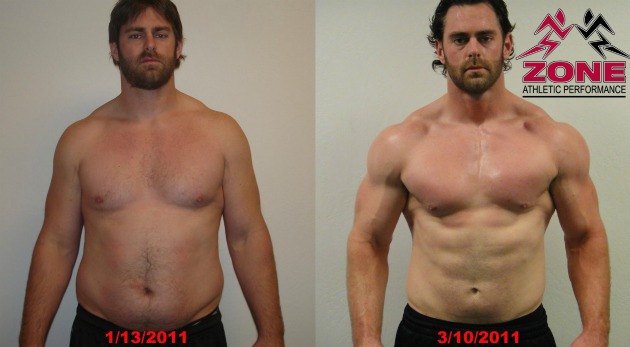 Q: How'd you hook up with Matt Kemp?
A: We met six or seven years ago at a now-defunct training facility.
Q: Do you follow baseball at all, did you know much about him?
A: When we first met, he hadn't been in the majors yet.
Q: So after working with Matt last offseason, how closely did you follow him last year?
A: He was pretty much Zone Athletic Performance's first professional athlete client. As soon as we opened he was in there training preparing for his 2011 season. I definitely followed him throughout the season watching his hard work and dedication pay off.
Q: I'm sure you were happy with his success, but where you surprised?
A: Not at all. The two trainers at Zone who handle our professional athletes, Garrett Shinoskie and Adam Mathis, have a wealth of knowledge when it comes to bringing the best out of an athlete. When you combine that with a player who has the drive and determination that Matt has, it's destined for success.
Q: What's the difference between working with baseball players and working with football players?
A: I'm not the one writing the programs but it is definitely different. But so is training an offensive lineman and a safety. Everybody has different strengths, weakness, goals, and requirements. All of that goes into the formula for devising anyone's most efficient workout program.
Q: Are there any similarities?
A: Indeed there are some similarities. Most baseball and football players can benefit greatly from developing explosion through their hips.
Q: You mention the hips, that seems to make sense -- it's something you hear from all coaches. Hips seem to be an underrated part of the body to work on, but it makes sense because it's close to your center of gravity and controls everything in both the top and bottom half of the body. What kind of specific things do you do to strengthen that part of the body?
A: In baseball it's more about rotating the hips. A player can make an explosive rotation and put their strength behind the swing. For myself in football, when I hit a defender I explode through my hips and lift their center of gravity on contact. Some simple hip exercises include the medicine ball keg toss, kettle bell swing, step-ups, and the list goes on. The most important aspect of training for hip explosion is maintaining ones flexibility. At Zone, the trainers use the first ten minutes of each workout to do stretches and warm-ups to ensure maximum flexibility.
Q: Not giving away any secrets, but what's a typical workout like for an elite-level pro athlete? What about the diet?
A: Off-season training at Zone usually consists of 6 day weeks, each workout an hour long. The average schedule is like this: Monday = arms, Tuesday = legs, Wednesday = core/conditioning, Thursday = torso, Friday = power, Saturday = core/conditioning. Each day has different dietary guidelines based on that day's workload.
Q: What's the most important thing you teach at Zone?
A: In a close second to the training is the diet. Most athletes have no idea how to follow efficient nutritional guidelines. An athlete has to treat their body like a machine and put the best fuels into that machine that will maximize its production. I still have Garrett write out my diet because I'm not the expert in that field and he is.
Q: What kind of diet tip do you have for anyone out there?
A: The biggest thing for me was understanding the importance of carbohydrates. When used the right way, they can feed your muscles to maximum growth and help you maintain a high metabolism. My diet is a carb cycling diet. Based on the intensity of each day's training I will have either a high, medium, or low intake of carbs for that day. A lot of people try the low or no carb diets but that's like trying to drive a car with no gasoline. Your body needs its carbs. Getting into the details of the carb cycle would turn this response into an essay. There are numerous articles on the web about it and the trainers at Zone are actually working on an eBook guide as we speak.
Q: Any workout tips?
A: Change your routine every three-to-four weeks, don't stick to the same lifts for long periods of time. Every three weeks at Zone we have a completely new set of workouts. This aids in injury prevention, avoids training plateaus, and ensures that all muscle groups are getting their necessary attention.
Q: Often when a player starts camp and says they're "in the best shape of their life" people kind of roll their eyes and make a joke out of it. Does it matter or is it just talk?
A: Being in the best shape of your life definitely does matter for an athlete. There are two problems when it comes to an athlete saying that. The first is whether or not it's true when they say it. The second is, while it may be true, some guys won't work to maintain it throughout the season. Kemp stayed in constant contact with the trainers at Zone making sure he was doing everything he could to carry over all of the hard work he did throughout the season. I said I was in the best shape of my life going into last season and it definitely showed on the field. I had a great year and it gave me a great starting point for this off-season to get in even better shape for 2012.
Q: Are you a baseball fan at all? Do you have any baseball background?
A: Growing up I was always a baseball fan. I was an avid card collector, a huge Frank Thomas fan, and I played a little baseball from ages 12-17. I still dabble in card collecting and can tell you almost any player's rookie year from 1986-2003. I tell Matt Kemp every day I see him that we need to go to the field so I can show him how to crush a ball. He thinks that it would be easier for him to crossover to football than it would be for me to go to baseball. I'm confident that I would crush a few bombs in BP if given the chance.
Check out the attached picture of a tweet between myself and Frank Thomas. I have to make something like this happen one day.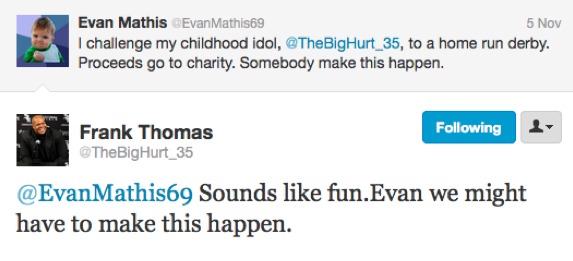 For more baseball news, rumors and analysis, follow @EyeOnBaseball on Twitter, subscribe to the RSS feed and "like" us on Facebook.