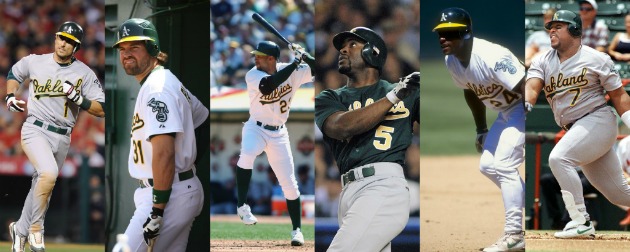 By C. Trent Rosecrans
The A's adding Manny Ramirez was hardly a surprise -- it had been rumored for a while.
But it should be even less surprising considering the track record of A's general manager Billy Beane. Beane, of course, is probably the most famous general manager since Branch Rickey thanks to
Moneyball
(the book and the movie), in part because of his eye for a bargain. While the biggest bargains in baseball are usually young players under team control, there's also value in older players that other teams don't want anymore. Beane's had more than his share of those types of players.
In
Moneyball
(again, both the book and the movie), Beane's addition of a declining David Justice paid dividends as the 36-year-old hit 11 homers in 118 games (not to mention putting up a .376 on-base percentage). Last season Beane picked
Hideki Matsui
out of the bargain bin along with a Stephen King novel at Barnes and Noble. This season, it's Ramirez, who will get $500,000 contract with the big-league club after serving his 50-game suspension.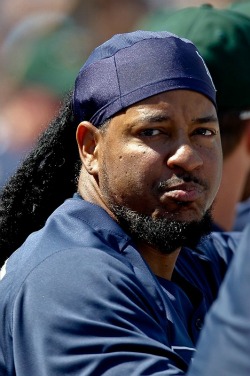 Usually it's former corner outfielders or first basemen who can add a little slugging and some decent on-base skills (two things Ramirez should be able to add), to be used at DH and in the field in a pinch. Sometimes it works, like with Justice, other times it doesn't -- like with Eric Karros in 2004. But it's cheap, so these veterans are as disposable as a cheap razor.
Here's a list of significant players near the end of their career signed by the A's since Beane took over in 1998, followed by the season they played in Oakland, how old they were that season, their slash line, home runs and RBI.
Rickey Henderson 1998, 39, .236/.376/.347, 1, 14 (led the league with 66 stolen bases and 118 walks)
*Kevin Mitchell 1998, 36, .228/.279/.346, 2, 21
*Tony Phillips 1999, 40, .244/.362/.433, 15, 49
Tim Raines 1999, 39, .215/.337/.341, 4, 17
*Mike Stanley 2000, 37, .268/.363/.464, 4, 18
Ron Gant 2001, 36, .259,.344/.420, 2, 13
*David Justice 2002, 36, .266/.376/.410, 11, 49
*Ron Gant 2003, 38, .146/.182/.220, 1, 4
*Eric Karros 2004, 36, .194/.243/.311, 2, 11
*Mike Piazza 2007, 38, .275/.313/.414, 8, 44
Mike Sweeney
2008, 34, .286/.331/.397, 2, 12
Frank Thomas 2008, 40, .263/.364/.387, 5, 19
*Nomar Garciaparra 2009, 35, .281/.314/.388, 3, 16
Jason Giambi
2009, 38, .193/.332/.364, 11, 40
**Hideki Matsui 2011, 37, .251/.321/.375, 12, 72
* retired after their year with the A's** Matsui is currently an unsigned free agent
For more baseball news, rumors and analysis, follow @EyeOnBaseball on Twitter, subscribe to the RSS feed and "like" us on Facebook.