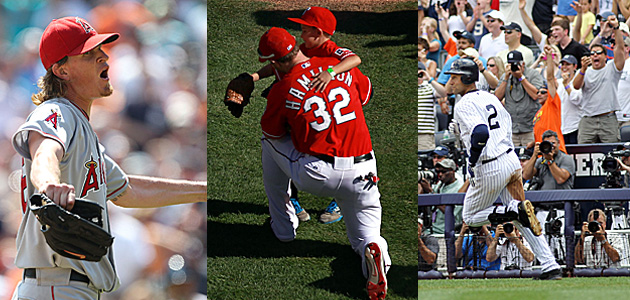 By Matt Snyder
With just a few days left until 2012 brings us a whole new year, it's only fitting to look back at the year that was. Sure, there's an actual baseball season, including spring training, the regular season and the postseason, but things happen nearly every day throughout the entire calendar year. So we're going to create a fake award and call it a Bloggie.
We'll set the table with some nominations and let you, our readers, vote for the winners. This is just Part I. Tuesday,
we bring you Part II
. Friday, we'll post the winners and our staff picks. Without further ado ...
Best Moment(s) of 2011
•
No-Hitters:
Justin Verlander
,
Ervin Santana
and
Francisco Liriano
all tossed a no-hitter during the 2011 season, with Verlander doing so for the second time in his career.
•
10-year anniversary of 9/11:
The
Cubs
and the
Mets
played the Sunday Night Game on September 11 in New York's Citi Field, with the game itself taking a backseat to the pre-game memorial for the victims and the honoring of service men and women.
•
September 28th:
Rarely -- if ever -- has the final day of the regular season provided so much drama, as the
Cardinals
and
Rays
completed epic comebacks to steal the respective wild cards.
Evan Longoria
put the cherry on top of an all-around amazing night of baseball with his walk-off home run.
•
Cooper Stone throws out first pitch:
Months after losing his father, Shannon Stone, to a tragic fall, young Cooper Stone threw out the ceremonial first pitch of ALDS Game 1. The catcher? His favorite player,
Josh Hamilton
, who then embraced Stone just in front of the pitcher's mound.
•
Game 6:
Eleven innings. Nineteen runs. Fifteen pitchers. Beltre and Cruz go deep back-to-back. Freese's triple. Hamilton's homer. Berkman's clutch single. And Freese's walk-off. This was one for the ages in one of the best World Series in recent memory.
Most Historic Milestone
•
Jeter's 3,000th:
On July 9,
Derek Jeter
hit a home run for hit number 3,000, becoming the 28th player in baseball history to join the elite group.
•
Thome's 600th:
On August 15,
Jim Thome
went deep twice, the second home run being the 600th of his illustrious career. Only seven other players in big-league history have reached that plateau.
•
Rivera's 602nd:
On September 19,
Mariano Rivera
locked down the save with ease. It was the 602nd of his career, making him the all-time leader.
•
Triple Crowned:
Verlander led the American League in wins, strikeouts and ERA.
Clayton Kershaw
pulled off the same feat in the National League. The last time each league had a pitcher take the triple crown was 1924.
•
Most Valuable:
Verlander won both the Cy Young and the AL MVP awards, marking the first time a starting pitcher won the MVP since 1986 and the 10th time in history a player won both the Cy Young and MVP.
Biggest Surprise
•
The Cardinals:
Not only were the eventual World Series champions virtually left for dead in late August, but they went all season without their ace, as
Adam Wainwright
suffered a season-ending injury in spring training.
•
The D-Backs:
The Arizona
Diamondbacks
were predicted to finish last in the NL West by nearly everyone. They had finished last the past two seasons, too. But these Snakes came out and won the West by a whopping eight games and took the
Brewers
to the limit in the NLDS.
•
The Rays:
Yes, the Tampa Bay Rays had won the AL East two of the previous three seasons, but they also lost several key pieces and the payroll was $30 million less than it was in 2010. And the Rays still took the AL wild card from the mighty
Red Sox
on the final day of the regular season.
•
Pujols to L.A.:
Albert Pujols
was a St. Louis Cardinals icon. While he appeared to be flirting with other teams, it only seemed like a ploy to get the Cardinals to pay him more. He wouldn't really leave, would he? Well, he did, signing with the
Angels
on the final morning of the Winter Meetings.
•
Marlins' spending spree:
For years we've watched the Florida Marlins deal potential high-salary players and be one of the most notoriously frugal clubs around. And then, in less than a week, the newly-named Miami Marlins inked three big-name free agents --
Jose Reyes
,
Heath Bell
and
Mark Buehrle
.
Biggest Disappointment -- Individual section
•
Dunn is done:
Adam Dunn
has one of the most historically awful offensive seasons ever, and he's a DH. And it was only the first year of a four-year, $56 million contract.
•
No mo fro?
Coco Crisp
let his dreads out twice to reveal an incredibly awesome afro. But he didn't stick with it. And, yes, we realize this is a disappointment on a different level, but the Bloggies don't necessarily have to be serious.
•
Fractured:
Marlins bench player
Scott Cousins
leveled star
Giants
catcher at home plate, a play in which Posey suffered a season-ending broken leg.
•
Juiced?
NL MVP
Ryan Braun
failed a drug test and is facing a 50-game suspension, if his appeal is not upheld.
Biggest Disappointment -- Team
•
Red Sox:
You may have heard of a collapse ...
•
Braves:
You may have heard of a collapse ...
•
Twins:
Lots of injuries and underperformance left the two-time defending AL Central champs with 99 losses.
•
Giants:
The defending World Series champs finished eight games back in the NL West and four out in the wild card, sporting one of the worst offenses in baseball.
Most Bush League Moment
•
Weaver vs. Detroit:
Magglio Ordonez
watches a home run to see if it's fair or foul.
Jered Weaver
misinterprets it and thinks he's been shown up, so he has some words for the
Tigers
. Then
Carlos Guillen
hits a home run and basically stands still, staring down Weaver. Weaver then threw at
Alex Avila
and was tossed from the game while screaming at the entire Tigers dugout. You can place blame with Weaver, Guillen or both of them. However you slice it, though, at least one person was far out of line.
•
Big Z(ero):
Carlos Zambrano
gets knocked around by the Braves, throws at
Chipper Jones
-- getting himself ejected -- and then bails on his teammates. Some overheard him talking retirement, but he now is trying to work his way back.
•
Molina's "spittle:"
Yadier Molina
may not have intentionally spit on umpire Rob Drake back on August 2, but he did freak out far too much over a called strike and get himself suspended for five games during a pennant race.
•
Nyjer's mouth:
Brewers outfielder
Nyjer Morgan
was a polarizing figure all season and that was solidified after the Brewers beat the D-Backs in the NLDS. Morgan was overheard screaming f-bombs right behind a field reporter. OK, maybe he didn't realize it was on live TV. But then when he was summoned for an interview on national TV, he made sure to say it loud and clear right into the microphone.
Worst Call
•
No pitching inside:
Clayton Kershaw was ejected September 14 for (barely) hitting
Gerardo Parra
with a pitch on the elbow. Kershaw had been seen jawing with Parra the previous night, but he also had a one-hitter going and the pitch wasn't very far inside. It definitely seemed like an overreaction by home plate umpire Bill Welke.
•
Let's go home:
An epic 19-inning game ended on a blown call at home plate by Jerry Meals, calling runner Julio Lugo safe at home and giving the Braves the victory over the
Pirates
on July 26.
•
Home run?
On
August 17
,
Royals
DH
Billy Butler
hit what appeared to be a double in the gap. It bounced high off the outfield wall, hitting some fencing above padding on the wall. The umpires initially ruled a home run, but the play was put under video review. Replays pretty conclusively showed the ball staying in the park -- even the hometown Kansas City announcers were discussing that when the umpires emerged Butler would be ordered to head to second base. Butler was standing on the top step of the dugout with his helmet on when the umpires emerged and upheld the ruling.
•
Missed tag:
In Game 3 of the World Series,
Rangers
second baseman
Ian Kinsler
made an errant throw that pulled first baseman
Mike Napoli
off the bag. Napoli made a swipe tag that very clearly got Cardinals baserunner
Matt Holliday
in time. First base umpire Ron Kulpa, however, blew the call, opening the door to a big inning for the Cardinals.
Biggest "Can't-Look-Away" Character
These don't really need an explanation, so we'll jump right to the poll ...
Coming Tuesday:
Part II, including Boneheaded Moves of the Year, Weirdest Injury and Most Impressive Home Run
Coming Friday:
Voting results and staff picks
For more baseball news, rumors and analysis, follow @EyeOnBaseball on Twitter, subscribe to the RSS feed and "like" us on Facebook.