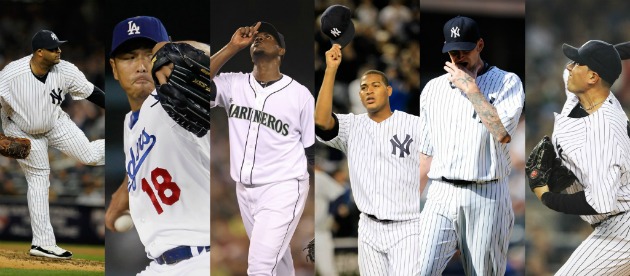 By C. Trent Rosecrans
In one night the Yankees' rotation has gone from weakness to strength, adding right-handed starters Hiroki Kuroda and Michael Pineda.
While it remains to be seen exactly how the Yankees' rotation shakes up behind CC Sabathia, it's ultimately better after Friday night's moves as Kuroda and Pineda join the rotation in the Bronx. No matter what whether it's Kuroda-Pineda or Pineda-Kuroda, it's better than the Ivan Nova-A.J. Burnett combo penciled in behind Sabathia at about 7 p.m. on Friday.
Sabathia's an ace, that's for sure, and Nova's a good, young pitcher. But Pineda's a potential ace and Kuroda is a steady starter that will certainly benefit from having the Yankees' offense in his corner.
Nova, 25, started the season in Triple-A, but established himself as one of the team's most consistent starters and should be a shoo-in to stay in the rotation. However, if he has a horrible spring training, there's a chance he could be lumped in with the competition for the fifth spot along with Burnett, Freddy Garcia and Phil Hughes. The Yankees have let it be known they're willing to deal Burnett, eating a large chunk of the $33 million still owed him, but it still seems unlikely they'd find a taker. Garcia, like fellow long-shot Bartolo Colon, exceeded expectations in 2011 and the team brought him back on a one-year deal.
The team could boast five starters with at least nine wins (an average of 13.8) and an ERA under 4.00 in 2011. A total of five of their choices had at least 10 wins and four had at least 160 strikeouts, while three had as many as 190 innings pitched last season.
Here's a look at the team's improved rotation for next season with 2011 stats:
CC Sabathia: 19-8, 3.00 ERA, 237 1/3 IP, 230 K, 61 BB, 3.02 xFIP, 7.1 WAR (FanGraphs)
Hiroki Kuroda: 13-16, 3.07 ERA, 202 IP, 161 K, 49 BB, 3.56 xFIP, 2.4 WAR (FanGraphs)
Michael Pineda: 9-10, 3.74 ERA, 171 IP, 173 K, 55 BB, 3.53 xFIP, 3.4 WAR (FanGraphs)
Ivan Nova: 16-4, 3.70 ERA, 165 1/3 IP, 98 K, 57 BB, 4.16 xFIP, 1.5 WAR (FanGraphs)
Freddy Garcia: 12-8, 3.62 ERA, 146 2/3 IP, 96 K, 45 BB, 4.36 xFIP, 2.2 WAR (FanGraphs)
A.J. Burnett: 11-11, 5.15 ERA, 190 1/3 IP, 173 K, 83 BB, 3.86 xFIP, 1.5 WAR (FanGraphs)
Phil Hughes: 5-5, 5.79 ERA, 74 2/3 IP, 47 K, 27 BB, 490 xFIP, 0.7 WAR (FanGraphs)
While Hughes is most likely headed to the bullpen (or onto the trade block), it would be interesting if the Yankees decided to move Burnett there as well. With his fastball and high strikeout rate, he could be effective out of the pen. Opponents hit just .228/.302/.394 against Burnett in their first plate appearance against Burnett in 2011, .263/.332/.474 the second time through and .301/.392/.549 the third time through the lineup. If the team can't get rid of Burnett, they should at least find a place where he can succeed, and now without a glaring need in the rotation, now could be the time to experiment.
If Garcia or Hughes don't work out, it could be time the Yankees give either lefty Manny Banuelos or right-hander Dellin Betances get a shot at the big leagues. But that's now a luxury the Yankees have, not a necessity.
For more baseball news, rumors and analysis, follow @EyeOnBaseball on Twitter, subscribe to the RSS feed and "like" us on Facebook.