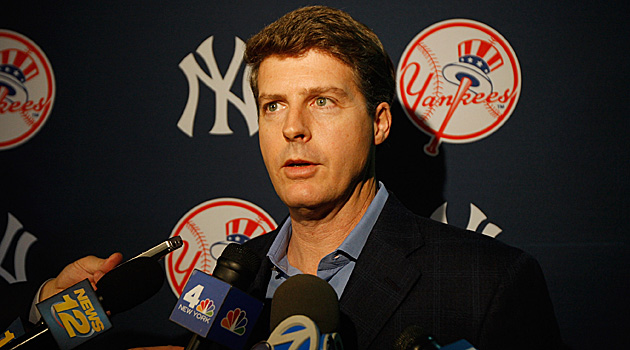 By Matt Snyder
The New York
Yankees
are going to be doing a little tightening of the belt. Thursday, managing general partner Hal Steinbrenner told reporters that the "goal" is to have the payroll below $189 million before the 2014 season. That's not an arbitrary placement or year and monetary figure, either, as baseball's new collective bargaining agreement has set the luxury tax threshold at $189 million and it goes into effect starting in 2014. Also, goal may not be the correct word here.
"I'm looking at it as a goal, but my goals are normally considered requirements," Steinbrenner said (Associated Press). "Is it a requirement with baseball that we be at 189? No, it's not a requirement. But that is going to be the luxury-tax threshold, and that's where I want to be."
The Yankees were hit with a $13.9 million luxury tax last season.
The Yankees are heading for opening day with a payroll of around $210 million this season, according to Steinbrenner. Here's what the opening day payrolls have looked like since 2004, the last time the Yankees weren't over $189 million,
via Baseball Prospectus' Cot's Contracts
:
2004: $184,193,950
2005: $208,306,817
2006: $194,663,079
2007: $189,639,045
2008: $209,081,577
2009: $201,449,189
2010: $213,359,389
2011: $207,047,964
Steinbrenner sounds like he wants to -- at least mildly -- shift focus, too.
"I'm a finance geek. I guess I always have been. That's my background," he said (
MLB.com
). "Budgets matter, and balance sheets matter. I just feel that if you do well on the player development side and you have a good farm system, you don't need a $220 million payroll. You don't. You can field every bit as good a team with young talent."
It's going to be interesting to see how they squeeze down under the threshold, because
Mark Teixeira
,
CC Sabathia
and
Alex Rodriguez
are due to make over $70 million combined in 2014.
Derek Jeter
has an $8 million player option, too. You also have to assume
Robinson Cano
and
Curtis Granderson
are going to command huge paydays (both have club options in 2013 but are free agents after that).
Brett Gardner
and
David Robertson
will be in their final year of arbitration while
Ivan Nova
and
Michael Pineda
are also still under club control. Otherwise, the roster will have to be filled out from the farm system, trades or free agency.
The Yankees do have some promising young prospects like pitchers
Dellin Betances
and
Manuel Banuelos
.
"We'll see how these young kids perform towards the end of this year and into next year," Steinbrenner said (AP). "The young kids are going to play a big part of being able to lower this payroll. I am going to need some of these young pitchers to step up."
Still, the bottom line is we might be seeing a lot more offseasons like this one -- where the Yankees take a backseat on the huge free agent signings.
For more baseball news, rumors and analysis, follow @EyeOnBaseball on Twitter, subscribe to the RSS feed and "like" us on Facebook.