By C. Trent Rosecrans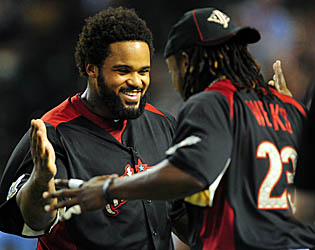 PHOENIX -- Prince Fielder's son was ready to throw down -- he wanted a fight.
"I had to tell them to calm down, it was nothing personal" Fielder joked afterwards. The boos didn't get to him -- but they did get to his son. And his teammate, Rickie Weeks.
As soon as Weeks was introduced, the boos started for the Brewer who was picked by Fielder to represent the National League. Instead, the crowd at Arizona's Chase Field made it perfectly clear who they had hoped to see in Monday's Home Run Derby.
"We want Upton," half the crowd chanted.
The other half of the crowd chanted, "Jus-tin, Up-ton," making it perfectly clear the hometown fans wanted to see their All-Star representative, Justin Upton, in the Home Run Derby.
Weeks responded with just two home runs and was eliminated after the first round. But he noted he knew why the fans booed him, but couldn't understand them actually doing it.
"I could care less, but of course you don't want anyone booing you at the All-Star Game," Weeks said.
Upton, for the record, supported Weeks, tweeting during the derby:



The crowd reserved the loudest boos for Fielder, who was the team captain and selected Weeks, along with the Cardinals' Matt Holliday and the Dodgers' Matt Kemp. Fielder's three selections went into the game with a combined 53 home runs, but managed just 10 combined in the first round (not counting Holliday's two in a swing-off loss to Fielder and David Ortiz).
Fielder won some of the fans over when he hit five homers in five swings during the swing-off round, but then managed just four in the second round to finish the day for the National League.
Despite the loss, Fielder said he wouldn't have done anything different in picking his squad: "No, it was cool. I picked the guys I wanted to pick," Fielder said. "If they have a problem, tell them another person should have been captain."
For complete All-Star Game coverage, keep up with Eye on Baseball in Phoenix
For more baseball news, rumors and analysis, follow @cbssportsmlb on Twitter or subscribe to the RSS feed.