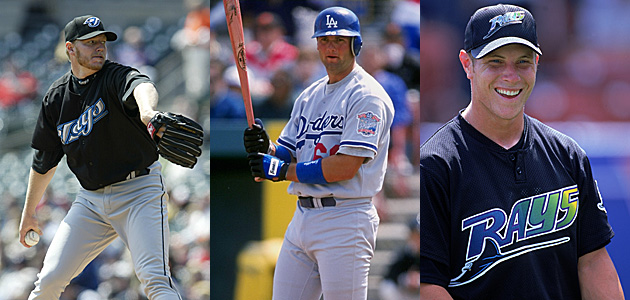 By Matt Snyder
Well that was fun. An entire month of Homegrown teams has now been concluded. Now it's time to see how this thing would play out -- and let's avoid any "realistic" talk. Nothing about this is realistic. It's an exercise intended for fun and entertainment.
If you need to review the teams,
go check out our landing page, where there's a link to the Homegrown unit from each of the 30 teams
.
We'll run through this thing division by division, then the playoffs and then pick a Homegrown World Series champion. I encourage the comments section at the bottom of this post to be used for you readers to do this on your own as well, doing as much as every single divisional breakdown or as little as simply posting your World Series picks. Let's get interactive and discuss, as this is a truly subjective exercise. I also have no doubt some people will post comments telling us we're idiots for predicting the
Mariners
to win the AL West, for example, thinking this is predictions for the
real
2012 season. When that happens, please direct them to this paragraph. Thanks in advance for your help.
[Note: I'll put our staff rankings in parentheses, but those are the average of rankings by three of us -- editor Michael Coulter and bloggers C. Trent Rosecrans and myself. The picks below are only mine, so there could be some differences.]
AL EAST
1.
Blue Jays
(5)
2.
Rays
(6)
3.
Red Sox
(7)
4.
Yankees
(16)
5.
Orioles
(30)
We do an exercise like this and we end up right back where reality is: With the AL East having three of the best 10 teams in baseball. Of course, the Yankees aren't included this time, so there is some variety here ... except for last place.
AL CENTRAL
1.
Royals
(10)
2.
Indians
(11)
3.
Tigers
(17)
4.
White Sox
(24)
5.
Twins
(27)
The division lacks elite teams and I could see arguments for either the Royals or Indians. Maybe even the Tigers. I ultimately went with the Royals because I like their lineup and getting
Zack Greinke
back atop the rotation gives a boost.
AL WEST
1. Mariners (1)
2.
Angels
(15)
3.
Rangers
(23)
4. A's (26)
I feel like Seattle would have this thing clinched in early September. The other three aren't even close here.
NL EAST
1.
Braves
(2)
2.
Phillies
(8)
3.
Nationals
/Expos (9)
4.
Mets
(14)
5.
Marlins
(20)
Very strong division here, as I wrote that the Mets Homegrown unit would challenge for the NL wild card. It's just that three teams in this division (and two more in the West) happen to very clearly be better.
NL CENTRAL
1.
Cardinals
(13)
2.
Pirates
(12)
3.
Astros
(21)
4.
Reds
(18)
5.
Brewers
(25)
6.
Cubs
(29)
Like the AL Central, this is a sub-par division. In the rankings where three of us voted, the Pirates edged out the Cardinals, but I still think the Cardinals' Homegrown team is a bit better and these are my picks. Definitely feel free to do something different in your own picks below --
and I know my boy Trent would
. I do think 83-85 wins would take this thing, though, and the winner would be destroyed in the first round of the playoffs.
NL WEST
1.
Diamondbacks
(3)
2.
Dodgers
(4)
3.
Rockies
(19)
4.
Giants
(22)
5.
Padres
(28)
Two-horse race here, as both the D-Backs and Dodgers came out ranked in our top four overall. The other three teams in this division aren't even .500 ballclubs in this exercise.
PLAYOFFS
AL Wild Card:
Tampa Bay Rays
NL Wild Card:
Los Angeles Dodgers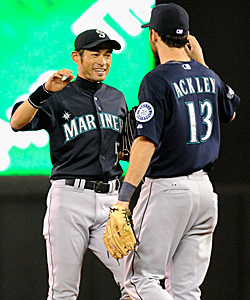 ALDS
Blue Jays over Royals in 3
Mariners over Rays in 5
NLDS
D-Backs over Cardinals in 3
Braves over Dodgers in 5
ALCS
Mariners over Blue Jays in 7
NLCS
Braves over D-Backs in 6
THE HOMEGROWN WORLD SERIES
Mariners over Braves in 7
Can we say it was a pitchers' duel for the ages in Game 7 with
Adam Wainwright
vs.
Felix Hernandez
? Sure, why not? This is just for fun anyway.
So those are my picks. Again, make your own below and we can compare.
CONCLUSION
I probably don't have to do this, but I felt like clarifying a few things. First of all, you know how sometimes people leave comments like "it must be a slow news day!" like it's some kind of huge insult? Yeah, it's actually true some of the time -- especially in the offseason. Aside from the whirlwind that is the Winter Meetings -- and this year's version was insane -- the time from Thanksgiving to Christmas in baseball can be a collective "slow news day." And we knew this. So we came up with the idea to run this series, as it would give us something of substance every single day for 31 days (including this recap).
Now, we didn't just do it to kill time. That would be a waste of readers' time. We wanted to do something that was a bit unique, interesting and also fun. Making fictional lineups is pretty fun for any die-hard baseball fan. Think about, is an "All-Star team of players over 30 years old" really worth anything but a fun discussion? No. It's entertainment for those of us who love talking baseball. That's what the Homegrown series was all about. If you aren't a die-hard fan or hate ever thinking about something unrealistic, it's not for you, and that's OK.
Most of the feedback we got was good. Some was really bad, but that's the way things go. No exercise is ever going to be universally accepted, especially when the Internet provides the cloak of anonymity and someone can just type "this is awful, you suck" and then move along to the next page. For everyone who weighed in, thanks for the feedback. We appreciate all comments, both good and bad -- but mostly, we were happy to see that so many did find it interesting and fun. That was the goal.
As for any "flaws" in this exercise, if one was trying to draw some broad, sweeping conclusion, there would be many flaws. The Yankees, for example, are generally always picking in the last few picks of the first round in the MLB Draft and also lose picks frequently as they sign top-shelf free agents. On the other hand, teams like the Rays, Pirates and Royals have enjoyed quite a few chances to pick toward the top of the draft and to also nab supplemental picks as free agents depart. Plus, there's a reason there are real-life trades: Because no team could possibly have enough foresight on how prospects turn out and put together a well-rounded roster from draft/international signings only.
Also, in an effort to avoid inconsistency, we only used the 40-man rosters and major-league free agents. If a player is retired or in the minors and not yet on a 40-man roster, we didn't use him. Several Giants fans, for example,
really wanted prospect Gary Brown to be used as the center fielder
, but he's not on the 40-man (yet). I understand that if this was a realistic scenario, the ballclub might more quickly promote a guy to fill a hole, but, again, this wasn't meant to be "realistic" in any stretch of the term. And on Brown specifically, he spent 2011 in High-A ball, so he's hardly big-league ready.
We knew all of these so-called "flaws" heading in. I cannot possibly stress enough that the object of this series was for entertainment and nothing more. There's no need to go thinking too hard about it or getting worked up about your favorite team being either over- or underrated. Who cares? This isn't reality. Take the series for what it's meant to be.
Most of all, we thank our readers for taking part in this fun little exercise and encourage each and every one of you to post your rankings or standings or simply pick a World Series champion below. The beauty of it is there's no wrong answer, as it is entirely subjective. Get the discussion going as you sit in the office with nothing to do on the last day before Christmas weekend.
We have had a few requests for possibly doing these again next year -- but instead placing the players on the team they debuted in the majors with. That's definitely something we'll look into. We take all feedback seriously here at Eye On Baseball.
For more baseball news, rumors and analysis, follow @EyeOnBaseball on Twitter, subscribe to the RSS feed and "like" us on Facebook.