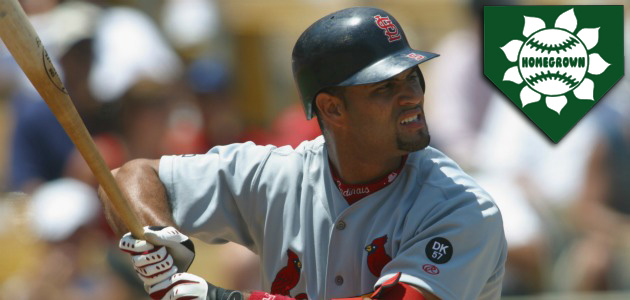 By C. Trent Rosecrans
What if players were only permitted to stay with the team that originally made them a professional? No trades, no Rule-5 Draft, no minor or major league free agency ... once you are a professional baseball player, you stay in that organization. This series shows how all 30 teams would look. We give you: Homegrown teams.
To view the schedule/past entries of this feature, click here.
While most of the teams on our list would love a do-over for 2011 -- or at least part of it, the season somehow worked out pretty well for the St. Louis
Cardinals
, a team that took advantage of an epic collapse and capitalized upon its chance by winning the World Series. The moves made by both the current management team and former executives, all worked out for one glorious season in St. Louis, so it's another example of why the exercise is for fun only. But there's one thing our Homegrown Cardinals have that the 2012 version doesn't --
Albert Pujols
.
Lineup
1.
Jon Jay
, RF
2.
Placido Polanco
, 3B
3. Albert Pujols, 1B
4.
Allen Craig
, LF
5.
Colby Rasmus
, CF
6.
Yadier Molina
, C
7.
Brendan Ryan
, SS
8.
Skip Schumaker
, 2B
Starting Rotation
1.
Dan Haren
2.
Jaime Garcia
3.
Kyle McClellan
4.
Chris Narveson
5.
Lance Lynn
Bullpen
Closer -
Chris Perez
Set up -
Mitchell Boggs
,
Fernando Salas
,
Luke Gregerson
,
Blake Hawksworth
,
Eduardo Sanchez
Notable Bench Players
The bench has some interesting players -- you have defensive replacements in
Jack Wilson
and
Coco Crisp
, some pop in
Brett Wallace
,
J.D. Drew
and
Rick Ankiel
, as well as some versatility in
Daniel Descalso
.
Daric Barton
's there, too, but not sure where or when he'd ever play considering Pujols is still a Cardinal here.
What's Good?
Any lineup with Pujols is not bad -- but it's not overwhelming, either. While lacking some of the firepower from
Matt Holliday
and
Lance Berkman
, there are still some passable players. While there's no
Chris Carpenter
or
Adam Wainwright
, there is Dan Haren and the top two of the rotation are good. The strength of this team -- and Tony La Russa would certainly love this -- is the bullpen. Not only are their Cardinals holdovers of Motte, Boggs, Salas and Sanchez, you also add Perez, Gergerson and Hawksowrth, giving this team plenty of relief options.
What's Not?
After the top two in the rotation, the rest are pretty pedestrian. McClellan is not only in the rotation -- where he started in 2011 -- but he's also going to be either a No. 3 or No. 4. The outfield isn't terrible, but when you take away Berkman and Holliday, it's going to pale in comparison.
Comparison to real 2011
Let's just get to the point, the margin for error for the 2011 St. Louis Cardinals was razor thin, but they stayed on the right side of it just enough to go on to one of the most exciting, improbable runs of all time to capture the World Series title. There is no way this hypothetical team could do anything close to what the real Cardinals did. The offensive firepower isn't the same and there's no Chris Carpenter. No, this team doesn't just fail to win the World Series or make the playoffs, it fails to reach .500 and probably finishes in the bottom half of our made-up NL Central.
Next:
Ranking the Homegrown teams.
For more baseball news, rumors and analysis, follow @eyeonbaseball on Twitter or subscribe to the RSS feed.