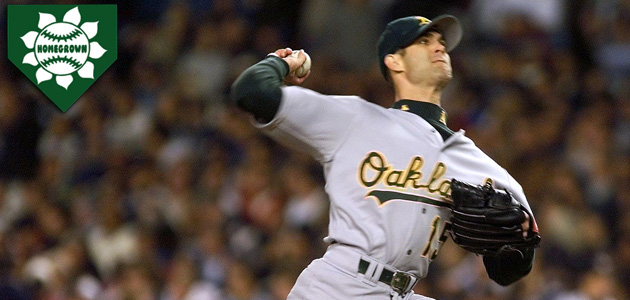 By Matt Snyder
What if players were only permitted to stay with the team that originally made them a professional? No trades, no Rule-5 Draft, no minor or major league free agency ... once you are a professional baseball player, you stay in that organization. This series shows how all 30 teams would look. We give you: Homegrown teams.
To view the schedule/past entries of this feature, click here.
"Moneyball" hit movie theaters everywhere late this past summer and Brad Pitt-as-Billy Beane told us the A's have to be creative to compete in an unfair baseball landscape. There are haves and have-nots, the protagonist would tell us. And we all know the Oakland
Athletics
are have-nots in the salary-capless land of Major League Baseball. So what if the A's could afford to keep all their own guys? Surely they'd be much better, right? Uh ...
Lineup
1.
Jemile Weeks
, 2B
2.
Nick Swisher
, CF
3.
Andre Ethier
, RF
4.
Jason Giambi
, 1B
5.
Ryan Ludwick
, LF
6.
Kurt Suzuki
, C
7.
Ramon Hernandez
, DH
8.
Mark Teahen
, 3B
9.
Cliff Pennington
, SS
Starting Rotation
1.
Tim Hudson
2.
Trevor Cahill
3.
Dallas Braden
4.
Tyson Ross
5.
Joe Blanton
Yes, Braden was out for the season in real life, but we've got
Rich Harden
waiting in the wings. Oh, and yes, Harden is hurt all the time. So then we'd turn to
Barry Zito
.
Bullpen
Closer -
Andrew Bailey
Set up -
Huston Street
,
Santiago Casilla
,
Henry Rodriguez
,
Joel Peralta
,
Sam Demel
Long - Harden, Zito
Notable Bench Players
Miguel Olivo
,
John Baker
,
Gerald Laird
-- yes, those three are all catchers, just like our DH --
Eric Chavez
and
Travis Buck
.
What's Good?
Hey, at least we'd never run out of catchers with this group. There are four major-league caliber starters, even if some are lower-tier, and one quality backup in Laird. So the Athletics churn out catchers. Really, though, the strength of this team is unsurprisingly the pitching. The starting rotation is good, but not great. Hudson is steady and Cahill was very good in 2010. Blanton was good in 2009 but has battled injuries and ineffectiveness since then. Ross did show great promise before his injury last season, though. The bullpen is pretty good, too. Bailey is a solid closer and Street would be a fine eighth-inning man with Casilla and fireballer Rodriguez also setting the table.
What's Not?
Giambi and Ludwick in the middle of the order isn't near as potent nowadays as it would have been a handful of years ago. Plus, could Giambi even play everyday anymore? If not, our next option is playing a catcher, Chavez or Buck at first base. That's weak. In fact, at this point in time, there aren't many spots where the hitter is well above average for his slot. Swisher and Ethier are good, but they aren't elite second or third hitters. Weeks could prove an elite leadoff hitter as soon as 2012, but we don't have a large enough sample yet to declare that. Ramon Hernandez had a good past two offensive seasons, but take him out of the NL Central and Great American Ball Park and put him in the AL West in Oakland. That's a big difference. So while the offense isn't atrocious, it's not very good either -- and there is no bench depth anywhere but catcher. Also, Swisher's out of position in center, but, again, we don't have any other options.
Comparison to real 2011
While the rotation and bullpen are good, they are far from great, and the position players here just aren't enough. This team would be below average, an 85-90 loss ballclub. The real-life A's went 74-88, so I'd say it's just about the same result.
And we can now see the biggest problem. Of course it's tough to compete as a small-market team in a football stadium, but the A's haven't been drafting very well. They've made some good trades, sure, but also some pretty bad ones. For example, they spun
Carlos Gonzalez
, Huston Street and Greg Smith for
Matt Holliday
back in 2008, but then dealt Holliday at the next trade deadline for
Brett Wallace
,
Clayton Mortensen
and Shane Peterson. So, yes, one reason the A's can't compete anymore in the AL West is because they don't have the money to retain or sign new expensive veterans. But another reason is they just aren't churning out draft picks like the
Rays
, for example, are.
For more baseball news, rumors and analysis, follow @EyeOnBaseball on Twitter, subscribe to the RSS feed and "like" us on Facebook.