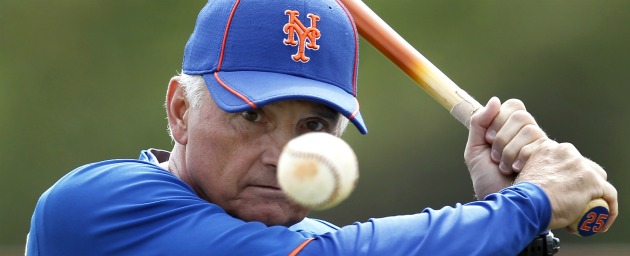 By C. Trent Rosecrans
The
Marlins
made headlines with their offseason spending spree, the
Phillies
still have the game's most intimidating rotation, the
Nationals
have some of the game's biggest young talents and the
Braves
are a sleeper team that shouldn't be written off because of last season's late collapse. And then there's the
Mets
. Last season the team finished fourth in the division and went 77-85, and then they lost their best player. To say there's a lack of buzz surrounding the Mets would be an understatement.
Major additions:
CF
Andres Torres
, CL
Frank Francisco
Major departures:
SS
Jose Reyes
, RH
Chris Capuano
Probable lineup
1. Andres Torres CF
2.
Daniel Murphy
2B
3.
David Wright
3B
4.
Ike Davis
1B
5.
Lucas Duda
RF
6.
Jason Bay
LF
7.
Josh Thole
C
8.
Ruben Tejada
SS
Probable rotation
1.
Johan Santana
2.
R.A. Dickey
3.
Jonathon Niese
4.
Mike Pelfrey
5.
Dillon Gee
Back-end bullpenCloser:
Frank Francisco
Set-up:
Jon Rauch
,
Ramon Ramirez
,
Bobby Parnell
Important bench players
OF
Scott Hairston
, IF
Justin Turner
Prospect to watch
The team's top prospect is right-hander Zack Wheeler, acquired in the
Carlos Beltran
trade, but if he sees Citi Field this season, it'll likely be near the end of the year when the team's fate has already been decided. Outfielder
Kirk Nieuwenhuis
could contribute immediately. The 24-year-old missed the second half of the 2011 season with a torn labrum in his non-throwing (left) shoulder, but has been swinging the bat at full strength since last month. Before his injury, he was hitting .298/.403/.505 with six homers in 221 plate appearances for Triple-A Buffalo. A solid all-around player, Nieuwenhuis can play any of the three outfield sports, but center field may be where he could make his mark. The Mets have the 34-year-old Torres as the its starter in center and the 31-year-old Hairston backing him up, so it's not much of a stretch to see Nieuwenhuis get a chance sometime this season.
Fantasy sleeper:
Lucas Duda
"From July 15 (about the time he took over for a departed Carlos Beltran) to the end of the season, Duda hit .322 with 10 homers and a .957 OPS -- numbers that jive with his minor-league track record. And that was at old Citi Field, complete with its big gaps, tall fences and ability to crush David Wright's spirit." -- Scott White [
Full Mets fantasy team preview
]
Fantasy bust:
David Wright
"Over the last three seasons, he has a .284 batting average and .828 OPS, which are solid numbers but less than elite even for a third baseman. True, his struggles began the same year the Mets moved to spacious Citi Field, but that doesn't explain why his numbers have lagged on the road during that time. Thus, you can't assume the team's decision to move in the fences this year will be Wright's miracle cure. It'll help, but it won't eliminate the injuries, the perpetually rising strikeout rate and the curious home-road splits." -- Scott White [
Full Mets fantasy team preview
]
Optimistic outlook
Santana returns to Cy Young form and Niese takes a step forward, as the Mets pitching staff rounds into form. The new dimensions of Citi Field make a huge difference for the team's offense, with Wright and Bay returning to form, while Duda becomes a star. Even in this perfect world, the Mets could have trouble leapfrogging the Phillies, Marlins and Braves. But Bud Selig could always add another eight playoff spots, giving them a spot in the postseason.
Pessimistic outlook
Santana's injuries continue to haunt him and nobody steps up to take over at the top of the rotation. Davis isn't the same player that he was before his injury and Duda suffers from a sophomore slump, as the offense struggles overall. And then there's the chance that the problems on the field pale in comparison to the ownership problems. The worst-case scenario (well, for 2012, it's may be the best-case scenario for the long term) has a repeat of the Dodger fiasco.
For more baseball news, rumors and analysis, follow @EyeOnBaseball on Twitter, subscribe to the RSS feed and "like" us on Facebook.