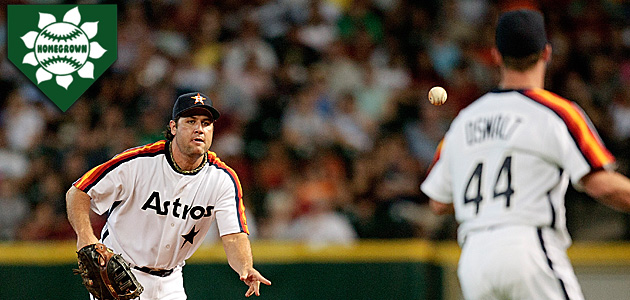 By Matt Snyder
What if players were only permitted to stay with the team that originally made them a professional? No trades, no Rule-5 Draft, no minor or major league free agency ... once you are a professional baseball player, you stay in that organization. This series shows how all 30 teams would look. We give you: Homegrown teams.
To view the schedule/past entries of this feature, click here.
The most interesting thing about our latest installment in this series is that I believe this would have been one of the better teams in the majors had we done the exercise three or four years ago. How good would a
Johan Santana
,
Roy Oswalt
,
Freddy Garcia
top three in the rotation have been a handful of years ago -- along with
Lance Berkman
,
Hunter Pence
and
Bobby Abreu
leading the offense? Alas, we're doing it now and some of that sounds far less enticing. Still, let's check it out.
Lineup
1. Hunter Pence, CF
2.
Jose Altuve
, 2B
3.
Ben Zobrist
, RF
4. Lance Berkman, LF
5. Bobby Abreu, 1B
6.
Chris Johnson
, 3B
7.
John Buck
, C
8.
Aaron Miles
, SS
Starting Rotation
1. Johan Santana
2. Roy Oswalt
3.
Wandy Rodriguez
4.
Bud Norris
5.
Jordan Lyles
Bullpen
Closer -
Brad Lidge
Set up -
Chad Qualls
,
Matt Albers
,
Troy Patton
,
Fernando Abad
,
Long -
Felipe Paulino
, Freddy Garcia
Notable Bench Players
Ramon Castro
,
Carlos Guillen
,
Drew Sutton
,
Brooks Conrad
,
Brian Bogusevic
What's Good?
The trio of Pence, Zobrist and Berkman makes the front part of the offense look really attractive and Abreu offers decent protection for the Puma. Fitting in that two-hole would also do wonders for the development of the young Altuve. Can we assume health in this exercise, considering it's for fun? Sure, I will. So the starting rotation looks pretty good -- albeit not dominant anymore -- with Johan as the ace and Oswalt a good number two (remember, back issues hampered him last year). If Lyles isn't ready yet, we can plug in Garcia or Paulino as the five.
What's Not?
Lidge and Qualls aren't bad, but there is nothing in front of them worth much except two starting pitchers -- and, again, we may need one of the two in the rotation. The bottom part of the batting order isn't very good either and the bench is thin. But let's focus on what is really bad: The defense. I fought back and forth with whether to put Abreu or Berkman in LF, but either one is a bad choice. I just feel like Berkman can move better at this point. I also had to shift Pence to center, even though he's better suited in right. Miles is much better used at second base and he's not even really good there.
Comparison to real 2011
Well, the 2011
Astros
were the worst team in the majors and in franchise history. This team isn't particularly good, but it's better than that. With that rotation, a decent back-end of the bullpen and some offense, these Astros should be able to work close to the 75-win range. One thing is for sure, they wouldn't be the
worst team in the NL Central
. I also feel like the best news for Astros fans is there would actually be some name players here to root for, after having seen the likes of Oswalt, Berkman, Pence and
Michael Bourn
traded over the past two real seasons. Still, you can't help but think that there are enough pieces here that the Astros could have properly built a real-life team that was still in contention in 2011 -- had they made the right moves.
Next:
Los Angeles
Dodgers
For more baseball news, rumors and analysis, follow @EyeOnBaseball on Twitter, subscribe to the RSS feed and "like" us on Facebook.