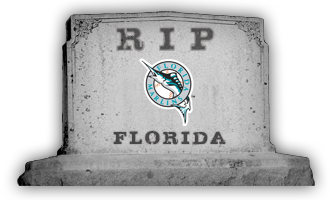 By Evan Brunell
Another season gone, another disappointment for 29 teams as one is immortalized forever. Let's take a look back at 2011 and forward in Eye on Baseball's R.I.P. series...
Team name:
Florida
Marlins
Record:
72-89, 29 games back in NL East
Manager:
Jack McKeon (replaced Edwin Rodriguez, who resigned on June 19)
Best hitter:
Mike Stanton
-- .263/.357/.540, 34 HR, 87 RBI, 4.5 WAR
Best pitcher:
Anibal Sanchez
-- 8-9, 3.67 ERA ,3.35 xFIP, 196 1/3 IP, 64 BB, 202 K
The Marlins haven't been heard from much on the field since 2003, when they took down the
Yankees
to win their second World Series. Since then, the club has been in the news for their miserly spending, firing two well-regarded managers in Joe Girardi and Fredi Gonzalez and
their owner's irrationality
. The last few seasons, owner Jeffrey Loria has believed this team can contend, but anyone who actually looks at the club thinks otherwise. However, entering 2011, there was some hope for contention, but it all unraveled.
2011 SEASON RECAP
There's no doubting that the Marlins had a season to forget. The team's prized offseason acquisition that was supposed to give the club a formidable rotation,
Javier Vazquez
, stumbled to a 5.23 ERA in the first half. Meanwhile, team ace
Josh Johnson
continued his injury woes by only making nine starts.
And yet, the team got off to a strong start, posting a 16-9 record in April. They kept it up in May with a 15-13 record, and it looked like the Marlins might finally be players for the first time since 2009 (and before that, 2003 when they won the World Series). But Johnson's injury and Vazquez's ineffectiveness caught up with the team along with
Hanley Ramirez
's bizarre slow start to the year, causing the Fish to collapse in June and cost manager Edwin Rodriguez his job. Rodriguez resigned in the midst of an 11-game losing streak, which Jack McKeon snapped the second game after taking over. The team rebounded in July with a 17-10 mark, but collapsed yet again in August with a 7-20 mark once Hanley Ramirez hit the shelf for the remainder of the year, and it was over. At that point, the Marlins became known more for off-the-field headlines than on, demoting top prospect
Logan Morrison
to the minors in a thinly-veiled attempt to curtail Morrison's tweeting (
@LoMoMarlins
) and other off-the-field issues.
2012 AUDIT
The Marlins head into the offseason with heavy expectations on hand and a bit of a front-office restructuring, with Loria and team president David Samson taking on more of a role in baseball operations since the Marlins' moves the last few seasons haven't quite panned out under president Larry Beinfest and GM Michael Hill. Even if Beinfest leaves after being marginalized, it will be business as usual in Florida as the team is going through a facelift, finally abandoning the horrid Sun Life Stadium in favor of their own baseball-only park. In addition, the team is undergoing a name change to the Miami Marlins and has a new (
not well-received
) logo to boot. The Fish are taking this chance seriously to win over new fans and start a new beginning, hoping that baseball will finally start being viable in the Sunshine State. They're even willing to approach $100 million in payroll, reports say, which is a stark divergence from their penny-pinching ways.
On Wednesday, the last day of the 2011 regular season, the Marlins began their offseason by hiring Ozzie Guillen to manage and handing him a lucrative $10-million deal to manage Miami over the next four seasons. This hiring adds credibility to the team, both for being able to get a well-respected manager with a World Series ring (2005) and showing that the team will open their checks. However, they still have a difficult avenue ahead of them, with the powerhouse
Phillies
, elite
Braves
and emerging
Nationals
. If MIami has any hope of competing, they need to be serious about acquiring assets in the offseason to build out the rotation and add more bats to a team seriously deficient in offense.
FREE AGENTS
Jose Lopez
, 2B
Javier Vazquez, SP
OFFSEASON FOCUS
The Marlins, ever since they showed just how serious they were in being players on the free-agent market, have been linked to the three top targets --
Albert Pujols
,
Prince Fielder
and
C.J. Wilson
. However, Pujols and Fielder both play first base and the club already has
Gaby Sanchez
at that position. While Sanchez is far from quality enough to block Pujols and Fielder, Logan Morrison is also a first baseman masquerading as a left fielder, so it's hard to envision the Marlins grabbing a first-baseman. Not to mention, even with the Marlins reportedly serious about laying out as much as $60 million in free agency, it's still a tremendous risk for the Marlins to get locked in a long-term contract.
For Miami to take the next step, and yet keep their team viable for long-term success, they should look to do the following...
Sign Aramis Ramirez to play third base. The Marlins really need to boost their offense, and Ramirez is a logical fit, even before Ozzie Guillen headed to Florida. Ramirez said the Marlins were an attractive team with Guillen, but warm weather and proximity to Ramirez's home of the Dominican Republic is also important. The Marlins are willing to throw money around, but Ramirez would be a better fit than Pujols or Fielder, filling a position of need while coming at a short-term cost, at least compared to Fielder and Pujols. In addition, Ramirez wouldn't break the bank, allowing the Marlins to...
Sign Hisashi Iwakuma. The Japanese pitcher was posted last season, but couldn't come to an agreement with the Athletics. Now a free agent, Iwakuma is free to sign with any baseball team. It's difficult to envision the Marlins signing C.J. Wilson, but Iwakuma makes much more sense. At a lower cost, the Marlins can get a viable starting pitcher to plug into the rotation. The failure of Daisuke Matsuzaka will make a lot of teams skittish on Iwakuma, opening the door for the Marlins to sign the lefty. The club also needs to convince Javier Vazquez to come back for another year, giving the club a rotation of Johnson, Sanchez, Vazquez and Iwakuma to start.
Additionally, the club could use a closer. Even if Leo Nunez -- er, Juan Carlos Oviedo -- comes back, the team could use an upgrade. There's a ton of closers hitting the free-agent market, and Huston Street will be available from Colorado. Given the team will already have made two commitments in Ramirez and Iwakuma, the better move would be to go after Street, with just $7 million left on his deal running through 2012. But Street isn't a sexy name, and the Marlins will want to make headlines. Ramirez and Iwakuma aren't splashes, but signing Francisco Rodriguez? That's a splash, but it might cost the Marlins a first round pick. Brad Lidge and Jonathan Broxton wouldn't require first-rounders, but are risks. Jonathan Papelbon would be a better target than Rodriguez, unless Milwaukee declines arbitration on K-Rod, which is entirely possible.
The Marlins need to show patience with their internal candidates. Logan Morrison hasn't been a force right away as some hoped, but the talent is there for him to break out. Similarly, Chris Coghlan had a lost season to ineffectiveness and injury, but is won the Rookie of the Year award in 2009 for a reason.
These moves all minimize Miami losing draft picks, don't lock the team into any long-term commitments they may become unable to sustain, address clear deficiencies on their team and would put them in position to contend.
For more baseball news, rumors and analysis, follow @EyeonBaseball on Twitter or subscribe to the RSS feed.