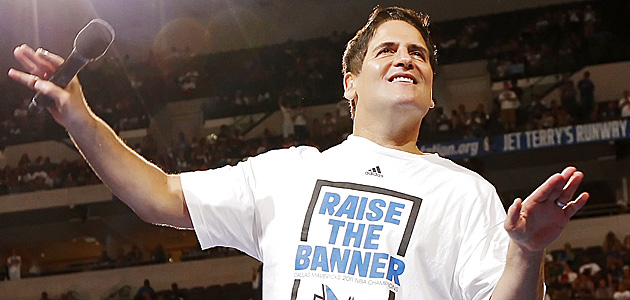 By Matt Snyder
Dallas Mavericks owner Mark Cuban has now swung and missed three times on owning a baseball franchise. Cuban's latest attempt to join the MLB ranks was with the
Dodgers
, currently up for sale from Frank McCourt's ownership. Cuban was among the names eliminated from the preliminary bidding and is not a finalist.
He spoke to Access Hollywood about why
, and it sounds like he didn't want to move on as a finalist.
"It just didn't work out. I wanted to buy a baseball team; they were selling a media rights deal," Cuban said (
Access Hollywood
), alluding to the fact that the Dodgers' TV rights are up for sale and obviously a big part of the purchase price.
He then elaborated (
Access Hollywood
): "The economics got so out of control because the Dodgers' TV deal's up for bid and so there's a lot of groups coming in going, 'This TV deal's worth so much money that we're gonna pay whatever it takes to get the Dodgers.' And so they're buying the TV rights deal first and the team second," Mark said.
It's a bit of a head-scratcher to come at it from this angle, because buying a baseball team is a huge package deal. Every team has TV rights. If they didn't, revenues would be a lot lower. Basically, Cuban's bid was far too low and he thinks the other bids are too high.
But anyway, that's Cuban's story. He's out. The biggest names left in the bidding are Magic Johnson, Rick Caruso (Joe Torre's group), Steven Cohen and the Disney Family.
Hat-tip:
Bill Shaikin on Twitter
For more baseball news, rumors and analysis, follow @EyeOnBaseball on Twitter, subscribe to the RSS feed and "like" us on Facebook.