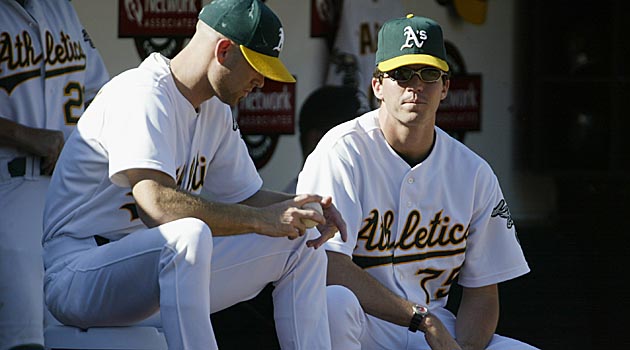 By Matt Snyder
In the past few days, "Moneyball" reviews have been all over the Internet, as advanced screenings are currently taking place. It's a veritable mixed bag. Some reviews have the movie an Oscar contender, others tearing it to shreds, while most are in between. I haven't seen the movie yet, but one area where people aggravate me already is bemoaning how, basically, it's not a documentary. Simply put: It's a
movie
. Of course it's going to take liberties and be just as much fiction as fact. It says "based on a true story," not "true story." I'm sorry is Jonah Hill doesn't even come close to physically resembling Paul DePodesta, for example. Hollywood doesn't have to cast clones.
Anyway, there have been critics for years of the book. You'll often hear someone say something like "Moneyball doesn't work" or try to explain the "myth of Moneyball." Sometimes it almost seems like the person is taking great pride is taking down some huge establishment.
One of the loudest complaints is that the A's had a trio of aces in the pitching staff, so it wasn't that hard to make the team around them good. It's fair, but it discounts the shift in offensive philosophy. But it's understandable. And it's not like Miguel Tejada and
Eric Chavez
-- the anchors of the 2002 offense -- weren't stars. They were.
But this all still ignores the massive disadvantage in payroll the A's had against the likes of the
Yankees
-- and the 2002 A's won 103 games.
On that front, I finally saw a "myth" about Beane's 2002 ballclub that was worthwhile and made sense -- thanks to
Jeff Fletcher at BayBridgeBaseball.com
. Yes, that payroll was really low. But a lot of it had to do with how baseball's system is set up. Namely, because of young players being under club control for years and then arbitration-eligible for a few more years, there was some pretty damn good talent making relatively low salaries in '02.
Tim Hudson
, Mark Mulder and
Barry Zito
combined to go 57-21 with a 3.05 ERA. Zito won the Cy Young. The three aces made $1.97 million
combined
. For comparison's sake, Pedro Martinez of the
Red Sox
finished second in Cy Young voting that year and he made $14 million.
There were several other young players that made far less money than players they were outperforming and that happens every year. The A's just happened to have a handful of them. So I guess I've finally found a "Moneyball myth" I support.
Mo in center?
Mariano Rivera
has a simple request of manager Joe Girardi. Before he retires, Rivera would like to get a shot in center field. Rivera reportedly claims he's a "viable" center fielder and wants to play a game there (a whole game?). Yeah, that ain't happening. But Girardi has said he'd consider putting him out there for
one batter
in a meaningless game. Oh, and one more stipulation: "[It would be against] a guy who hits ground balls or strikes out a lot," Girardi said (
NYTimes.com
).
GM already in place?
It would seem that
Cubs
chairman Tom Ricketts is doing his hiring backwards. About a week and a half ago
I bemoaned Ricketts' giving a contract extension to his player personnel director before hiring a general manager
. Well, now Ricketts is set to give a similar extension to scouting director Tim Wilkin (
SunTimes.com
). Yes, outgoing GM Jim Hendry loved both of these members of his staff, but he's gone now. Is it possible Ricketts already has an agreement behind closed doors with his next GM, which makes these extensions OK? If not, it seems like he's severely limiting himself in his GM search. Think about it this way. If you started a business, would you hire all the mid-level employees before your CEO? Or would you hire your dream CEO and then work with him on hiring the underlings?
Great family story:
The
Marlins
recently promoted prospect
Matt Dominguez
for his major-league debut. His father is a copy editor for the
Los Angeles Times
, and he wrote a story about the experience of seeing his son play in the bigs. (
LATimes.com
)
Jocketty staying put:
Just as I noted in
Wednesday's Pepper
, the rumor that the Cubs were going to grab GM Walt Jocketty, manager Tony La Russa and first baseman
Albert Pujols
doesn't have much merit. Jocketty isn't going anywhere (
Cincinnati.com
).
Poor Dunn:
This is interesting. Baseball-Reference's blog ran two posts that kind of sum up how futile
White Sox
designated hitter
Adam Dunn
's season has been. He's hitting .162 with 160 strikeouts. If he gathers a few more at-bats, there's a chance he ends up with more strikeouts than his batting average points. That has
only happened one time in history
when a hitter got more than 35 at-bats. And it was last season:
Mark Reynolds
. The same blog also compiled a list of the worst full-time players of the last 50 years, and
Dunn checks in at 20th
.
Still chugging:
Rockies
starting pitcher
Kevin Millwood
, 36, is 3-2 with a 3.68 ERA and 1.18 WHIP since being picked up by the Rockies this season, and he wants to come back for them in 2012 (
DenverPost.com
). Remember, he was on the verge of retiring before the Rockies grabbed him.
Hanson improving:
Injured
Braves
starting pitcher
Tommy Hanson
threw a 44-pitch side session Wednesday and felt fine. Another big step comes Thursday, as he'll see how his hampered throwing shoulder reacts (
MLB.com
). If anything big happens, we'll certainly be updating with a stand-alone post on
Eye On Baseball
. Hanson could be the difference between a first-round exit or going deep in the playoffs for the Braves.
Gracious Votto:
Reigning NL MVP
Joey Votto
has emerged as an elite baseball player and he says that he owes "90 percent" of his success to his old coach back in Canada (
Fox Sports Ohio
). This isn't surprising. Votto is one of the most humble and classy players in baseball.
Happy Anniversary:
Since 1980, the following All-Stars made their respective major-league debuts on September 15: Fernando Valenzuela (1980), Randy Johnson (1989),
Cliff Lee
(2002) and
Rickie Weeks
(2003). (
Hardball Times
)
For more baseball news, rumors and analysis, follow @EyeOnBaseball on Twitter or subscribe to the RSS feed.