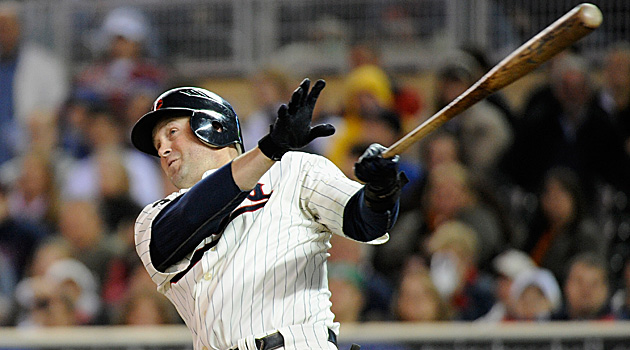 By Matt Snyder
Free agent outfielder
Michael Cuddyer
has agreed to sign a three-year, $31.5 million contract with the Colorado
Rockies
, Jon Heyman of CBSSports.com has learned. The final stages of the contract are currently being completed.
Cuddyer is an 11-year veteran and has only played for the
Twins
. But when the Twins and Cuddyer had two different figures in mind for a contract, the Twins went ahead and signed
Josh Willingham
, seemingly leaving no room for Cuddyer. The Rockies had been courting Cuddyer anyway, so when Willingham went to Minnesota, the door was open. Cuddyer had wanted at least $30 million over three years from the Twins -- who reportedly offered $25 million over three years -- so the Rockies came up with the figure needed. Minnesota, meanwhile, used $24 million in a three-year contract to net Willingham.
Cuddyer, 32, has played every position in a major-league game except shortstop and catcher. Yes, he's even pitched. But he's going to serve as a right fielder and first baseman for the Rockies. He'll become the everyday right fielder, while also spelling
Todd Helton
from time to time, likely eventually taking over for him.
The Rockies found Cuddyer to be a good fit both in terms of on-field performance and in the clubhouse. They were interested in
Carlos Beltran
as a backup plan, so he will now have to look elsewhere. Earlier this week,
CBSSports.com's Scott Miller reported
the
Cardinals
,
Blue Jays
and "at least two other unidentified clubs" are also interested in Beltran, so he's definitely not left out in the dark.
Cuddyer hit .284/.346/.459 with 20 homers, 70 RBI, 70 runs and 11 stolen bases last season. He made the All-Star team for the first time in his career, though he had very good seasons in 2006 and 2009 as well. He's not a marquee bat, but he doesn't have to be. The Rockies have
Carlos Gonzalez
and
Troy Tulowitzki
holding down the 3-4 spots in the order. We should also recognize that Cuddyer is moving from a pitcher's park in Target Field to Coors Field, which ranked as the top hitter's park in 2009-10 and second-best in 2011 behind
Rangers
Ballpark.
The move puts Gonzalez in left field and
Seth Smith
is now moved to the bench as the fourth outfielder. Smith has been mentioned throughout the offseason in trade rumors, so don't expect those to quiet down anytime soon.
For more baseball news, rumors and analysis, follow @EyeOnBaseball on Twitter, subscribe to the RSS feed and "like" us on Facebook.