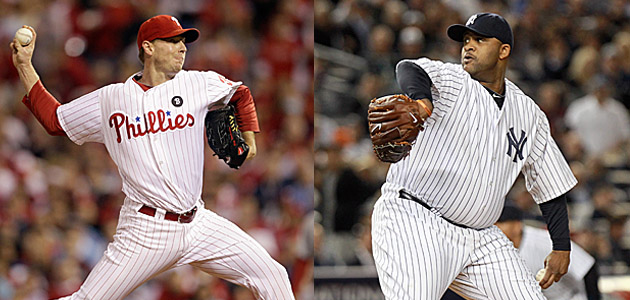 By Matt Snyder
In our series of Hall of Fame-related posts, leading to Monday's announcement about who will join Ron Santo in the 2012 Baseball Hall of Fame class, we continue right here with a grouping of 30-plus year old players who haven't yet rounded out their resumes. None of these guys could retire right now and be a sure bet for the Hall (though the top option would very much have a chance), but all have at least the slimmest of chances.
To clarify what we're attempting to do here, this isn't C. Trent Rosecrans and Matt Snyder say who should be in the Hall of Fame (though Trent does have only two more years until he's a voter). This is us going through and trying to guess how the entire voting body -- which is larger than 550 people -- would react to certain players. We could be wrong. It's just a fun, and subjective, discussion leading up to the 2012 voting results.
Saturday, we'll check out the under-30 crowd to see who is building a Hall-like foundation to their careers (Hint: You may see a "Felix" on there ... ).
For now, we're looking at players over 30-years-old who are still in their prime or just barely past it.
Looking Good ...
Roy Halladay
- Could Doc retire right now and make the Hall? Maybe. Maybe not. I would say it's not a sure thing yet but he's headed to the Hall of Fame, because he's not retiring any time soon. If we do this again next year, he might very well have already moved to the surefire list. He's that close. The eight-time All-Star has two Cy Youngs, seven top-five Cy Young finishes and two runner-up finishes in the voting. He's already amassed over 2,500 career innings pitched with 66 complete games and 20 shutouts. His 188-92 record, 3.23 ERA and 1.17 WHIP all look nice. He'll surpass 2,000 strikeouts this season and he's already 40th all-time in career Wins Above Replacement among pitchers. He'll likely climb into the top 30 this season while going past 200 victories. Oh, and he threw a no-no in the playoffs. At 34, he probably has three years left in his prime. So, yeah, this case is nearly complete, barring him turning into Mike Morgan for the next five years. There are guys already in the Hall with worse numbers.
CC Sabathia
- Carsten Charles isn't nearly as close as Halladay, he's just on the right track. CC is a five-time All-Star with one Cy Young and five top five finishes in Cy voting. He has a World Series ring and a 176-96 career record, to go with a 3.51 ERA (125 ERA-plus) and 1.23 WHIP. The problem for Sabathia is, though he's played 11 seasons, he didn't become dominant until 2007 -- yes, he was 17-5 as a rookie, but with a 4.39 ERA and zero complete games. From 2007-11, CC has been a Hall of Fame caliber pitcher, but that's only five years. He does already have over 2,000 strikeouts, though. Another three seasons like the past three he's had for the
Yankees
and he's a pretty good bet to make it, I'd guess. Five more and he's a lock. Since he's still only 31, I like his chances.
Work to be done ...
Carlos Beltran
- A Rookie of Year, six All-Star games, three Gold Gloves, 302 homers, 293 steals. Good? Definitely. Elite? Not yet. And he's a slightly-broken-down 34. It doesn't look promising.


Adrian Beltre -
Those five seasons of having Safeco Field stifle his offensive numbers could prove very costly. He's still only 32, though.
Lance Berkman
- Does the 35-year-old have about three more seasons coming like the one he just had in St. Louis? If so, he may just have a shot. If not, he's just had a really great career.
Mark Buehrle
- He's only 32 and sports a 161-119 record along with two no-hitters (one perfecto). Four All-Star appearances and three Gold Gloves, too. If Buehrle pitches six more years or so with the same durability he may sneak into discussion.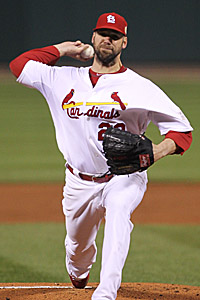 Chris Carpenter
- Injuries probably did him in. If you look at 2004-06 and then 2009-11 for Carpenter, and say he could have done that over a 12-year period in a 16-year career, he's a Hall of Famer. Instead, he really has only those six seasons to bank on, as his six-year stint in Toronto was mediocre. He's 36 now and probably doesn't have enough has left in his tank to put up four more big seasons, especially considering he wasn't awesome in 2011 and worked over 270 innings (playoffs included).
Johnny Damon
- Do you believe 3,000 hits is an automatic ticket to the Hall? Everyone with at least 3,000 hits is in the Hall except: Pete Rose (banned from baseball),
Derek Jeter
(still active), Craig Biggio (not Hall-eligible until next year) and Rafael Palmeiro (tested positive for a banned substance). With 2,723 hits, Damon is two seasons away. But he's 38. But pretty much just as productive as he's been for a long time, according to OPS-plus. We'll see ...
Matt Holliday
- In eight seasons, Holliday is a five-time All-Star and has received MVP votes in five different seasons. His rate stats -- .315/.388/.541 with a 137 OPS-plus -- look awesome, but Holliday didn't come up until he was 24. So he's a 31-year-old power hitter with just 202 homers and 770 RBI. Can he keep hitting like this for another eight years? Until then, he's not getting in.
Tim Hudson
- His numbers are a bit similar to Sabathia, minus the strikeouts and World Series ring, but he's 36. Hudson will be on a Hall of Fame ballot, but just one, before falling off. Really good career, though.
Paul Konerko
- It feels like he doesn't have enough time left. He's a 35-year-old power hitter with 396 homers and 1,261 RBI. Basically, you could say the same thing I said above about Berkman (subbing in "Chicago" for "St. Louis," of course).
Phillies' offensive trio
-
Ryan Howard
,
Jimmy Rollins
and
Chase Utley
formed the offensive nucleus for a team that won the NL East five straight years (and counting), the NL two straight years and the 2008 World Series. But considering various circumstances (age, injury history, etc.), it appears the Phillies offense had zero Hall of Famers through this stretch.
Roy Oswalt
- Young Roy appeared on the way, finishing in the top five of Cy Young voting five of his first six seasons. The numbers for the 34-year-old show he's got a chance with three more really great seasons, but his balky back poses a huge problem.
Mark Teixeira
- He'll turn 32 in April, so it would appear he has an uphill battle with 314 homers and 1,017 RBI thus far in his career. The .904 OPS (132 OPS-plus) looks really good, but Teixiera's only hit .252 the past two seasons combined.
Michael Young
- He's a seven-time All-Star with a .304 career batting average and many writers seem to love him (he got a first-place AL MVP vote this year, for example). Young also has 2,061 hits and is 35. Does he have 939 hits left in him? He has 957 in the past five seasons. He could probably play five more seasons as a DH.
---
So what do you think, readers? Any of these guys have a shot? Who has the best shot?
Coming Saturday:
Under-30 players who have laid a foundation
Sunday:
"Asterisk" guys with Hall-type resumes
Monday:
2012 Hall of Fame inductee(s) announced
Monday:
Looking ahead at the 2013 first-year eligibles
Monday:
Looking at the '14, '15 and '16 first-year eligibles
For more baseball news, rumors and analysis, follow @EyeOnBaseball on Twitter, subscribe to the RSS feed and "like" us on Facebook.