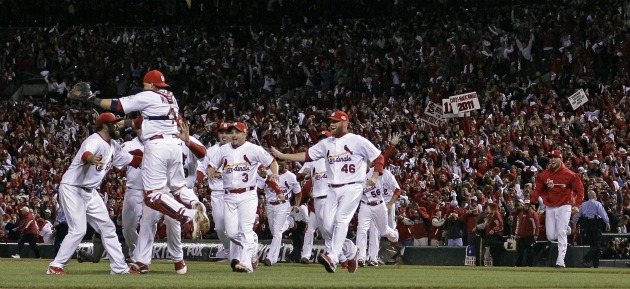 By Matt Snyder
Another season gone, another disappointment for 29 teams as one is immortalized forever -- this time around it's the St. Louis Cardinals. Let's take a look back at 2011 and forward in Eye on Baseball's R.I.P. series...
Team name:
St. Louis Cardinals
Record:
90-72, 2nd place in NL Central, NL wild card winner. Won NLDS 3-2 over
Phillies
, won NLCS 4-2 over
Brewers
, won World Series over
Rangers
4-3.
Manager:
Tony La Russa
Best hitter:
Albert Pujols
-- .299/.366/.541, 37 HR, 99 RBI, 105 R, 9 SB
Best pitcher:
Chris Carpenter
-- 11-9, 3.45 ERA, 1.26 WHIP, 191 K, 237.1 IP
2011 SEASON RECAP
The Cardinals entered the spring as the favorite in the wide-open NL Central, but nearly immediately lost ace
Adam Wainwright
to a torn ulnar-collateral ligament. So he underwent Tommy John surgery and the Cardinals were largely written off as a serious threat to the Brewers and the defending division champion
Reds
. A 2-6 start didn't help matters, especially with
Matt Holliday
having to undergo an appendectomy. Oh, and Pujols was struggling out of the gate. But a change at the back-end of the bullpen and
Lance Berkman
's re-emergence as a big-time slugger helped straighten things out. By the end of April, the Cardinals were 16-11 and in first place. A bad June and mediocre July weren't enough to bury the Cardinals, but the Brewers huge surge in August seemed to end the postseason hopes for St. Louis. There was no catching Milwaukee. The Cardinals finished 23-9 and ran down the
Braves
in the wild card, advancing into the playoffs when the Braves lost in extra innings on the final day of the regular season. The fun times extended all the way until the World Series, as the Cardinals took down by the Phillies and Brewers en route to their 18th NL championship. An insane comeback in Game 6 of the World Series paved the way for the Cardinals 11th World Championship.
FREE AGENTS
Yadier Molina
, C (club option)
Gerald Laird
, C
Albert Pujols, 1B
Rafael Furcal
, SS (club option)
Nick Punto
, IF utility
Corey Patterson, OF
Edwin Jackson
, SP
Arthur Rhodes
(club option)
Octavio Dotel
(club option)
2012 AUDIT
Everything boils down to what happens with Pujols. If the Cardinals can re-sign him, they'll have essentially the same team in 2012 as they had in 2011, but with a healthy Adam Wainwright taking Edwin Jackson's vacated spot in the rotation -- there's no way they'll have enough money to keep Jackson after extending Berkman and Carpenter while keeping Pujols, Wainwright and Molina. Obviously, if the Cardinals do come back with a similar team and Wainwright is healthy you can expect them to once again be a big-time playoff contender.
OFFSEASON FOCUS
The biggest focus will be to retain Pujols and I firmly believe they will. What they have to do in order to get him to stay dictates flexibility elsewhere, but most of the biggest questions have already been answered. Carpenter, Berkman and Wainwright are locked up. Holliday already was. It actually seems like a sound strategy. Instead of taking maybe a few months to get Pujols' deal done and then trying to pick up the spare parts, the Cardinals know their budget and what their roster will look like around Pujols. It's one of the many reasons I believe they'll get him. There's obviously a plan in place.
Molina's option should and will be picked up.
There's not going to be enough money left to do much in the middle infield. They likely can't afford to pick up Furcal's option, so it's going to be some combination of Ryan Theriot, Skip Schumaker and Daniel Descalso, which is serviceable considering the strength of the rest of the lineup. Maybe they get Furcal to come back on a cheap one-year deal? He reportedly wants to stay and it's not like his value is sky-high.
David Freese (3B) and Jon Jay (CF) are going to be the everyday players all season, and both are plenty adequate in their current roles -- especially postseason hero Freese. Jason Motte will also be the full-time closer all season after showing he can do the job down the stretch. These are all full-season upgrades.
Keep an eye on Shelby Miller. Jake Westbrook is only going to be a bridge to when Miller can join the rotation. The 20-year-old right-hander was 9-3 with a 2.70 ERA and 89 strikeouts in 86 2/3 Double-A innings this season. It's very possible he's ready to get a shot by June or July. And maybe the Cardinals even plug Lance Lynn in the rotation instead of Westbrook at some point anyway. Expect Lynn to be used as insurance for injury issues -- or even to save Wainwright's arm a bit -- early in the season.
If Pujols doesn't re-sign, the possibilities are nearly endless. They'll have a chunk of money to play with an a desperate need to upgrade the offense. Maybe go after Jose Reyes to set the table for Holliday, Berkman and Freese? The non-signing of Pujols is a bridge we'll cross if it actually happens, because at this point I just don't see him not going back to St. Louis.
For more baseball news, rumors and analysis, follow @EyeOnBaseball on Twitter or subscribe to the RSS feed.