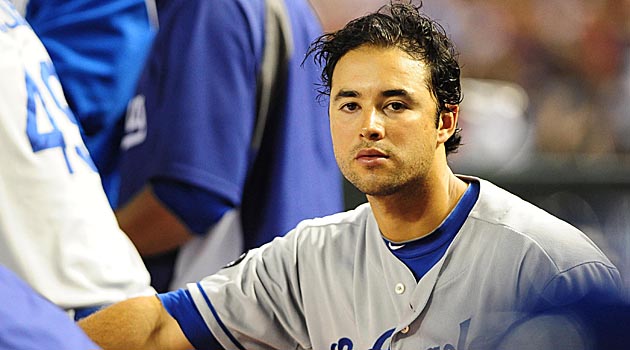 By Matt Snyder
Sunday, we passed along the report that
Dodgers
right fielder
Andre Ethier
was playing through an knee injury that would need offseason surgery -- a report in which
he seemed to insinuate the Dodgers were forcing him to play
. Also contained therein, general manager Ned Colletti seemed to say he believed Ethier was faking an injury.
One day later, manager Don Mattingly was upset.
"I'd rather lose my job and us not win than put a guy out there that has a chance of hurting himself and doing something that would affect his career in a long-term way in any shape or form, especially if he says, 'Hey, I can't go,'" Mattingly said (
LATimes.com
).
Meanwhile, Ethier kind of backed off his sentiment, though he never denied making any of the statements to the Los Angeles Times reporter.
"It's always been my choice to keep playing and keep going," Ethier said (
LATimes.com
). "They've never said, 'We don't think you can or you can't play.' It's always been they've said, 'Hey, you've obviously put up with this and it's at your discretion.'"
Remember, earlier this season
Ethier publicly complained about the Dodgers' ownership situation
and reports indicated he was jealous of his friend
Dustin Pedroia
getting to play in Boston. Is Ethier just angling to leave Los Angeles when he's a free agent after 2012? Or is he a bit of a drama queen? Or did he back off his Saturday statements due to meeting with Mattingly and Colletti Sunday after the duo read the Sunday Los Angeles Times story?
Hard to figure. Whatever it is, it's another mess for the Dodgers. As if they didn't have enough stuff to worry about.
For like of the game:
Dirk Hayhurst is a minor-league pitcher in the
Rays
' system and also a published author. He's been in the bigs before, but not since 2009 with the
Blue Jays
. He's also very active on Twitter and has his own blog.
In his latest entry
, Hayhurst explains why he hates hearing the phrase "for love of the game," and instead prefers "like." It's a great read and I highly recommend clicking through with an open mind.
Dunn the realist:
It's no secret how awful
Adam Dunn
has been this season, his first with the
White Sox
. When asked about a rather drastic production in playing time moving forward, Dunn was fully accountable: "I'm a realist," said Dunn, who wasn't in the lineup Sunday and is batting .163 with 156 strikeouts (
ChicagoTribune.com
). "I'm not like an idiot. We're right in the middle of things. What do you do? What do you say?"
Royals ready to 'go for it:'
Royals general manager Dayton Moore is sitting on mountains of prospects, several of which have begun to filter into Kansas City this season. Now, it sounds like he's done biding his time, because he plans on pursuing a deal this offseason in which the Royals cough up prospects to get a proven starter -- and
The Kansas City Star
article mentions one like the
Indians
getting
Ubaldo Jimenez
.
Relationships to keep Friedman in Tampa Bay?
Rays executive vice president Andrew Friedman has been the subject of rampant rumors in the Chicago area, now that the
Cubs
have a vacancy at general manager. Speculation by many is that Friedman would jump at the chance to be freed from the mighty AL East and get to throw some money around instead of pinching pennies.
A TampaBay.com article says
that won't matter, because of Friedman's strong relationship with owner Stu Sternberg, president Matt Silverman and manager Joe Maddon.
Crane in danger?
Prospective new
Astros
owner Jim Crane has yet to be approved by Major League Baseball, even though two weeks ago Drayton McLane said a deal would be approved in two weeks.
Richard Justice of the Houston Chronicle
believes Crane may not be approved by commissioner Bud Selig. "If Commissioner Bud Selig is comfortable with Jim Crane owning the Astros, then Jim Crane will own the Astros. You can read the delay in the approval process any way you like, but as someone who has known Selig for almost 30 years, it's not insignificant." Justice does point out that a deal is still obviously possible, but it just seems fishy.
Rockies after arms:
The Rockies top priority this offseason will be to upgrade starting pitching. That might sound a little weird after they just dealt Ubaldo Jimenez, but they actually traded for two guys who could end up being frontline starters in
Alex White
and Drew Pomeranz. But they might not be ready to lead a team to the playoffs just yet, so a trade for a proven veteran might be coming in the winter months ahead (
Denver Post
).
Ribbing the rook:
Mariners
rookie
Trayvon Robinson
gave a high-five to a fan and heard about it from his teammates in a playful way (
MLB.com
).
Sanchez may be done:
Giants
starting pitcher
Jonathan Sanchez
-- who seemed to be having a contest with
Barry Zito
to see who could get kicked out of the rotation for good -- might miss the rest of the season with his ankle injury. Meanwhile, Zito is feeling much better (
Extra Baggs
). If the offense doesn't drastically improve, however, none of this will be relevant.
Only triples:
Rangers
pitcher
C.J. Wilson
got four at-bats in interleague play and tripled for his only hit.
Baseball-Reference's blog
found 20 players in big-league history with only triples among their hits in a season.
Branyan the barber:
Did anyone notice Sunday night that
Angels
center fielder
Peter Bourjos
is now bald? Yeah, that's because he entrusted veteran slugger
Russell Branyan
with cutting his hair. And Branyan purposely took a little more off than was asked. "He pulled a nice little prank on me," Bourjos said good-naturedly (
LATimes.com
). "I keep scaring myself when I look in the mirror."
Let's play two ... with one extra player:
Yankees
manager Joe Girardi thinks teams should be able to expand rosters by one on days when they're playing a doubleheader (
MLB.com
).
Happy Anniversary:
On this day back in 1977, Duane Kiper hit his only major-league home run. In 3,754 plate appearances. Current White Sox color commentator Steve Stone was on the mound. Funny note: Stone's future broadcast partner (for Cubs' games) Harry Caray had the call that day. (
Hardball Times
)
For more baseball news, rumors and analysis, follow @EyeOnBaseball on Twitter or subscribe to the RSS feed.