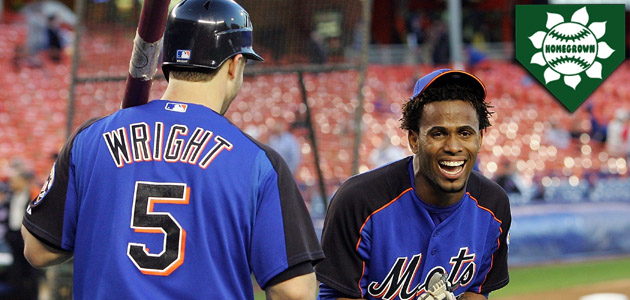 By Matt Snyder
What if players were only permitted to stay with the team that originally made them a professional? No trades, no Rule-5 Draft, no minor or major league free agency ... once you are a professional baseball player, you stay in that organization. This series shows how all 30 teams would look. We give you: Homegrown teams. To view the schedule of this feature, click here.
Another day, another entry in our series. For this one, we'll stop over in Queens and meet the
Mets
. We know about Wright and Reyes, but what else is there? For one, a guy who just tied the postseason home run record. Knowing that the Mets traded him for Jorge Velandia has to be a bit painful for Mets fans (don't feel too bad, though, because the A's and
Brewers
gave up on Cruz, too). Anyway, let's dive in.
Lineup
1.
Jose Reyes
, SS
2.
Daniel Murphy
, 2B
3.
David Wright
, 3B
4.
Nelson Cruz
, RF
5.
Ike Davis
, 1B
6.
Mike Carp
, LF
7.
Angel Pagan
, CF
8.
Josh Thole
, C
Starting Rotation
1.
Dillon Gee
2.
Jonathon Niese
3.
Philip Humber
4.
Mike Pelfrey
5.
A.J. Burnett
Bullpen
Closer -
Heath Bell
Set up -
Octavio Dotel
,
Jason Isringhausen
,
Matt Lindstrom
,
Bobby Parnell
,
Joe Smith
,
Guillermo Mota
Long - Aaron Heilman
Notable Bench Players
Drew Butera
,
Josh Satin
,
Ruben Tejada
,
Ty Wigginton
,
Lucas Duda
,
Fernando Martinez
,
Carlos Gomez
and the imcomparable
Wily Mo Pena
. Also, Scott Kazmir is on this team. If he never left, would it have been possible that he was an upper-tier starter for years? We'll never know.
What's Good?
I like the bullpen. The bench is good, too. As a whole, one thing that stuck out to me is there aren't any really glaring holes. And assuming everyone is healthy, that's a pretty stout top four to five in the batting order. Reyes setting up for Wright and Cruz would be scary for opposing pitchers.
What's Not?
The starting rotation is a bunch of threes and fours. There's potential to better sure -- like if Burnett gets locked in for stretches -- but if we're looking at just the present, the lack of an ace would hurt as the season progressed, especially in terms of stopping modest losing streaks. The catcher and center field spots could be better as well, but, as I mentioned above, it's not like those are glaring holes. On the whole, while there aren't any real glaring holes, there's nothing that stands out as spectacular other than a healthy Reyes while Wright, Cruz and Bell are very good.
Comparison to real 2011
The real-life Mets were 77-85, and I think this bunch is a bit better than that. It's a team that would put up a winning record and maybe contend for a wild card. It's definitely not great, as the lack of an ace shows, but the weaknesses here are all pretty minor. I'm thinking mid-80s in wins with a ceiling of 90 and floor of high-70s? That sounds about right.
Next:
Cincinnati
Reds
For more baseball news, rumors and analysis, follow @EyeOnBaseball on Twitter or subscribe to the RSS feed.