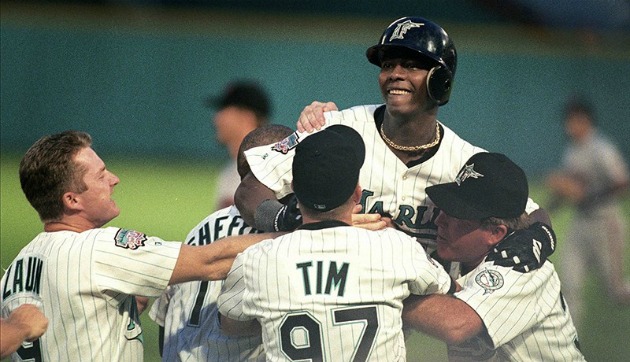 By C. Trent Rosecrans
Former World Series MVP
Edgar Renteria
is leaning toward retirement, although his agent,
Barry Meister told FoxSports.com's Ken Rosenthal that the 35-year-old shortstop probably won't file official retirement papers anytime soon, leaving the door open for a return
.
Renteria played for the
Reds
last season, but Cincinnati instead chose to go with rookie Zach Cozart as its starter at shortstop, along with backup
Paul Janish
. Renteria received two offers of minor-league contracts from National League teams, but he chose not go that route.
"It had nothing to do with the team," Meister told Rosenthal. "It just had to do with the feeling that this might be the right time."
Renteria won two Gold Gloves and was a five-time All-Star, as well as two World Series titles and another appearance. Although, the highlight of his career came early, when at 20 he hit the game-winning RBI single in the 11th inning of Game 7 of the 1997 World Series with the
Marlins
. He then won the World Series MVP with the
Giants
in 2010. He also appeared in the 2004 World Series with the
Cardinals
.
In an interesting twist, he could be hanging up his glove in the same offseason season that countryman and fellow Gold Glove shortstop
Orlando Cabrera
retired. Cabrera, 37, played for the Giants and
Indians
last season -- and coincidentally, was the shortstop for the Reds in 2010. He was also the shortstop for the
Red Sox
when Boston beat Renteria's Cardinals in the 2004 World Series.
What makes it really interesting is that the two, who are probably the greatest players to ever hail from Columbia, had a rivalry and didn't like each other.
Here's a story from 2008 written by Jorge Arangure in ESPN The Magazine that examines and explains the feud
. It's a fascinating read, but the crux is this -- Renteria felt Cabrera was jealous of him and then there's a money aspect to the entire deal.
In Cincinnati, I've dealt with both and found it odd. Teammates liked -- and even loved -- both players, they were well-respected and were also good with the media. Renteria, whom I was around less, seemed more quiet, while Cabrera is outgoing, loud and hilarious.
Renteria and his brother founded the Columbian Professional Baseball League and he is seen as a hero in Columbia, while last season Cabrera became a U.S. citizen.
If Renteria retires, he'll end his career with a .286/.343/.398 slash line, 140 home runs and 2,327 hits to go along with five All-Star appearances, two Gold Gloves and two Silver Sluggers. He also played on seven playoff teams with four different franchises. Cabrera finished his career with a .272/.317/.390 slash line, 123 home runs and 2,055 hits. He never made an All-Star team, but did win two Gold Gloves and played on six playoff teams. From 2004-2010, he appeared in the playoffs in all but one of those seven seasons, making six playoff appearances with five different teams.
For more baseball news, rumors and analysis, follow @EyeOnBaseball on Twitter, subscribe to the RSS feed and "like" us on Facebook.