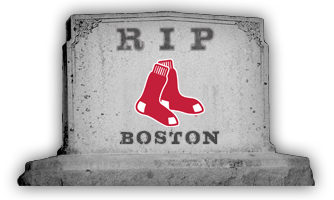 By Evan Brunell
Another season gone, another disappointment for 29 teams as one is immortalized forever. Let's take a look back at 2011 and forward in Eye on Baseball's
R.I.P. series...
Team name:
Boston
Red Sox
Record:
90-72, 3rd place in AL East, 7 games back
Manager:
Terry Francona
Best hitter:
Jacoby Ellsbury
-- .321/.376/.552, 46 2B, 32 HR, 39 SB
Best pitcher:
Josh Beckett
-- 13-7, 2.89 ERA, 193 IP, 52 BB, 175 K
2011 SEASON RECAP
Here's guessing you've heard plenty about the Red Sox's 2011 season, so let's be brief. After stumbling to a 2-10 start, the Sox rebounded to go 81-44 over a 122-game stretch, then things completely imploded in September as Boston fell out of the postseason entirely, losing the wild card on the final day of the regular season.
While clubhouse dysfunction has ruled the news lately, the Red Sox's problems went deeper than that, as lack of pitching was a major problem that completely fell apart in September.
Daisuke Matsuzaka
fell to Tommy John surgery early on, pressing
Tim Wakefield
into year-long duty. Injuries were also sustained by Josh Beckett and trade-deadline acquisition
Erik Bedard
.
Kevin Youkilis
played in just 10 games after August 17, and
J.D. Drew
was a vanishing act from July 20-Sept. 24.
2012 AUDIT
The Red Sox are a good team, chemistry issues aside. There isn't much wholesale changes to be done, although there are several items of importance the Red Sox will have to address. The club could be looking at vacancies in right field, shortstop, DH and closer, so Boston has its hands full. It will also have to address the back of the rotation. A busy offseason awaits, but the core of the team is intact.
FREE AGENTS
Erik Bedard, SP
J.D. Drew, RF
Conor Jackson
, OF
Hideki Okajima, RP
David Ortiz
, DH
Jonathan Papelbon
Trever Miller
, RP
Marco Scutaro
, SS ($5 million team option, $3 million player option)
Jason Varitek
, C
Tim Wakefield, SP
Dan Wheeler
, RP ($3 million team option).
OFFSEASON FOCUS
For more baseball news, rumors and analysis, follow @EyeonBaseball on Twitter or subscribe to the RSS feed.