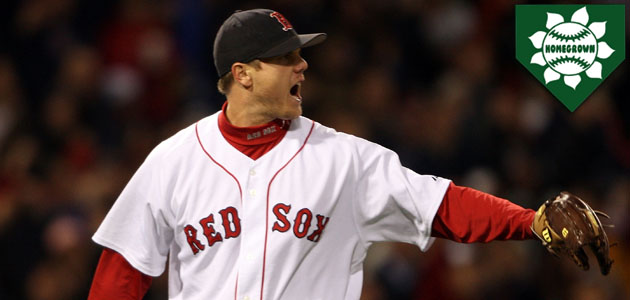 By Matt Snyder
What if players were only permitted to stay with the team that originally made them a professional? No trades, no Rule-5 Draft, no minor or major league free agency ... once you are a professional baseball player, you stay in that organization. This series shows how all 30 teams would look. We give you: Homegrown teams.
To view the schedule/past entries of this feature, click here.
One of the main reasons we came up with this exercise was because of the massive amount of fighting in the comments sections over who "buys" their teams instead of drafting and developing their own talent. In some cases, the accusations are true. In others, they aren't. While these
Red Sox
don't have
Adrian Gonzalez
or
David Ortiz
or
Josh Beckett
, you'll certainly see several key, familiar names.
Lineup
1.
Jacoby Ellsbury
, CF
2.
Dustin Pedroia
, 2B
3.
Kevin Youkilis
, 3B
4.
Hanley Ramirez
, DH
5.
David Murphy
, LF
6.
Anthony Rizzo
, 1B
7.
Jed Lowrie
, SS
8.
Kelly Shoppach
, C
9.
Josh Reddick
, RF
Starting Rotation
1.
Jon Lester
2.
Clay Buchholz
3.
Justin Masterson
4.
Anibal Sanchez
5.
Carl Pavano
Bullpen
Closer -
Jonathan Papelbon
Set up -
Daniel Bard
,
Rafael Betancourt
,
Frank Francisco
, Hideki Okajima
Long -
Kyle Weiland
,
Daisuke Matsuzaka
? (Not sure I could stomach that ... )
Notable Bench Players
Ryan Lavarnway
,
Lars Anderson
,
Freddy Sanchez
,
Engel Beltre
What's Good?
The top of the order is sick. If Hanley Ramirez had one of his good years, that's a top four that few in baseball could match. The entire pitching staff is really, really strong, too. Lester as an ace works fine and Masterson and Sanchez are pretty darn good in those slots. There was one point last season (May) when Sanchez was almost as good as anyone. Then you move into the bullpen and the back-end is what it was in 2011, with Bard and Papelbon. Here, though, we get to add Betancourt and Francisco to the mix. That's quite a bridge to Papelbon, and remember, this with a good rotation.
What's Not?
The lineup thins out quickly. It's not awful by any stretch, because Lowrie, Shoppach and Reddick are a decent 7-9, but Murphy isn't good enough to be a fifth hitter in a great lineup and we still can't be sure how Rizzo pans out. Also, there is no depth, either on the bench or in the bullpen. The onus is entirely on the main guys to shoulder the entire workload.
Comparison to real 2011
Let's avoid all the off-field crap and just focus on the issue at hand. Is this team better than the one that was in the AL playoff race until the final out of the season? The offense isn't as good, that's for sure. Most of the other spots are at least close, but the Rizzo/Gonzalez gap at first base is gigantic. Pitching-wise, though, this group is better, top to bottom. There's no Josh Beckett, but there also isn't a full season of
John Lackey
with mixed in Dice-K and then the spare-part injury replacements they had to use for most of the season. The real-life Red Sox won 90 games and this group feels like a similar one in terms of wins. It's not elite, but it's pretty good.
Next:
Detroit
Tigers
For more baseball news, rumors and analysis, follow @EyeOnBaseball on Twitter, subscribe to the RSS feed and "like" us on Facebook.