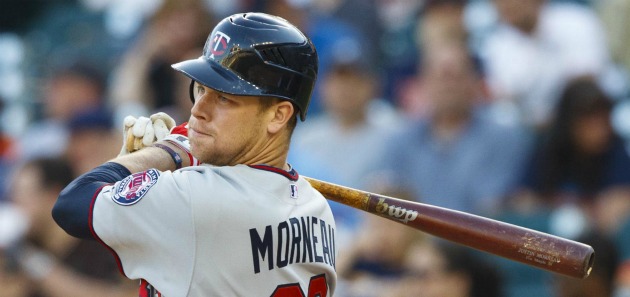 By C. Trent Rosecrans
Twins manager Ron Gardenhire said Wednesday said the team is considering moving Justin Morneau from first base to designated hitter -- something that would also allow Joe Mauer to play more at first base in an attempt to keep him fresh.
Morenau, who missed the second half of the 2010 season after suffering a concussion, played in just 69 games in 2011, while still battling the after effects of his concussion. He didn't play after diving for a ball on Aug. 28 and felt similar symptoms as his more serious concussions, despite landing on his shoulder, not his head. That had to scare the Twins, who have Morneau under contract through 2013 with $28 million due to the 30-year-old.
Speaking with ESPN 1500-AM in Minnesota on Wednesday, Gardenhire said the team would likely make a decision on Monreau's position soon.
"One of the things Terry [Ryan] and I talked about is making sure before we get too deep in this thing [is] what we're going to do with Morny," Gardenhire said (via the Star Tribune). "Where he is going to play, if it is DH, if it is first base. Morny has to eventually tell us what's right for him or I'll make the decision for him and we will go from there. If he can't decide and we talk to the doctors and they give me information where I think the best thing for him to do is to DH and protect him as much as possible, then that is what we will do.
"First thing, you talk to Morny and let him do the doctor things and go from there."
Gardenhire said he's been talking to Morneau via text message. He also said the team is making "a mad effort" to re-sign outfielder Michael Cuddyer and hoped to retain Matt Capps as the team's closer.
For more baseball news, rumors and analysis, follow @eyeonbaseball on Twitter or subscribe to the RSS feed.