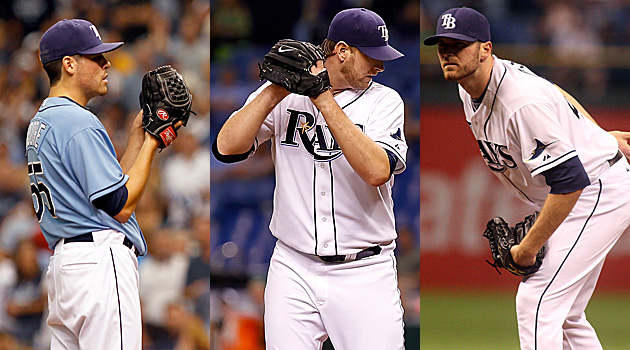 By Matt Snyder
Here we are for the fifth of six installments of spring positional battles. This one is the mighty AL East, the most polarizing and probably best division in the majors.
Previous spring position battles:
AL West
|
NL West
|
AL Central
|
NL Central


New York Yankees
Designated Hitter:
Andruw Jones
vs.
Russell Branyan
vs. Free Agent vs. Revolving Door
I still feel like the Yankees will sign either
Johnny Damon
,
Raul Ibanez
or
Hideki Matsui
-- any of whom likely nails down this job full-time. But it's undecided as of right now, and wide open. Will Andruw Jones or Russell Branyan hit well enough to justify being the full-time DH? Maybe, or maybe they platoon -- as Jones hits from the right side while Branyan is a lefty. Or maybe the Yankees use bench players like
Eduardo Nunez
,
Bill Hall
and
Chris Dickerson
in the field while using starters like
Alex Rodriguez
,
Derek Jeter
and
Nick Swisher
at DH a few times a week in order to keep guys healthy and in tip-top shape.

Tampa Bay Rays
No. 4-5 starters:
Jeff Niemann
vs.
Wade Davis
vs.
Matt Moore
vs. Six-man rotation
Talk about a nice "problem" to have. The Rays obviously have
David Price
,
James Shields
and
Jeremy Hellickson
as the top three in the rotation. While there isn't a big problem with either Niemann or Davis, it's time to find a place in the rotation for Moore and I'm certain they will. The 22-year-old left-hander was awesome in his limited time in the majors last year, including a stellar outing against the
Rangers
in Texas for Game 1 of the ALDS. Moore's already received the type of team-friendly contract
Evan Longoria
got when he was a rookie -- as Moore is signed through 2016 with club options running all the way through 2019. So the question is, do the Rays demote either Niemann or Davis to the bullpen or trade one of them? Niemann would be the trade candidate, as Davis also has a team-friendly contract with club options that take him through 2017. And I doubt this happens, but the Rays could always go with a six-man rotation. Seeing how this plays out will a big spring storyline.

Boston Red Sox
Shortstop:
Nick Punto
vs.
Mike Aviles
vs.
Jose Iglesias
After trading both
Marco Scutaro
and
Jed Lowrie
this offseason, the Red Sox are left with what appears to be Mike Aviles against Nick Punto at short. Punto had a good offensive campaign by his standards last season, when he hit .278 with a .388 on-base percentage. He only had six starts at shortstop, though, and his career numbers don't indicate he's worthy of an everyday gig at shortstop. Aviles also only started six games at short last season, and he only hit .255/.289/.409. He did hit well for the Red Sox, but it was a small 107 plate appearance sample. So the choice between Punto and Aviles is dubious defensively and neither is a good offensive option. Enter Iglesias, the dazzling defensive prospect. He's a dreadful hitter -- his line in Triple-A was .235/.285/.269 last season -- but it's not like Aviles or Punto are going to be confused with
Troy Tulowitzki
or anything. Maybe the Red Sox just plant Iglesias in the nine-hole and enjoy the exceptional defense?
Corner Outfield spots:
Cody Ross
vs.
Ryan Sweeney
vs.
Carl Crawford
and his health
Crawford is said to be questionable for the start of the season after undergoing minor wrist surgery a few weeks ago. If he's healthy, he starts in left easily while Sweeney and Ross battle it out for the right field job. If Crawford can't start the season, Ross and Sweeney are the corner outfielders, yet still fighting for the right field job for when Crawford returns. At some point,
Ryan Kalish
will return from offseason shoulder surgery and could eventually fight for playing time in right field as well.

Toronto Blue Jays
Outfield logjam:
Colby Rasmus
vs.
Eric Thames
vs.
Rajai Davis
vs.
Travis Snider
We know
who mans right field
, but these four guys are competing for the other two spots. Thames in left field and Rasmus in center seem the most likely, but Davis will get a shot at either spot and Snider is in the mix for left.
No. 5 starter:
Dustin McGowan
vs.
Kyle Drabek
This may bleed up into the No. 4 starter as well, but I'll give
Brett Cecil
the nod for now, since he is left-handed. The top three are
Ricky Romero
,
Brandon Morrow
and
Henderson Alvarez
. So, for now, I'll guess the last spot comes down to McGowan and Drabek. McGowan was once a very promising young arm. He went 12-10 with a 4.08 ERA, 1.22 WHIP and 144 strikeouts in 169 2/3 innings back in 2007, when he was 25. He then made 19 starts before falling injured in 2008 and finally just resurfaced late last season -- two shoulder surgeries and one knee surgery later. Does he have anything left? He was good in 12 minor-league starts in 2011, but had a 6.43 ERA and 1.57 WHIP in the small sample of 21 innings pitched for the Blue Jays. Drabek was a top 30 prospect each of the past two years, according to Baseball America, but he fell flat last season for the Jays. He had a 6.06 ERA, 1.81 WHIP and more walks than strikeouts for the big-league club. Even worse, he was knocked around for Triple-A Las Vegas, to the tune of a 7.44 ERA and 2.03 WHIP in 75 innings. Walks, again, were an issue with Drabek issuing 41 compared to 45 strikeouts. Prospects
Deck McGuire
and Drew Hutchison could also figure in the mix eventually, but this feels like Drabek vs. McGowan heading into March.

Baltimore Orioles
The entire pitching staff:
Johnny Wholestaff vs. Joe Allstaff
So let's see ... the following pitchers might have a chance at the starting rotation:
Zach Britton
(very safe bet),
Jason Hammel
(safe bet),
Jake Arrieta
,
Brad Bergesen
,
Brian Matusz
,
Chris Tillman
,
Dana Eveland
,
Wei-Yin Chen
,
Tsuyoshi Wada
,
Alfredo Simon
and
Tommy Hunter
. That's quite a mix of pitchers to sift through, but the job isn't overwith yet, because we have to look at the bullpen.
Three pitchers --
Jim Johnson
,
Matt Lindstrom
and
Kevin Gregg
-- will compete for the closer job, with
Troy Patton
,
Pedro Strop
and
Darren O'Day
also being part of the bullpen mix. Of course, guys like Simon, Hunter and Bergesen will get a shot in the bullpen if they miss out on the rotation, too. There are more (
Willie Eyre
,
Armando Galarraga
, etc.), but I already named 17 pitchers vying for 12 spots.
We could probably move Simon and Hunter to the bullpen while eliminating Eveland from the starting mix, but that still leaves eight guys in competition. In the bullpen, Johnson seems the best bet to win the closer gig, with Lindstrom and Gregg setting up. Add Strop, Patton, Simon and Hunter and you have your seven. But, again, we've thrown out Eveland and there would still be three extra starters along with O'Day, Eyre et al on the outside looking in.
I'll say one thing: Orioles manager Buck Showalter and pitching coach Rick Adair won't be bored this spring. Maybe frustrated, but definitely not bored.
For more baseball news, rumors and analysis, follow @EyeOnBaseball on Twitter, subscribe to the RSS feed and "like" us on Facebook.