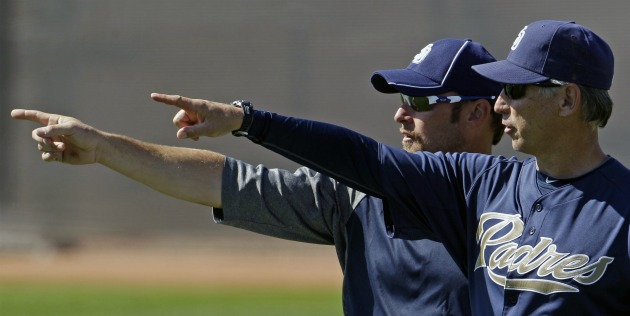 By C. Trent Rosecrans
The
Padres
' offseason was dominated by their trade with the
Reds
-- sending starter
Mat Latos
to Cincinnati for four players, including projected starting first baseman
Yonder Alonso
and former All-Star
Edinson Volquez
. In an attempt to find more offense, the Padres also added
Carlos Quentin
in a deal with the
White Sox
. The Padres know their problem is scoring runs, and now it's just trying to figure out how to get it.
Major additions:
OF Carlos Quentin, 1B Yonder Alonso, RHP Edinson Volquez
Major departures:
CL
Heath Bell
, RHP Mat Latos, 1B
Anthony Rizzo
, LHP
Wade LeBlanc
, RHP
Aaron Harang
Probable lineup
1.
Will Venable
RF
2.
Chase Headley
3B
3.
Cameron Maybin
CF
4. Carlos Quentin LF
5. Yonder Alonso 1B
6.
Nick Hundley
C
7.
Orlando Hudson
2B
8.
Jason Bartlett
SS
Probable rotation
1.
Tim Stauffer
2.
Clayton Richard
3. Edinson Volquez
4.
Cory Luebke
5.
Dustin Moseley
Back-end bullpenCloser:
Huston Street
Set-up:
Luke Gregerson
,
Andrew Cashner
,
Joe Thatcher
Important bench players
OF
Chris Denorfia
, 1B
Jesus Guzman
, C
John Baker
, RP/PH
Micah Owings
Prospects to watch
While the Latos trade is one that will be referenced throughout the season, the team could ultimately benefit more from last season's traded that sent reliever
Mike Adams
to Texas in return for right-hander
Joe Wieland
and left-hander
Robbie Erlin
. Both Wieland and Erlin are control pitchers with flyball tendencies that will benefit from the trade. Both starters project to benefit from pitching half their games at spacious Petco Park rather than at the bandbox in Texas. Wieland went 3-1 with a 2.77 ERA in five starts at Double-A San Antonio after the trade, while Erlin was 1-0 with a 1.38 ERA in six starts for the Padres' Texas League affiliate. Both could find themselves in the big leagues later this year.
Fantasy sleeper:
Edinson Volquez
"Volquez struck out 19 in 23 2/3 innings and held the opposition to a .250 batting average in four September starts. Another reason to be encouraged is that Volquez has a strong history at his new home ballpark, going 1-1 with a 2.33 ERA, 0.98 WHIP and 21 strikeouts in 19 1/3 innings. PETCO Park can also help Volquez as he looks to cut down on his home runs allowed. Volquez was plagued by the long ball in 2011, yielding 1.6 homers per nine innings." -- Michael Hurcomb [
Full Padres fantasy preview
]
Fantasy bust:
Yonder Alonso
"There are a few issues heading into 2012 we need to highlight before Fantasy owners reach for Alonso on Draft Day. The first being that he is moving to pitcher-friendly PETCO Park. Alonso is more of a line-drive hitter, which won't help his power numbers in San Diego. Second, Alonso is just 69 games into his MLB career. Once opposing teams get a better scouting report, the road will almost certainly get tougher for Alonso." -- Michael Hurcomb [
Full Padres fantasy preview
]
Optimistic outlook
The offensive additions bring a jolt to the Padres, with Quentin leading the way. While Petco does play big, it's not as extreme against right-handed pull hitters and he has one of the best offensive seasons we've seen in Petco. Speaking of offense, Alonso's left-handed but his natural stroke leads to a ton of doubles and with Maybin on base more often, he scores easily on so many of Alonso's two-baggers. The pitching staff benefits from the park more than the offense hurts and once again an unheralded pitching staff dominates -- led by a finally healthy Volquez -- and leads San Diego to a surprising run at the National League West title.
Pessimistic outlook
It's the same old, same old -- decent pitching at home, but not enough runs. Without scoring runs, the team slogs through another season, losing more than 90 games again. But hey, they're still in San Diego, so it's not all that bad.
​​​​​For more baseball news, subscribe to the RSS feed and "like" us on Facebook. Or ...