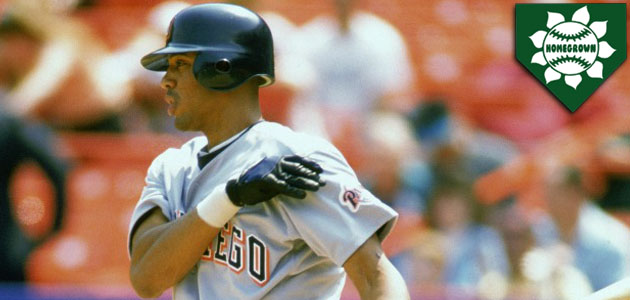 By C. Trent Rosecrans
What if players were only permitted to stay with the team that originally made them a professional? No trades, no Rule-5 Draft, no waivers, no minor- or major-league free agency ... once you are a professional baseball player, you stay in that organization. This series shows how all 30 teams would look. We give you: Homegrown teams.
On one end of this spectrum is the team with baseball's highest payroll, the
Yankees
, and now we'll look at the other end, the San Diego
Padres
. The Padres have just $16.9 allocated toward its 2012 payroll at the end of the 2011 season, versus the Yankees' $171.5 million. The Padres weren't just at the opposite end of the payroll spectrum as the Yankees, they're also in the other league, the opposite coast and on the other end of the standings, finsihing last in the NL West with a 71-91 record.
Lineup
1.
Chase Headley
, LF
2.
Jason Bartlett
, SS
3.
David Freese
, 3B
4.
Derrek Lee
, 1B
5.
Kyle Blanks
, RF
6.
Will Venable
, CF
7.
Nick Hundley
, C
8. Logan Forsyth, 2B
Starting Rotation
1.
Jake Peavy
2.
Mat Latos
3.
Tim Stauffer
4.
Wade LeBlanc
5.
Cory Luebke
Bullpen
Closer -
Shawn Camp
Set up -
Brandon Gomes
,
Cesar Ramos
,
Ryan Webb
,
Josh Spence
,
Ernesto Frieri
Long -
David Pauley
,
Anthony Bass
Notable Bench Players
Xavier Nady
,
George Kottaras
What's Good?
The bullpen may not have a guy that comes in and records a ton of saves, but there are some decent arms to get between the starters to the closer. The rotation isn't terrible -- it's not great, but it's not terrible, and pitching at Petco just about any rotation is going to be at least OK.
What's Not?
Like the real Padres, that lineup isn't going to put up a whole lot of runs. The Padres haven't had an easy time figuring out how to score runs at Petco, no matter where the players come from. Lee would have helped much more in the past than in 2011, and playing at Petco wouldn't have helped him, either. While Bartlett and Lee are good defenders, the rest of this group could struggle, especially with Headley back in the outfield and Veneble in center.
Comparison to real 2011
Finishing 71-91, the Padres weren't great, but they were probably better than this product. The rotation would hinge on Peavy's health. Peavy managed 18 starts for the
White Sox
, going 7-7 with a 4.92 ERA. There's no telling what his record would be with the Padres, considering the team's offensive woes, but his ERA would have been lower. Overall, this team isn't scaring anyone and while the record may be different with this team, its place in the standings would likely be the same.
Up next:
Minnesota
Twins
For more baseball news, rumors and analysis, follow @EyeOnBaseball on Twitter or subscribe to the RSS feed.