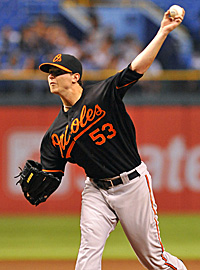 By Matt Snyder
Spring training hasn't started yet, and we're here to pass along some potentially bad news to
Orioles
fans already. Left-handed starting pitcher
Zach Britton
-- who figured to be the staff ace --
heads to camp "limited in his activities" due to a sore left shoulder
, reports MLB.com. This is the same shoulder problem that landed him on the disabled list last August.
"We are currently monitoring Zach Britton," general manager Dan Duquette said in a statement released by the club. "He has already reported to spring training and is scheduled to begin his throwing progression this Friday."
Now, let's not overreact. Opening day is a long way away. Camp hasn't even started yet -- though it does in a matter of days. It's entirely possible Britton strengthens his throwing shoulder through the spring and is ready to take the ball opening day for the Orioles.
It's just that hearing about a starting pitcher in the middle of February having a sore shoulder hardly breeds confidence in his ability to head up the rotation this season. It's even more troubling that this is an injury that has lingered for six months, encompassing the entire offseason. I'll say this, he won't be finding his way onto my fantasy baseball team.
Britton, 24, went 11-11 with a 4.61 ERA and 1.45 WHIP in his rookie year for the Orioles. He definitely wore down as the season went on, possibly a product of his sore shoulder, possibly just because he was a rookie. He was 5-2 with a 2.14 ERA after nine starts, for example, then he closed the season with a 5.85 ERA in September.
Still, Britton appeared to be the Orioles' best pitcher heading into the spring, and now this news puts a bit of a black cloud over pitchers and catchers reporting. The good news, as
I outlined in the AL East position battles
, is the Orioles have almost a dozen starting pitching options (no exaggeration). So there's that.
For more baseball news, rumors and analysis, follow @EyeOnBaseball on Twitter, subscribe to the RSS feed and "like" us on Facebook.