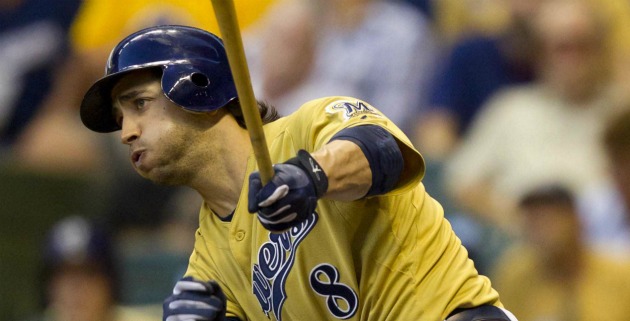 By C. Trent Rosecrans
The Baseball Writers Association of America will not strip Ryan Braun of his National League Most Valuable Player award if he is suspended for testing positive for a performance-enhancing drug, BBWAA secretary-treasurer Jack O'Connell told the Los Angeles Times.
"I got the same question after Ken Caminiti came clean about his steroids usage, and whether we should give the 1996 MVP award instead to (second-place finisher) Mike Piazza," O'Connell told the newspaper. "The answer is no.
"We did not strip Alex Rodriguez of the 2003 MVP when it was learned later he used PEDs while in Texas.
"The voters used the information they had at the time of the election. I don't see how we can change that."
The Dodgers' Matt Kemp finished second in the MVP voting. Braun received 20 of 32 first-place votes, while Kemp had 10. Braun received 388 total points in the voting to Kemp's 332. Braun finished second on all 12 ballots that didn't vote for him as the first-place finisher. Kemp had 16 second-place votes and six third-place votes. Braun's teammate, Prince Fielder finished third with one first-place vote and 229 total points, followed by Arizona's Justin Upton, who had one first-place vote and 214 total points.
Braun has denied he took PEDs and has appealed the positive test.

The BBWAA, not Major League Baseball, awards the MVP and is in charge of its voting.
For more baseball news, rumors and analysis, follow @eyeonbaseball on Twitter or subscribe to the RSS feed.