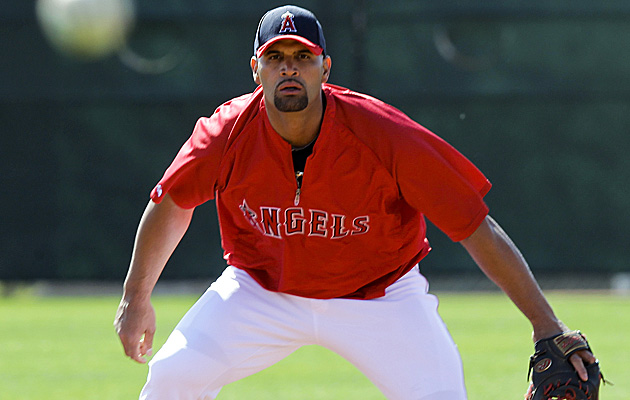 By Dayn Perry
Freshly minted Angel
Albert Pujols
is in the lineup and batting third today. One would think that Pujols's Los Angeheim debut would make for some compelling afternoon television, but, as Cork Gaines of Business Insider notes,
no one in a position to do so--not FOXSports West, not MLB Network, not ESPN, not even MLB.tv--is broadcasting what's surely the most notable game of the day
. And the people say: Lame.
Our programming masters cannot, however, stop us from wondering aloud what we can expect from Pujols this season. Last year, he showed some patterns of decline, but the
Angels
, given the breadth of their investment, are hoping that was but a blip. Was it?
For a glimpse of the future, FanGraphs has
a nifty round-up of what the various forecasting systems are expecting from Pujols in 2012
. The most pessimistic is the Marcel system, which forecasts a .298/.384/.549 batting line out of him with 32 homers and 31 doubles. On the other end of the continuum, there's Bill James, who expects Pujols to hit .316/.414/.591 with 41 bombs and 40 doubles. Quite a bit of variance there, as you can see.


For more baseball news, rumors and analysis, follow @EyeOnBaseball on Twitter, subscribe to the RSS feed and "like" us on Facebook.