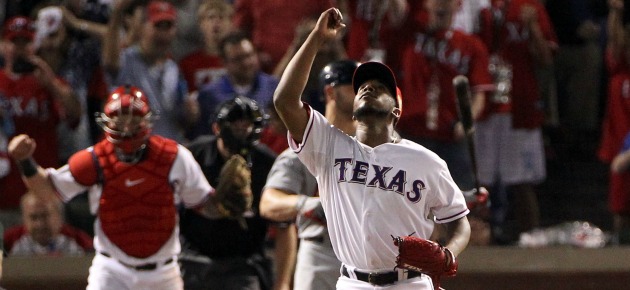 By Matt Snyder
ARLINGTON, Texas -- If you're a gambler, here's a good tip: Bet on the
Rangers
in the next game after a loss. Upon completely handcuffing the
Cardinals
for a 4-0 victory in Game 4 of the World Series, the Rangers have now played 44 times since last losing consecutive games. They lost to the
Red Sox
on August 27, which was their third loss in a row. Since then, the Rangers have gone 31-13 and have yet to drop two straight in that span.
So what's the secret? Maybe it's just having no clue about this little "streak."
"I didn't know that," said Game 3 starter
Matt Harrison
.
"No, I didn't know that," said Game 2 starter
Colby Lewis
. "I definitely don't worry about stats, the only time I hear about stats is when you guys come up and report them to me."
Of course, not everyone is unaware.
"Yeah, we've been told about it a lot over the past few weeks by you guys,"
Michael Young
said, drawing laughs.
So it can't be blind ignorance to the "streak." Maybe it's the ability to have a short memory?
"The good players are the ones who turn the page and forget what happened in the past," second baseman
Ian Kinsler
offered up.
Maybe it's making adjustments?
"We're good at making adjustments; we're good at turning the page," Young said. "People talk about turning the page a lot, but the biggest thing is making sure you don't completely forget it, because you gotta learn from it. So if you gotta make an adjustment, you make it."
Or, maybe it's resilience?
"It seems like we lose a game, we don't get our heads down. We just get up and get right back at it," Harrison said. "We seem to always bounce back after we take a beating. We took a beating last night, but we came into today focused, and Derek was out there ready to go. He did a great job tonight."
Actually, the answer is simpler still.
There's a reason why the Rangers can't seem to agree whether or not they know they haven't lost two straight in about two months. And there's a reason they're so good in the game following a loss. It's precisely
because
they don't talk or think about it. They're a great baseball that doesn't get caught up in feeling pressure, and instead, focuses on looking ahead and making adjustments. It's a combination of everything.
Interestingly enough, however, it's possible this "streak" stays intact with the Rangers losing the World Series in seven games. So instead of avoiding two straight losses, they'll need to string together two straight wins at some point in this series.
For more baseball news, rumors and analysis, follow @EyeOnBaseball on Twitter or subscribe to the RSS feed.