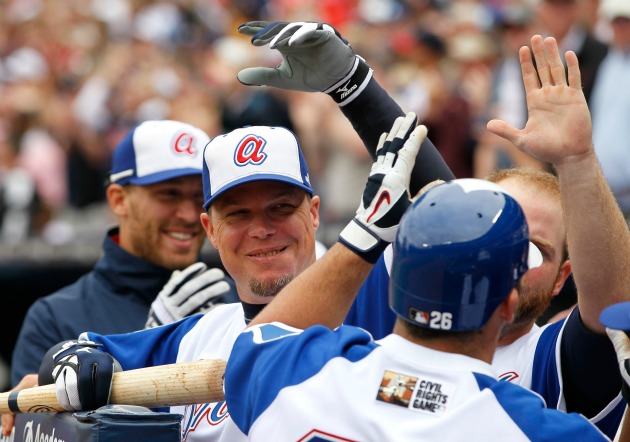 By C. Trent Rosecrans
Chipper Jones
will be 40 in April, but it may not be the last birthday he celebrates as an active player.
"As long as I stay healthy and I'm having fun, I'm going to keep going,"
Jones told David O'Brien of the Atlanta Journal-Constitution
. "I sit here with three weeks to go before spring training and I'm not ready to say this is it."
The
Braves
hold a $7 million club option on Jones for 2013 that becomes a guaranteed $9 million with 123 games played this season. Jones played in 126 games last season, hitting .275/.344/.470 with 18 home runs and 70 RBI, making his first All-Star team since 2008. He didn't play in the game because he was on the DL after undergoing arthroscopic knee surgery, his second knee surgery in as many years.
Jones' contract calls for escalators that could add $1 million each for 128, 133, 138 and 140 games played in 2012. He signed a three-year extension worth $42 million for the 2010-12 seasons in 2009.
Jones suffered a torn anterior cruciate ligament in 2010, limiting him to 95 games, marking the first time since his late-season call-up in 1993 that he'd played in fewer than 100 games.
Jones told O'Brien that he had a scare about his right knee when it didn't feel right after the season and then he underwent an MRI after stepping in a hole while hunting. The MRI showed no damage and after rest, he said he's felt fine.
"I think if I struggle with the knee injuries again and I'm not having any fun, and if the team's struggling, obviously, I'll make that [retirement] decision when it hits me," Jones told O'Brien. "As of right now, I'm signed through the end of this year and we've got an option for next year. I'm certainly going to take everything into account, but my body will tell me when that day comes. It'll be cut and dried."
The Braves do have
Martin Prado
available to take over third base if Jones does call it quits. Prado, though, could be a free agent after the 2013 season. With Jones healthy most of last season, he played left field and first base in addition to third base. He can also play second. He's slated to be the team's starting left fielder for 2012.
For more baseball news, rumors and analysis, follow @EyeOnBaseball on Twitter, subscribe to the RSS feed and "like" us on Facebook.