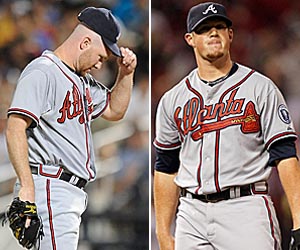 By Matt Snyder
The
Braves
are stumbling through September and have
nearly squandered what once appeared an insurmountable wild-card lead
. They are up just 2 1/2 games on the
Cardinals
and 3 1/2 games on the
Giants
. There are several culprits, such as injuries to the starting rotation and inconsistent offense. But we shouldn't ignore the fact that the back-end duo in the bullpen appears to be faltering.
In his last 12 appearances,
Jonny Venters
has a 5.56 ERA, 1.85 WHIP and two blown saves. Prior to that, Venters had a 1.10 ERA, 0.95 WHIP and two blown saves all season.
In his last six appearances,
Craig Kimbrel
has a 7.94 ERA, 1.41 WHIP and two blown saves in four chances. Prior to that, Kimbrel had a 1.55 ERA, 0.96 WHIP and five blown saves in 48 chances.
Here are some more stats. Entering Tuesday, Venters led the majors with 82 relief appearances. Kimbrel was tied for second with 77. Venters is third in relief innings with 85. Kimbrel is seventh with 75 1/3. As
ESPN's Buster Olney
pointed out via Twitter,
Yankees
closer
Mariano Rivera
has
never
pitched in more than 74 games during a regular season. Retired great
Trevor Hoffman
never appeared in more than 70. Kimbrel's probably going to hit 80 as a rookie this year.
All the way back on June 10, I wrote that
the heavy workload could become a concern down the road
. It's entirely possible both relievers are simply experiencing a personal funk that has nothing to do with the number of appearances. Kimbrel had a 10-game stretch in the first half of the season with a 5.79 ERA before he locked in again. Venters had a nine-game stretch in late June with a 6.10 ERA, but settled back down for a while. So the argument that either pitcher is merely in a temporary bad stretch has precedent. Let's also note Kimbrel basically
got three outs Monday but was a victim of circumstance
. If you want to argue there's no connection between the workload and the recent ills of Venters and Kimbrel, you have plenty of ammunition.
Still, there's no disputing the young duo is piling up appearances and innings at an alarming rate, meaning their recent slumps may not be a coincidence. And they're still hoping to be strong for the playoffs, if the Braves can hold on. If Venters and Kimbrel don't get back on track, the chances of that happening aren't very good.
For more baseball news, rumors and analysis, follow @EyeOnBaseball on Twitter or subscribe to the RSS feed.