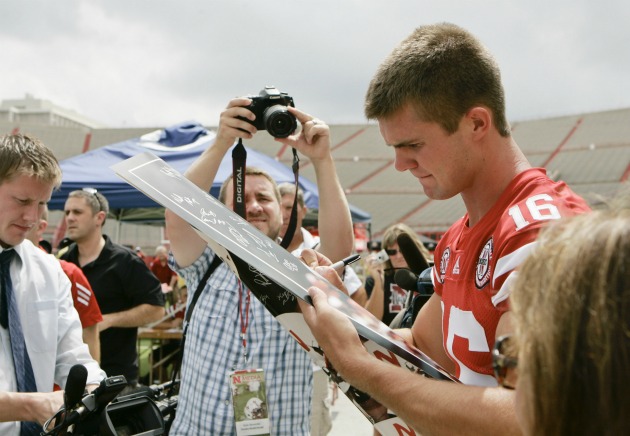 By C. Trent Rosecrans
The last couple of days showed us some of the best of baseball, five walkoffs on Tuesday, Jim Thome's 600th home run on Monday, triple plays both Monday and Tuesday and so much more. But Monday night we saw one of the things that needs to be fixed, and that's the signing deadline for draft picks.
Yesterday I touched on this, but I suggested just moving it from midnight to a more reasonable hour. That was a selfish wish. Hall of Famer George Brett tells the Kansas City Star that the deadline needs to be moved up more than a month to something like July 4.
The reason is simple, the development of players is stunted by a year and the posturing could hurt players. According to Brett, the Royals and Scott Boras, the "advisor" for their top pick, Bubba Starling, didn't even start talking until 10:30 p.m. on Monday night. The two sides then agreed to a deal with 20-40 seconds left, Brett said.
"If they made the deadline July 4, these guys would sign July 4 and the guy would jump on the plane and play some real baseball rather than go to Arizona when the season is almost over after not picking up a ball and a bat for how long … and playing football … he's not baseball ready," Brett told the newspaper. "It's going to take him a while."
Instead of playing baseball and cashing checks, Starling was working out with the Nebraska football team as a negotiating ploy, showing that he was "serious" that he'd turn down millions of dollars to play football. He was also risking injury and his future with no guarantee.
That said, with the way money was thrown around on Monday night, it seems to make little sense to sign early. The teams showed that players who wait to sign until the deadline will be rewarded. An agent I spoke to on Tuesday said he's had players sign early in the past -- which is all well and good for the teams, but did he do his players' a disservice by not waiting until the end? In his previous cases, no, it was still the right thing to do. But next time? When the 27th player picked gets $800,000 above slot, the waiting game pays. That's not going to change, the way to fix that it to shorten the wait.
Pirates' booty: Speaking of the draft signings, the Pirates spent $17 million in signing bonuses for their draft picks. While there are negatives, for Pittsburgh, this is a positive. For many years teams like the Royals and Pirates wouldn't draft the best available player in the draft, instead drafting the best available player that would fit into their budget. The Royals gave Bubba Starling a huge contract and the Pirates gave out several, including an $8 million signing bonus to No. 1 overall pick Gerrit Cole and $5 million for second-rounder Josh Bell. Last season we heard about how the Pirates weren't spending their luxury tax gains, but now we see an actual plan and owner Bob Nutting is putting money into the team. [MLB.com]
Right player, wrong position: Living in Cincinnati I've seen this before -- teams in MLB will often pick the best player available in the draft, regardless of position, now Yonder Alonso is in the big leagues with the Reds and has little to do because Joey Votto isn't going to sit the bench for him. The Nationals saw a player some considered to be the best in the draft fall to them and couldn't pass up Rice third baseman Anthony Rendon, despite already having a 26-year-old at third base in Ryan Zimmerman. The Nationals are happy to have Rendon and let that problem play out. [MASNSports.com]
Bundy eyes 2013: Orioles first-round pick Dylan Bundy said his plan is to be in the big leagues in 2013. The right-hander would be 20 in 2013. Brett would tell him if he was serious about that, he maybe should have signed sooner. [Baltimore Sun]
Overrated Howard: Baseball-Reference.com's Sean Forman made the argument in the New York Times that Philadelphia's Ryan Howard is not an elite hitter. The bigger argument was about overvaluing the RBI -- the stat that Howard provides much of Howard's worth. It does certainly help that he plays for the Phillies and has some pretty decent players in front of him in the lineup.
Umps visit kids: Jerry Meals may be Public Enemy No. 1 in Pittsburgh, but not to 3-year-old Emily Berger. Berger, who had undergone surgery on Monday, was one of the children visited by a group of MLB umpires to visit a children's hospital on Tuesday. Meals, who famously blew the call at home plate to end a 19-inning game in Atlanta for Pittsburgh loss, and the rest of his crew hosted a Build-A-Bear workshop for dozens of children. [Pittsburgh Tribune-Review]
Sizemore improving: The Indians hope Grady Sizemore can return next month after he started baseball activities on Tuesday as part of his rehab from a right knee injury and a sports hernia surgery. [MLB.com]
Granderson's rare feat: Curtis Granderson has a shot at leading the American League in homers and triples. The last player to do that was Jim Rice in 1978. [Baseball-Reference.com]
Mariners doing well: Jack Zduriencik won the offseason according to many before the 2010 season, and we saw how that worked. But even with that in hindsight, it appears Zduriencik has had a good couple of weeks despite his team's fall in the standings over the last two months. [Seattle Times]
More Thome: If you haven't had enough of Jim Thome (and really, it's not like we've even got to a tenth of the DJ3K madness yet), his hometown paper, the Peoria JournalStar put together a fantastic package looking back on his life and career. Make sure you check it out.
Give the people what they want: Nice job by the Brewers' promotion department with the announcement of "Tony Plush Rally Towels" for the Sept. 9 game against the Phillies. "Tony Plush" is the "gentleman's name" of outfielder Nyjer Morgan. [Milwaukee Journal Sentinel]
Bashing Boise: No, not the Broncos and their "Smurf turf," but the city's Class A team -- Cubs owner Tom Ricketts said Boise's Memorial Stadium is "below standard." [Chicago Tribune]
Pros vs. G.I. Joes: Some White Sox players are playing video games with soldiers online. [MLB.com]
Hi, bye: Outfielder Jonny Gomes was traded from the Reds to the Nationals last month, but he wasn't informed until just before the Reds' game started, meaning he wasn't able to say goodbye to his teammates in Cincinnati. Now a member of the Nationals, Gomes got to say both hello and goodbye to the Reds when the team started their series in Washington. [Cincinnati Enquirer]
Cut those sideburns: Monday was the 20th anniversary of Don Mattingly sitting out a game for refusing to cut his hair. [MLB.com]
For more baseball news, rumors and analysis, follow @eyeonbaseball on Twitter or subscribe to the RSS feed.