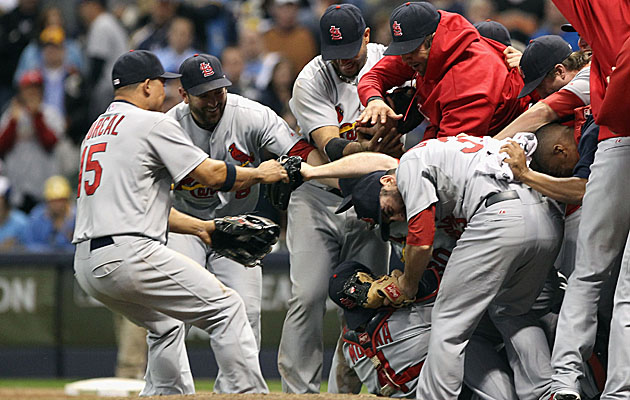 By Matt Snyder
The St. Louis
Cardinals
have continued their Cinderella story, beating the Milwaukee
Brewers
in the NLCS, four games to two. Let's take a look at the series that was, in pictures.
Click on any photo below to enlarge.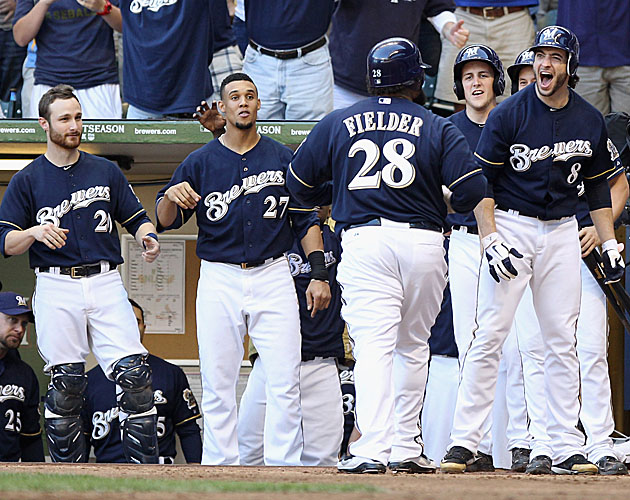 Prince Fielder came through with a huge home run in Game 1, a Milwaukee victory. (Getty Images)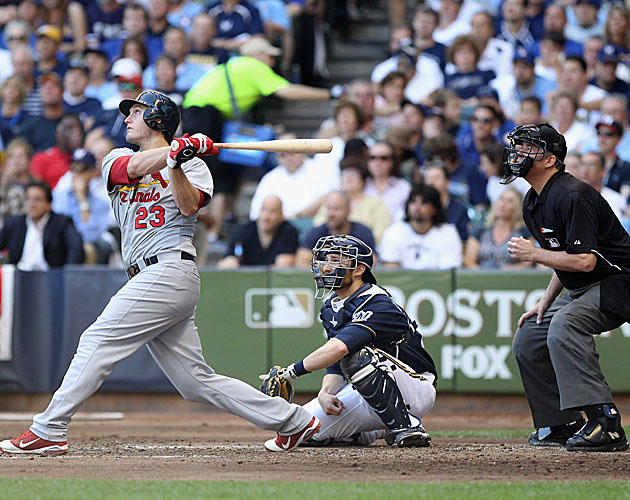 Despite the loss, Game 1 was when David Freese set the tone for a huge series, here with a three-run homer. (Getty Images)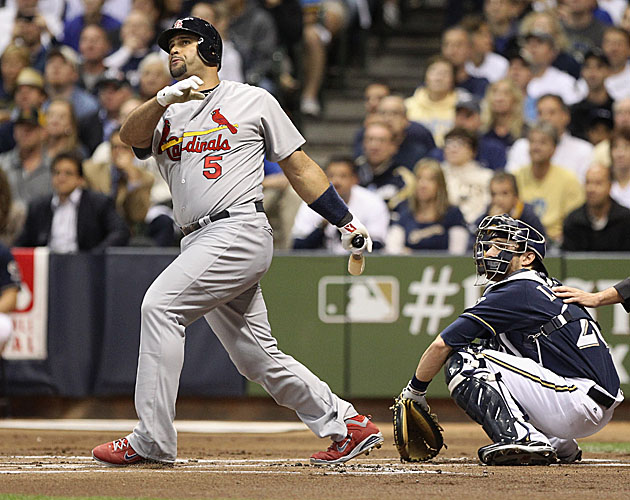 After a lackluster Game 1, Albert Pujols broke through with a monster Game 2, pictured here with a two-run shot in the first inning. (Getty Images)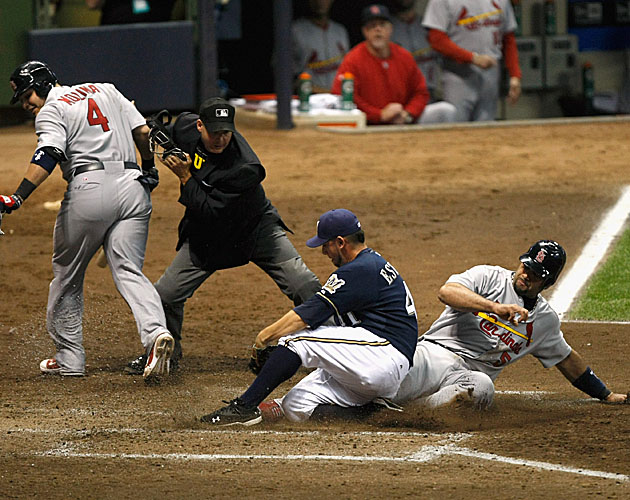 All kinds of awesome here, but my favorite part is that the umpire looks like he's shoving Yadier Molina out of the way. Pujols was safe, and the Cardinals went on to win 12-3. (Getty Images)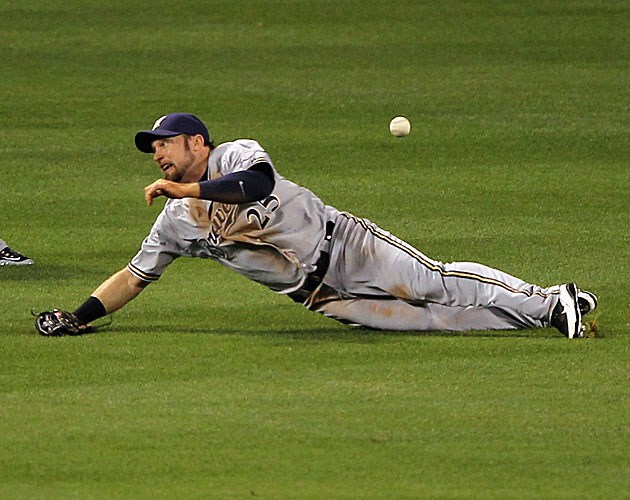 In Game 3, Brewers manager Ron Roenicke decided to go with Mark Kotsay in center. It did not go well in the first inning. (Getty Images)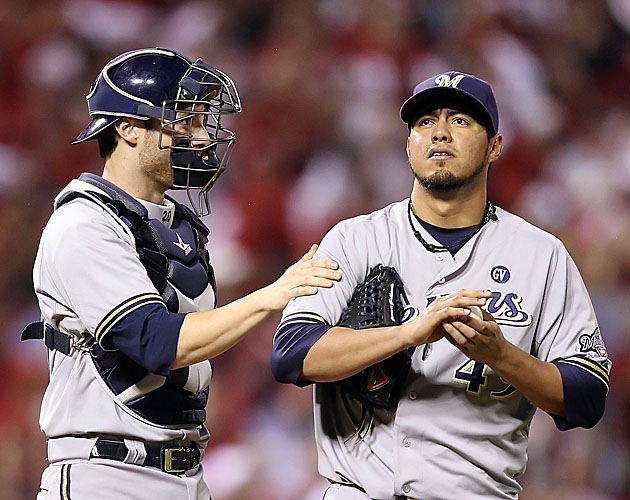 In a matchup of aces, Yovani Gallardo coughed up four runs in the first inning of Game 3. The Brewers would lose 4-3. (Getty Images)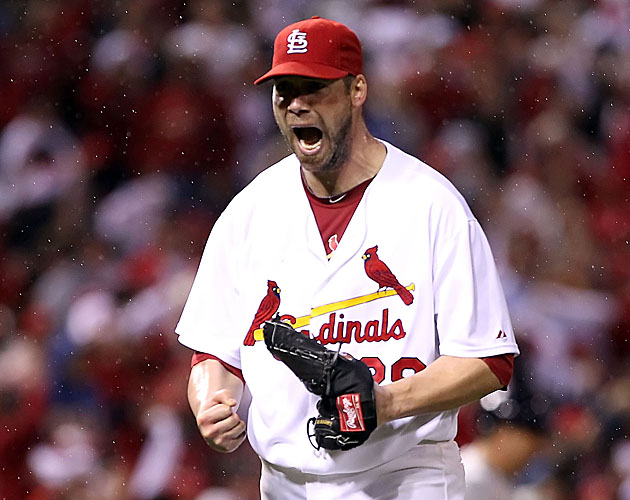 Chris Carpenter, on the other hand, did just enough to get the game to the bullpen with a lead. (Getty Images)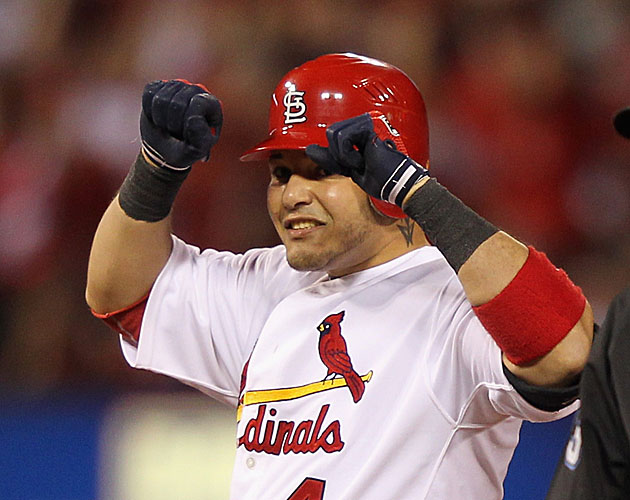 Yadier Molina with what appears to be his answer to the Brewers' "Beast Mode." (Getty Images)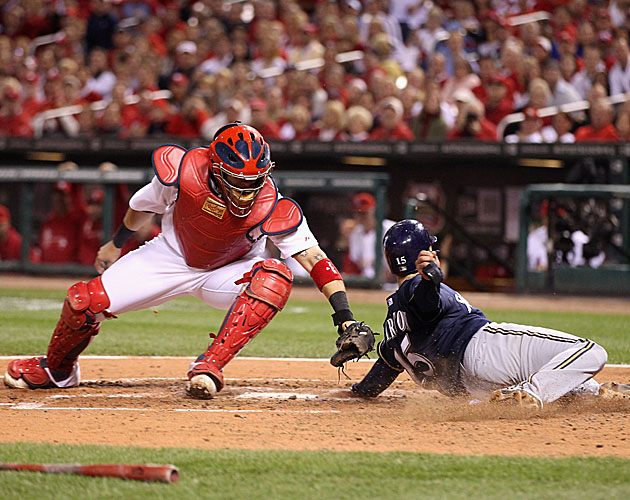 Jerry Hairston's incredible slide helped propel the Brewers to victory in Game 4. (Getty Images)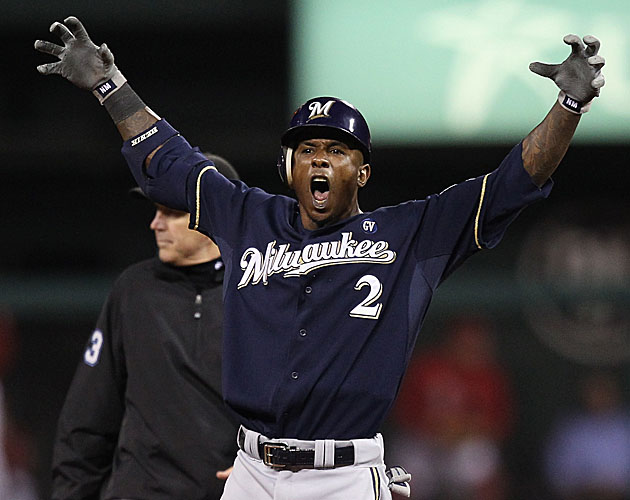 St. Louis loves this one, right? (Getty Images)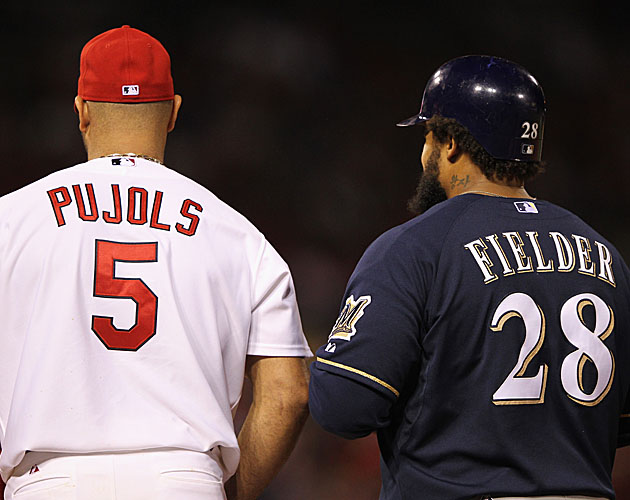 Maybe they're talking about how much money combined they're gonna haul in this offseason. (Getty Images)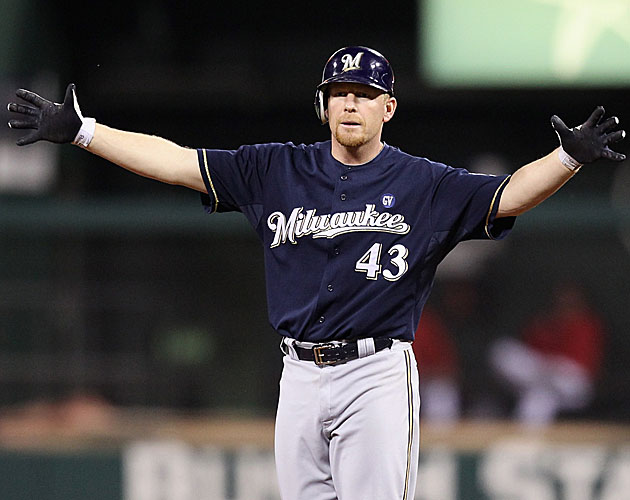 The Brewers' needed a huge performance out of starting pitcher Randy Wolf in Game 4 and he provided it, even gathering a double with his bat. (Getty Images)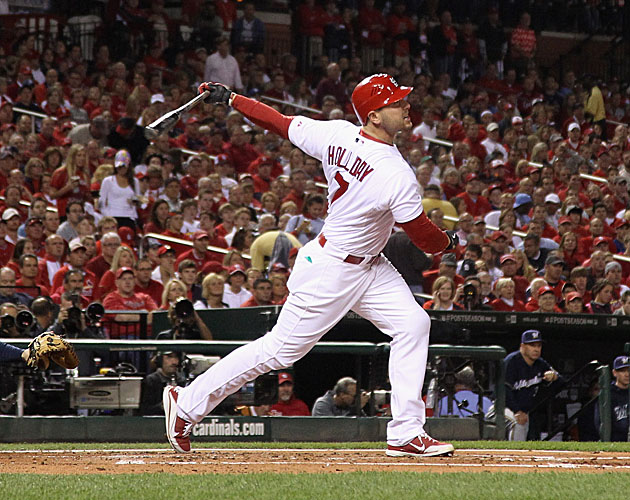 Matt Holliday had struggled this postseason until this swing resulted in a wind-aided homer in Game 4. He'd start swinging the bat well after that. (Getty Images)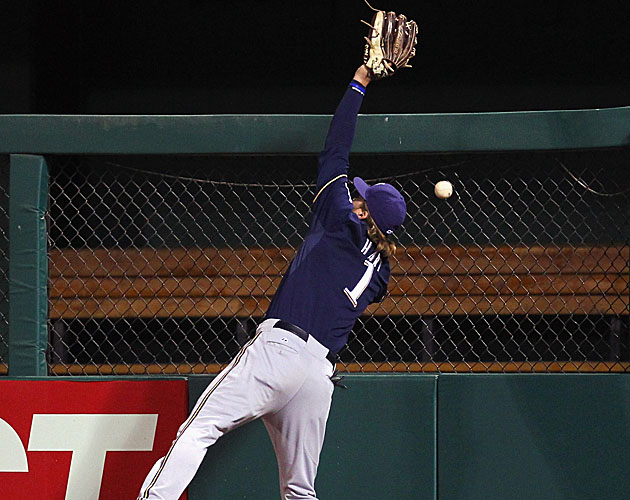 It wasn't necessarily why the Brewers lost the series, but there were far too many pictures like this. (Getty Images)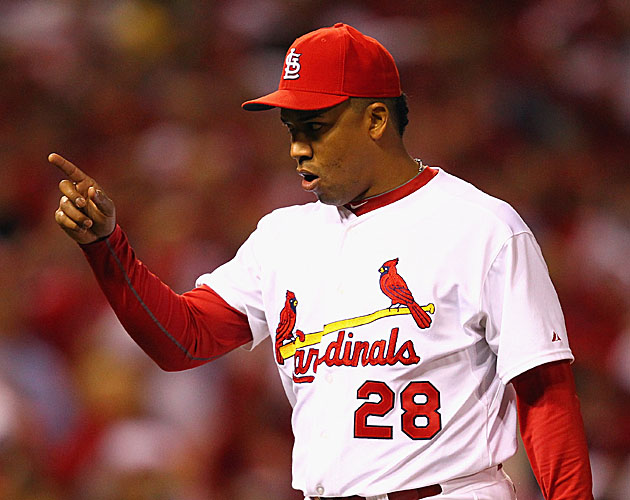 Octavio Dotel has been a major piece for the Cardinals this postseason. (Getty Images)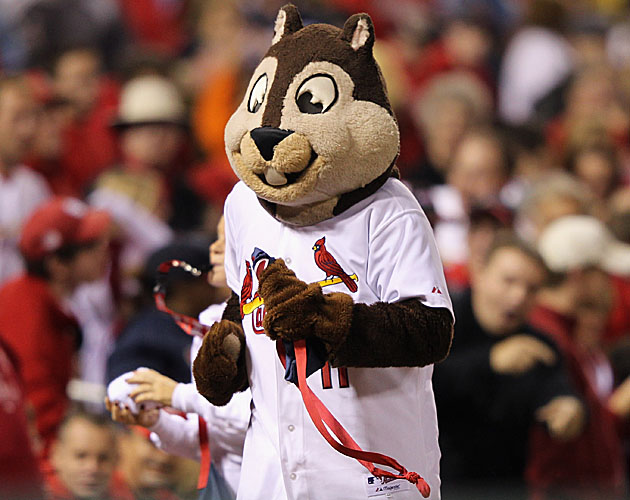 The squirrel. Nothing more needs to be said. (Getty Images)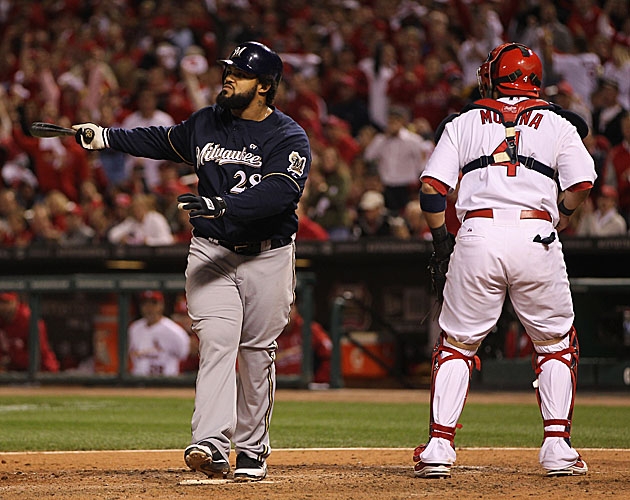 An underrated piece for the Cardinals was Marc Rzepczynski, who twice came on to strikeout Prince Fielder in big spots, like here in Game 5. (Getty Images)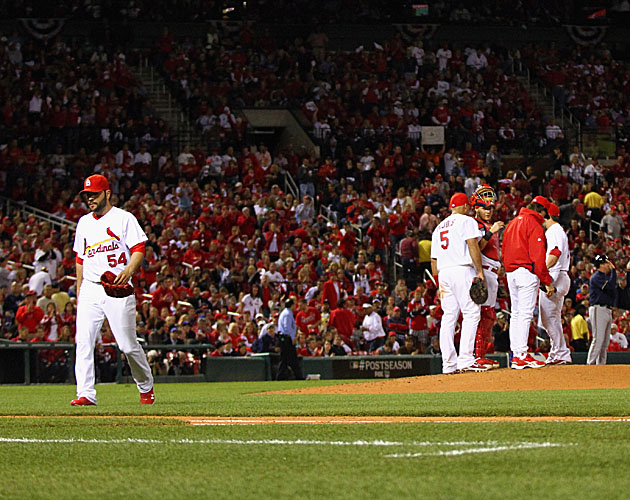 Jaime Garcia got what many thought was an early hook in Game 5, but the Cardinals bullpen would throw 4 1/3 shutout innings. (Getty Images)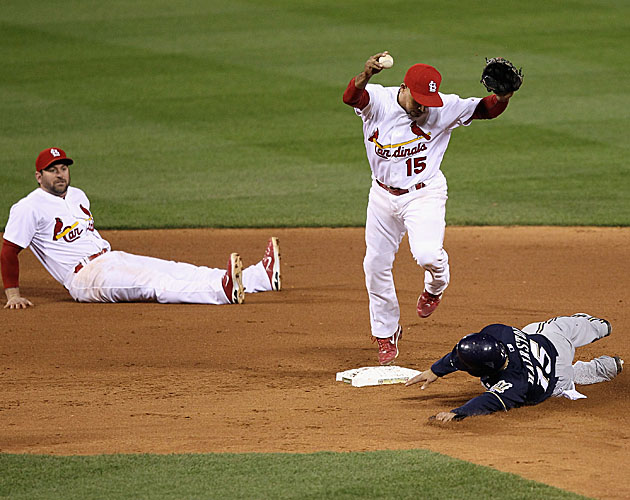 Huge out here, as the Brewers had two on and nobody out for Ryan Braun, who grounded into this fielder's choice. It was close, too. (Getty Images)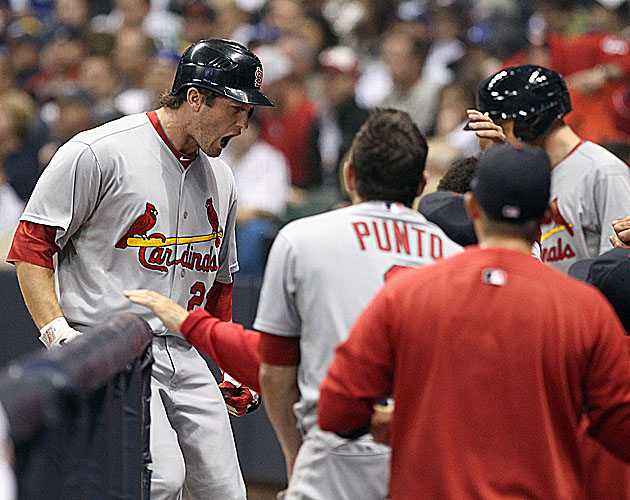 This guy again? Freese's first-inning, three-run home run gave the Cardinals a big lead early in Game 6. (Getty Images)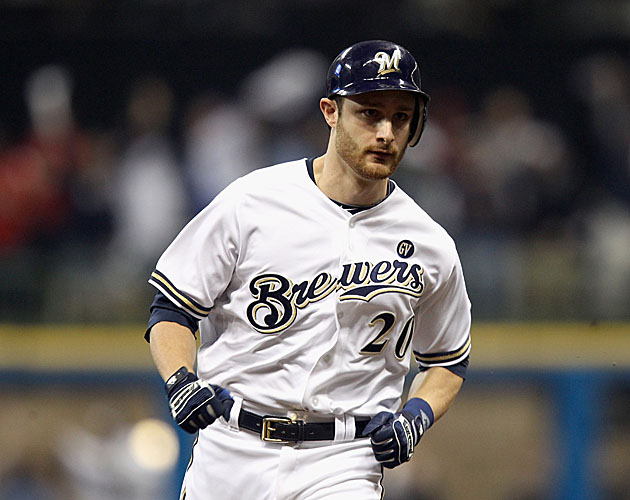 Yes, that's Jonathan Lucroy on a home run trot. He cut the lead to 5-4 in the second. (Getty Images)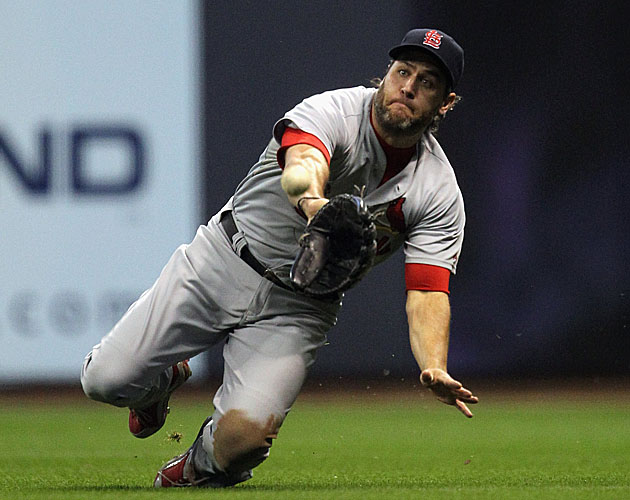 Things got so weird in Game 6, Lance Berkman made a diving catch. (Getty Images)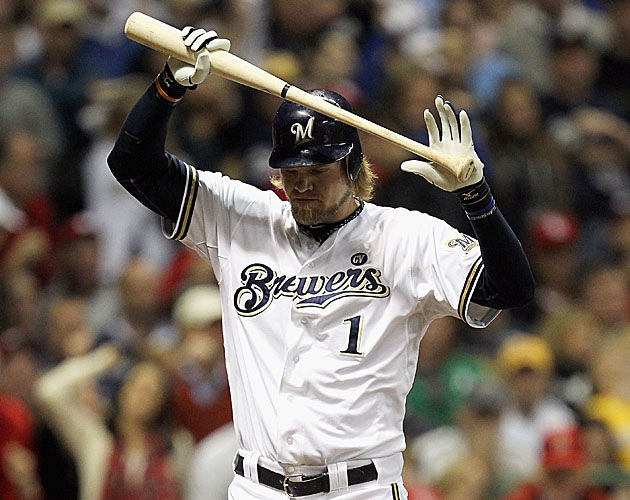 The Brewers had a big chance to carve into the Cardinals' lead in the bottom of the fourth, but Corey Hart struck out to end the threat. (Getty Images)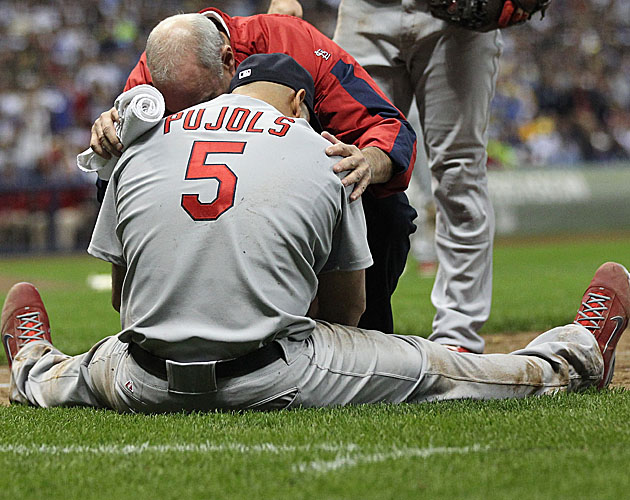 That sound you heard was a collective gasp from the entire city of St. Louis. Pujols did stay in the game, though. (Getty Images)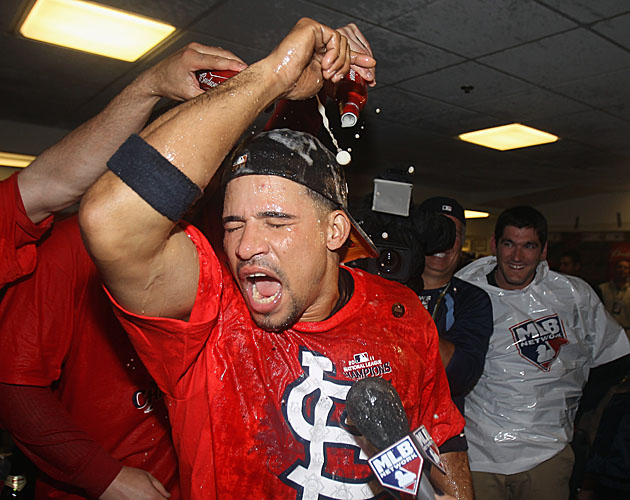 Rafael Furcal gets a beer shower from teammates after the win. (Getty Images)
Up next for the Cardinals: The Texas
Rangers
in the World Series. The Cardinals are playing for their 11th World Series title, while the Rangers are playing for their first. St. Louis has homefield advantage despite having a worse regular-season record by virtue of the NL winning the All-Star Game. It's funny, too, that the deciding play in that game was a three-run homer by Milwaukee's Prince Fielder.
For more baseball news, rumors and analysis, follow @EyeOnBaseball on Twitter or subscribe to the RSS feed.