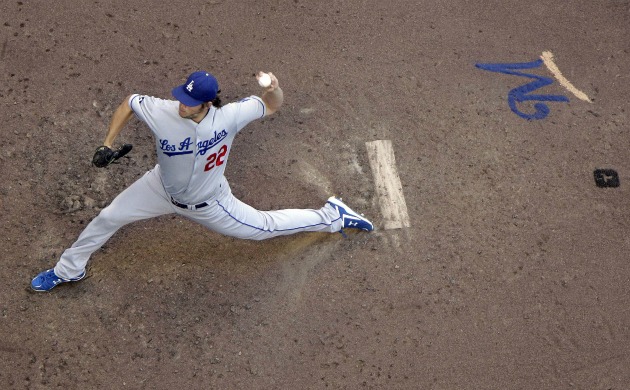 By Evan Brunell

Clayton Kershaw, Dodgers:
All of a sudden, Clayton Kershaw is making the NL Cy Young Award race one to watch, as
Roy Halladay
may not have as firm a grip on the award as might have otherwise been thought. After pumping six strikeouts past the
Brewers
in eight innings, the lefty lowered his ERA to 2.60 after yet another scoreless outing. Those six strikeouts inched him to one shy of 200 whiffs on the season. Let's compare Kershaw to Halladay, starting with the youngster first: 15-5 in 183 2/3 IP, 2.60 ERA, 199 K, 46 BB. Halladay has a 15-5 record in 184 2/3 IP with a 2.53 ERA, 177 K and 23 BB. I'd still take Halladay, but it's close enough that this is a race.
Colby Rasmus, Blue Jays:
The ex-Cardinal didn't get his tenure in Toronto off to a fast start, but if Thursday is any indication of what he can put together on a regular bases, the Blue Jays will be quite pleased. Rasmus went 3 for 4 with a home run and two RBI, chipping in three runs as Toronto downed Oakland. It was the center fielder's fifth multi-hit game with Toronto, and his first with three hits. His bat must be heating up in the power department, because it's the second straight game he's driven a home run, sending his total from 13 to 15 in two days, and he's totaled eight RBI in his last three games.
Mark Trumbo, Angels:
And just like that, the Angels snapped their five-game losing streak, stopped Texas from winning seven straight and closed the AL West deficit to a still-imposing six games. How did that happen? At the hands of Mark Trumbo, who delivered a two-run walk-off home run off of
Mike Adams
in the bottom of the ninth to turn a dispiriting 1-0 loss into a wild 4-0 victory. This was a game L.A. desperately needed, especially given that the
Rangers
run had come off of the bat of
Mike Napoli
with a homer. Trumbo had one other hit in the game, but his OBP is still under .300 for the year.
---
Phil Humber, White Sox:
Phil Humber received a nasty scare on Thursday when a
Kosuke Fukudome
liner found the area just above his right eye, sending Humber sprawling on the mound. He was able to get up right away, though, and lobbied to stay in the game. The ChiSox weren't having any of it, so the righty left the game having pitched just 1 1/3 innings, giving up three hits, no walks or runs and punching out three. "I told them I was good, I felt like I could still pitch and wanted to be out there,"
Humber told
the
Chicago Tribune
. "But at the same time, they got a job to do and take every precaution that there wasn't anything serious going on."
Travis Hafner, Indians:
After a three-hit game against the
Red Sox
on Aug. 4, Hafner was enjoying a .300/.386/.491 season. That was a step below his .347/.428/.567 line on July 7, but it was inevitable for Hafner to come back to earth. Well, that three-hit day didn't stave off the decline. While Hafner's still stayed reasonably productive, that line continues to drop, and now after striking out three times in five plate appearances on Thursday when he went hitless with an intentional walk, Hafner is at .288/.368/.461. He also struck out to end the sixth with the bases loaded and two runs already in. The Indians still won the game 4-2, but Hafner could have broke it open.
Trevor Cahill, Athletics:
Last season, Trevor Cahill was an All-Star and received Cy Young Award votes. He wasn't named to the All-Star team this season, although that wasn't indicative of a bad season, as his 3.92 ERA was still solid. Well, it was. A seven-run outburst by tje Blue Jays knocked Cahill out of the game after 5 1/3 innings, sending his ERA skittering up to 4.17. Cahill allowed nine hits and two walks, while striking out two. Cahill has been a Jekyll-and-Hyde (mostly Jekyll) pitcher since the beginning of June, with a 5.83 ERA to show for it.
For more baseball news, rumors and analysis, follow @EyeonBaseball on Twitter or subscribe to the RSS feed.