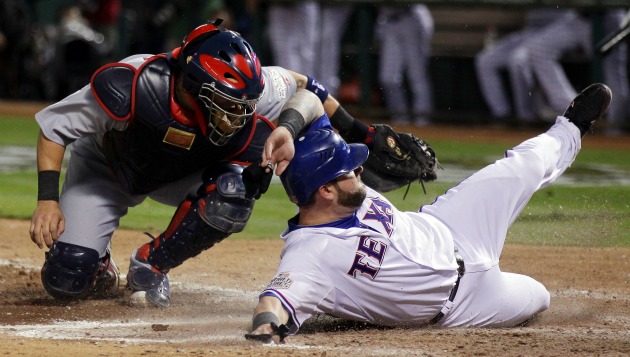 By Evan Brunell
For the first time, the Gold Gloves were unveiled in a televised presentation on Tuesday night. Below, you can find the results of the awards. Winners are chosen by managers and coaches who vote for players in their leagues and can't pick players on their own teams.
Catcher
AL:
Matt Wieters
,
Orioles
-- Wieters became the first Orioles catcher to win the award.
I predicted Wieters would win
the award in late September saying that "Runners fear Wieters' arm -- he's only allowed 56 stolen bases all season, while the next-lowest total among catchers who qualify for the batting title is
J.P. Arencibia
's 77, achieved in 10 less starts. Oh, and Wieters has nabbed 32 runners for a caught-stealing rate of 36 percent, a high percentage for a catcher.
NL:
Yadier Molina
,
Cardinals
(pictured) -- Obviously. He wins the award for the fourth straight year, the first time since Charles Johnson from 1995-98.
First base
AL:
Adrian Gonzalez
,
Red Sox
-- Gonzalez wins his third Gold Glove and pairs with second baseman
Dustin Pedroia
to keep the right side of the infield to one team in the AL. The same goes for the NL.
NL:
Joey Votto
,
Reds
-- Votto takes home his first Gold Glove award to put on the mantel along with his MVP trophy from 2010.
Second base
AL: Dustin Pedroia, Red Sox -- This is Pedroia's second Gold Glove and first since 2008. As one of the best second basemen in the league, this was a no-brainer. "It's fun playing alongside him," Gonzalez said of Pedroia on ESPN2, saying the communication is top-notch between the two players.
NL:
Brandon Phillips
, Reds -- The color red really dominated first and second, as the Reds in the NL take home the awards at each respective position. Same with the AL and Red Sox. Phillips wins his third Gold Glove.
Third base
AL:
Adrian Beltre
,
Rangers
-- What I said back in September: "Beltre somehow only has two Gold Gloves despite a career of success. That success continues in 2011 in Texas, as Beltre has tremendous range compared with soft hands.
Evan Longoria
is a fantastic defender as well, but in the AL there simply is no comparison to Beltre."
NL:
Placido Polanco
,
Phillies
-- Back in September,
C. Trent Rosecrans picked
Pablo Sandoval
of the
Giants
. "There are players with better defensive reputations than the Kung Fu Panda, but nobody's had a better year," he wrote. Gold Glove voters disagreed, and Polanco gets his third Gold Glove -- first at third base. He becomes the second major leaguer to win a Gold Glove at two separate positions, following
Darin Erstad
nabbing one for first base and outfield.
Shortstop
AL:
Erick Aybar
,
Angels
-- It's Aybar's first Gold Glove, and he's as good a pick as any to dethrone
Derek Jeter
's undeserved Gold Glove last season.
NL:
Troy Tulowitzki
,
Rockies
-- Trent may not have gotten Sandoval right, but he nailed Tulo. "The Rockies may know a little something about drafting defensive shortstops -- they picked two of the best in the league, Tulowitzki and the
Astros
'
Clint Barmes
. Finally healthy, Barmes was outstanding defensively for the Astros, while Tulowitzki seems like the second coming of Cal Ripken," he wrote.
Left field
AL:
Alex Gordon
,
Royals
-- Gordon racked up the assists this year, but how do you not give this to
Brett Gardner
?
NL:
Gerardo Parra
,
Diamondbacks
-- Parra grabs his first Gold Glove. I haven't heard Parra as a name among the elite defenders, but there you go. He appears worthy.
Center field
AL:
Jacoby Ellsbury
, Red Sox -- Ellsbury's victory gives the Red Sox three Gold Glovers. It must be sweet music for the center fielder too, after being moved to left field to start 2010 amid reports of poor defense. Frankly, this is a stretch -- Ellsbury still takes poor routes to the ball. But he's fast, so that helps. It's the first time since 1979 Boston has three winners.
NL:
Matt Kemp
,
Dodgers
-- Really? Kemp is a poor center fielder, and it's really difficult to imagine Kemp as a Gold Glove finalist, never mind a victor. But we all know that Gold Glove awards usually aren't worth much, and in this case...
Right field
AL:
Nick Markakis
, Orioles -- Markakis is not a very good defender. In fact, he made my list as the
AL's worst defensive right fielder
. I wouldn't go so far as to say that anymore, but a Gold Glove? Frankly, though, I have a hard time getting worked up about who wins the Gold Glove because it's such an irrelevant and inefficient award. For true honoring of defensive prowess, check out the
Fielding Bible winners
.
NL:
Andre Ethier
, Dodgers -- It's just the second time in the 21st centery that outfield teammates have won a Gold Glove award. Ethier wins his first. Not quite deserved.
Pitcher
AL: Mark Buerhle,
White Sox
-- It's his third straight Gold Glove.
NL:
Clayton Kershaw
, Dodgers -- It's the first award for Kershaw, who said on ESPN2 during the unveiling that he did not expect to win the award. Kershaw spoke about how pitchers fielding practice in spring training can get old, but it provides the basis for good defense. "Once you get out on the field, repetition helps it sink in," he said.
For more baseball news, rumors and analysis, follow @EyeonBaseball on Twitter or subscribe to the RSS feed.