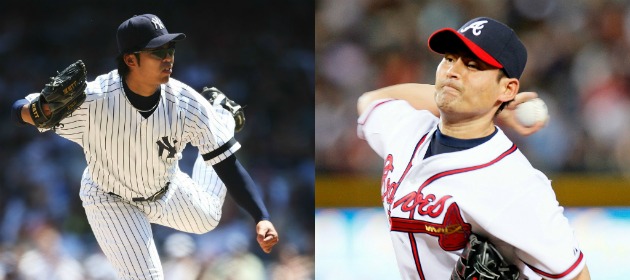 By C. Trent Rosecrans
If you're a Japanese team and you lose your best player to the big leagues, what do you do to replace him? Well, besides cashing a check for more than $51.7 million, you turn to former big-league pitchers.
The Nippon Ham Fighters (and once again, let me stress that it's the Nippon Ham… Fighters, not the Ham Fighters) are looking at former Japanese big leaguers Kei Igawa and Kenshin Kawakami, according to
Daily Sports
in Japan (
via YakyuBaka.com
). The
Rangers
hope it's not an even trade, as neither Igawa nor Kawakami lived up to expectations in the United States.
Igawa, 32, was posted after the 2006 season and the
Yankees
paid a posting fee of more than $26 million before signing to a five-year, $20 million contract with New York. For all that money, the Yankees got 13 starts and three relief appearances out of the left-hander, and he hasn't appeared in a big-league game since 2008. In MLB, he went 2-4 with a 6.66 ERA. Last year he was 3-2 with a 3.86 ERA at Double-A and Triple-A. With the Hanshin
Tigers
of Japan's Central League, he led the league in strikeouts three times and won the 2003 Eiji Sawamura Award, Japan's Cy Young equivalent.
Kawakami, 36, signed with the
Braves
as an international free agent in 2009, meaning the Braves didn't have to pay a posting fee. He won the Sawamura Award and Central League MVP in 2004. With the Braves, Kawakami was 8-22 with a 4.32 ERA in 41 starts and nine relief appearances in 2009 and 2010 before being outrighted to Double-A after the 2010 season. He struggled in Double-A in 2011, going 2-4 with an 8.41 ERA in 16 appearances (six starts) for Double-A Mississippi.
As Matt Snyder already pointed out, the fact that other Japanese pitchers have failed, doesn't mean Darvish will
. Of course, that didn't stop our Taiwanese friends to make the comparison in one of their infamous videos, where Walker "Tex-xas" Ranger is handing over the checks to Darvish to face off
Albert Pujols
.
The Rangers will have a press conference with Darvish to make the signing official Friday night at 7 p.m. Texas time at Rangers Ballpark.
For more baseball news, rumors and analysis, follow @EyeOnBaseball on Twitter, subscribe to the RSS feed and "like" us on Facebook.