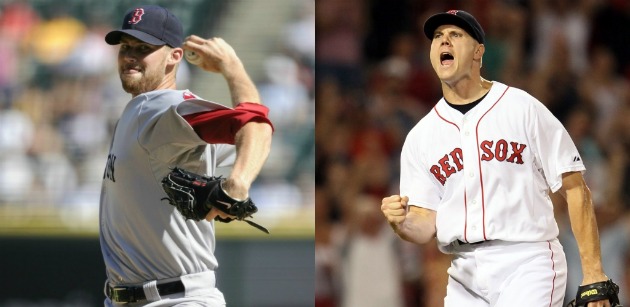 By Evan Brunell
With
Jonathan Papelbon
(photo, right) signing
a contract to pitch
for the
Phillies
, what does that mean for the
Red Sox
?
Boston has a closer-in-waiting in
Daniel Bard
(photo, left) ready to take over the role, but can they afford to elevate Bard into the role?
Over the last few seasons, the Red Sox have seen how valuable having two elite relievers at the top of the bullpen is. Former manager Terry Francona has often said that Bard was perhaps the most important reliever in the bullpen, even more so than Papelbon. Francona was able to deploy Bard in any inning he saw fit, as opposed to Papelbon, who was largely limited to the ninth inning with a lead as conventional baseball says is done these days. But if Bard ascends to the role, the Red Sox suddenly have a void as setup man, and it may be one more difficult to fill than closer.
The free agent market is saturated with closers, and a handful are expected to be available via trade as well. The setup man market? That's not exactly dripping with talent. While the natural inclination is to simply promote Bard into the closer's role, it may not make the most sense from Boston's end if they're committed to the best one-two punch at the back of the rotation.
But would that be OK with Bard? The
Boston Globe
says that Bard remaining as a setup man would harm Bard's financial goals. That's obvious -- even as valuable as a setup man is these days, it is far more lucrative to be a closer or a starter. The
Globe
says that if Papelbon had remained in Boston, Bard would have requested a transition to being a starting pitcher, something he flamed out attempting in the minor leagues. Either way, it appears as if Bard has approached no man's land -- either he's going to start or close. Of course, the Red Sox could simply force him to remain as setup man if the club signs
Ryan Madson
or
Heath Bell
.
CBSSports.com's Danny Knobler reports
that the Red Sox "will be in on" the two closers -- but Bard would be an unhappy camper if this occurs and likely bolts once he hits free agency. Does Boston want that?
One potential solution is to bring in a new closer, albeit temporarily, and ink Bard to a long-term deal with the goal of eventually making him a closer. While this outcome wouldn't work if the Sox signed Madson to replace Papelbon, it might work if that man is
Joe Nathan
or another closer that would only come on a one- or two-year deal. Boston could ink Bard for lesser dollars up front, followed by commensurate salary for a closer in the latter years, which would give the team time to find a bridge to Bard. Of course, anyone that agrees to a one- or two-year deal to close is doing so for a reason. Can the Red Sox put that much risk into the closer's spot?
Signing Madson or Bell doesn't necessarily preclude Bard from an eventual closer's spot. He's tied to the Red Sox through 2015, so even a four-year deal for another closer could set Bard up to become a closer once he's eligible for free agency, but Bard would be giving up a ton of dollars in the arbitration process as a setup man.
The Red Sox could also go a different direction, such as taking a risk on
Jonathan Broxton
for one season and installing him as setup man to Bard. Don't forget the team already has
Bobby Jenks
in the fold, who is looking to bounce back from an injury-marred 2011. He could be the setup man that the team needs if Bard becomes closer. That doesn't solve the setup man conundrum long-term, but it would work for 2012.
Here's a radical thought. Why doesn't Boston take this opportunity to tweak what it means to be a closer? Bard, simply by virtue of having pitched in these situations, knows how valuable an elite setup man can be. What if the Red Sox told him that while he was going to become the closer, he would also pitch in tight situations earlier in the game as needed? Does Boston really need to hold Bard back from a crucial eighth inning for the easy three-run lead ninth-inning save? This is pretty much wishful thinking, as the conventional idea of a closer is pretty much set in stone, but it's fun to dream.
No one knows which direction Boston will go. Heck, even GM Ben Cherington probably isn't 100 percent positive how things will unfold now that he has several different scenarios to juggle. This much is clear: Cherington has a challenge on his hands to replace the best closer in team history.
Check CBSSports.com's free-agent tracker, and follow all free-agency news from Eye on Baseball.
For more baseball news, rumors and analysis, follow @EyeonBaseball on Twitter or subscribe to the RSS feed.