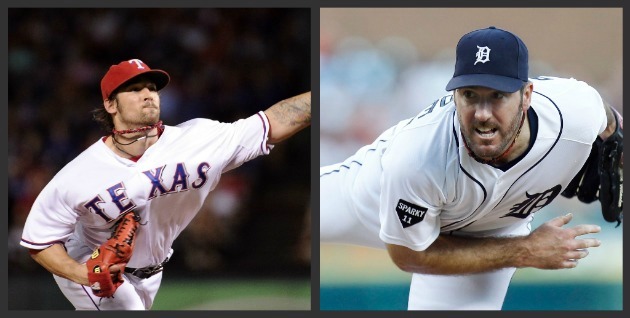 By Evan Brunell

DETROIT --
Rangers
at
Tigers
, 4:19 p.m. ET, October 13, Comerica Park. Rangers lead series 3-1.
The ALCS has surprisingly been very even through four games, despite Texas winning three of them. Twice, the Rangers have come away with the victory after requiring extra-innings to do so, while the other win, in Game 1, was by the narrowest of margins -- just one run. It's the third time this series that
Nelson Cruz
has banged home the winning run by a homer, and he is certainly the big story so far.
But it's not over for Detroit; not by a long shot. Any time a team can offer up a pitcher the caliber of
Justin Verlander
, there's going to be a game. Unfortunately for the Tigers, the Rangers get to counter with their own ace,
C.J. Wilson
.
WHO HAS THE EDGE?
Yep, Verlander is pitching and we're calling it even. That's because Verlander hasn't exactly impressed in October thus far, and the Tigers offense is far from potent. That makes a difficult combination heading up against Texas' ace and an overall stronger team. It's anyone's game, but for the Rangers to get to Verlander, the team will have to reverse its fortunes against the righty, as current Rangers have combined for a .211/.285/.314 line in 193 plate appearances over Verlander's career.
The most success by anyone has been at the hands of
Adrian Beltre
, who has 10 hits in 32 at-bats and three-extra base hits, but that only nets him a .755 OPS, which isn't exactly setting the world on fire.
Josh Hamilton
doesn't have much in the way of power against Verlander, but is hitting .308 in 15 plate appearances.
On the other side of the ledger, Wilson allowed four runs to the Tigers in 6 2/3 innings back on April 12 and two runs in 4 2/3 innings in Game 1 of the ALCS, walking five and striking out six. Of any batter with any appreciable experience against Wilson (and even that's stretching it -- you can't make judgments based on 25 PA), both Victor Martinez and
Jhonny Peralta
have struggled significantly. However, of those with two games worth of data against Wilson,
Miguel Cabrera
, Ramon Santiago,
Wilson Betemit
,
Austin Jackson
and Ryan Raburn have hit Wilson well, so it will be interesting to see if that trend continues.
Rangers' C.J. Wilson: Wilson knows what it will take to take down the Tigers.
"The reality is we're playing against the best team in the American League right now besides ourselves," he said. "You're not going to roll over and stand there and swing and miss at everything. You have to make them work."
Wilson also mentioned how you can't focus on statistics in the postseason, which makes sense. As with any data, numbers don't mean much unless they come in a big enough sample size. Saying that player X was 2-for-7 against Wilson this season (which we went over above) doesn't work when there's only seven at-bats. There's too much noise there to accurately clean anything. "You have one bad game, one good game, it totally looks weird. At this point, none of us has that much experience."
Wilson, like Verlander, is trying to get into a rhythm and admitted that his final start of the regular season being cut short affected him. "It kind of put me in a little bit of a funk, I think, mentally," he said. "I wasn't sure if I should try to go out there and throw more innings or fight for more innings or what."
The bigger problem is weather. Rain complicated Games 1 and 3 and it could have a impact on Game 5. The lefty says that he has a different plan in place should rain affect the game, but refuses to share details.
Tigers' Justin Verlander: Verlander hasn't had a very good postseason so far. After an incredible regular season, the going's been tough for Verlander, and he has given up eight runs in 13 innings thus far, spread over three starts against the Yankees and Rangers. Verlander was knocked out after just four innings in Game 1, due to both ineffectiveness and two rain delays, and there was much speculation he could start Game 4. That didn't happen, and now Verlander will be making one of the biggest starts in his career, trying to stave off elimination.
Manager Jim Leyland admitted that Verlander is tired, but isn't that the case with anyone in the postseason. Heck, Leyland quipped that "I go from decaf to regular right about now."
"I think he's a little tired," Leyland said about Verlander. "That's why he's not pitching [Game 4]. I think he wants to pitch. I admire that. He wants the ball. But when I had a meeting with my coaches, we sat down and talked, we really truly believed that this is the best way to go because we think this is the best thing for Justin Verlander, and in turn, that means it's the best thing for the team."
Verlander brushed aside concerns that he was tired, believing the issue lies more in mechanics. "I feel like the first couple of starts, just not quite right," Verlander said, attributing some of his struggles to rain delays fouling up his starts. "But hey, I'm not making any excuses whatsoever. I have to go out there and pitch better than I have and really establish a rhythm from the get-go and maintain my feel throughout the game."
LINEUPS

NOTES
Rain threatened the playing of Game 4 on Wednesday, and engineered a 2 hour and 13 minute delay. Game 5 is set for a 4:19 p.m. start, which was thought to be in danger with a thunderstorm on the way. Fortunately, that storm has been pushed back to 9 p.m. according to weather forecasts early Wednesday morning. There are expected to be light showers during the game, but that's playable. What bears watching is whether this thunderstom speeds up and hits the game during play. It will be the third time this October that Verlander has had a start potentially affected by inclement weather.
The Rangers bullpen has won each of the three games, allowing just two runs in 21 1/3 innings, striking out 20 and walking just five. They are the fifth team in LCS history to record at least three victories from the pen. One of these runs was allowed by Alexi Ogando in Game 4 against Brandon Inge, the first time Ogando has allowed a homer on an 0-2 pitch. Ogando has thrown 8 1/3 innings himself.
Miguel Cabrera extended his hitting streak in the ALCS to 11 games, and is now tied for second place all-time for the longest streak to begin a career in the ALCS. Roberto Alomar also had an 11-game hitting streak, and the record is held by Greg Luzinski.
For more baseball news, rumors and analysis, follow @EyeonBaseball on Twitter or subscribe to the RSS feed.